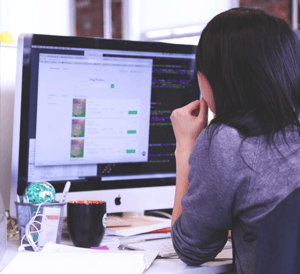 You've researched the trends, developed smart, forward-thinking strategies, and created a magnetic employer brand — and yet, if you're anything like the average company, it may still take you a whopping 52 days to fill a position.
A likely culprit to your staffing woes? Outdated staffing software. Using software that's stuck in the past impacts every part of your recruitment strategy and keeps you from leveraging the true potential of your company's resources and your team. Put simply: Your outdated software is most likely driving candidates away. Here are five ways switching up your outdated staffing software can help you nurture, attract, engage and hire more incredible candidates:
Save Time With Integrated Software That Makes Omni-Channel Recruiting a Breeze
Candidates are not just cruising big-name job boards to find open positions anymore. From Facebook to Linkedin to even Twitter, social media is playing an ever-increasing role in recruitment strategy. In fact, according to a survey by Pew Research Center, more than a third of Americans have searched for jobs using social media, and another 34 percent of survey respondents said they use social media to get the word out about vacancies at their own places of employment.
As the statistics suggest, omni-channel recruiting is an incredibly effective way to reach and nurture potential candidates — but for recruiters using systems that are not integrated, the omni-channel approach can be easily mismanaged. Posting to multiple social media sites and other channels individually takes a lot of time, time that could be better spent creating engaging content where your candidates are. While powerful, social media content is also short lived — the average lifespan of a tweet, for example, is just 18 seconds — so if you're spending all of your time posting content, rather than creating new content that's pushed out via integrated staffing software, most candidates are going to miss seeing your posts entirely. Updated software streamlines and automates the omni-channel recruiting process so you actually have the time to take advantage of this powerful approach. Moreover, integrated software allows you to truly leverage all channels, easily extending your messaging into the online spaces where your ideal candidates are hanging out.
Make the Application Process Sexy Again
Perhaps your staffing software does allow you to easily and efficiently post to social media and other recruiting channels. But what happens after a candidate clicks on a link to your career website from Facebook? Even if you're getting a lot of clicks through to your website, potential applicants may not be sticking around for long — one statistic even puts the amount of time the majority of users stay on a web page at just 15 seconds.
A clean, easy-to-navigate career website can alleviate the issue of visitors jumping ship before they've even made it to the application page. A strong career website is one with messaging that's consistent with the messages being broadcast through your omni-channel supported avenues. When candidates click through to your career website, what they find in terms of employer branding and information must match their expectations — don't cultivate a "cool" employer brand on social media and contradict that with stodginess on your site! A sexy career website also makes it easy to find the actual application — and the application itself will be as user-friendly and inviting as the rest of the website. In short, a career website powered by updated software is one smooth customer.
Remember, if candidates are struggling to simply apply, they are less likely to even get to a point that you can offer them the job. Cutting-edge staffing software facilitates — not hinders — the application process, and it allows you to measure what works for your company, since easy-to-navigate interfaces will look different for different demographics.
Keep Candidates Engaged and Interested After They Hit "Submit"
Does your current application process leave your candidates hanging? Staffing software without candidate tracking, assessments and credentialing and feedback functionality is the equivalent of "ghosting" in the dating world: a positive application submission experience that leads to crickets from the company makes a candidate feel neglected and forgotten. Before long, that candidate is going to go running into the arms of another employer.
To keep candidates interested, your staffing software should give them the means to easily see where they are in the application process, advance themselves through the process with assessment options and continue to provide engaging content about your brand. By extending the application process, you're able to leverage the candidate's interaction with you by increasing brand awareness, thereby amping them up about the possibility of working at your company.
Plus, many candidates have questions after they submit their applications. To really "wow" them in this candidate-driven market, it's time to bring back the feel of a 1:1 candidate/recruiter relationship. Candidates feel valued when they can get their questions answered by a real person, which savvy staffing software allows. One way to achieve that one-to-one feel? Through chat functionality on your career website, which is an impressive, fast way for candidates to get their pressing questions answered in real time, by real people. For example, chat software leader Brazen (a Symphony Talent partner) offers a humanized approach to interacting with talent that has the potential to increase engagements five times over the average application rate. You can also use chat functionality in conjunction with your omni-channel efforts; if you're advertising on social media, for example, it makes more sense to link your ads to a real-time chat engagement on your career website — which will feel familiar to millennials who primarily communicate via text — than a straight application.
Characteristics of Generation Z
Conscientious
Hard-working
Anxious and mindful of the future, cautious
Pragmatic
First true digital natives
Takes in information instantaneously and loses interest just as fast
Online privacy a key concern, aware of their personal brand
Focus on sensible careers
Source:
The New York Times
Pay Less With Versatile Software — and Get a Whole Lot More
Updated staffing software doesn't just streamline processes for your candidates — it streamlines the backend for you, too, by shaving off all the bells and whistles that you don't need so you can focus in on the tools you really want to leverage. And — it shaves off bloated software costs as well. When you move to an all-encompassing software solution, you'll be able to upgrade all aspects of staffing while also taking advantage of a la carte functionality (a.k.a. Pay for what you need at that moment and time while also having additional features and functionality to integrate easily when you need it).
Smart staffing software will be able to grow with you, providing fluid solutions to your shifting recruitment strategies — whether it's homing in on a few specific recruitment channels or switching focus to recruiting the newest generation of workers to enter the workforce, Generation Z, the tech-reliant digital natives born in the late 1990s/early 2000s who are experts at concise communication and multi-tasking. To further save you time and headaches, your staffing software should be able to do it all seamlessly. The separate pieces of your recruiting strategy software should talk to one another, which happens when you work with a consolidated vendor. Software that's communicative and versatile allows you to do what you do best — recruit top candidates without getting bogged down in unnecessary details, or scrambling to find a way to make your recruiting vision work.
Tap Into Your Best Advocates — New Hires — With a Recruitment Loop
What if you could turn your top candidates into not only future employees — but future recruiters? Plugged-in, social-media-savvy recruiters whose advocacy on behalf of your brand feels authentic, and whose excitement is down-right palpable through every post?
It's possible! Those on the forefront of recruitment marketing trends know the importance of turning the recruitment process into a recruitment loop; once the process "ends" with the hiring of a candidate, that candidate jumpstarts the recruitment process all over again by becoming an advocate for your company.
Activating employees into advocates is mission essential; there's nothing more powerful to recruiting than the praises of a happy, engaged employee. New hires, especially, are gung ho about drinking the Kool Aid — and sharing it with others. Gallup reports that employees reach peak engagement within six months of being hired, and a smart recruitment loop strategy can capitalize on that. Software that integrates new hires into the recruitment process — by providing tools to evangelize about the company on social media, for example — doesn't let your best advocates slip through the loop.
You may have the ideas and the vision to implement a successful recruitment strategy — so don't let outdated staffing software hold you back. Instead, let the right updated software solution move you forward. And remember: you don't have to go it alone — your new approach should also include onboarding and planning support, so you can kick your recruitment strategies into high gear ASAP. Cutting-edge, well-designed staffing software can pull out new ideas and inspire you to take your strategy further, creating a more powerful, efficient, and effective recruitment loop. That's great news — because in today's candidate-driven market, employers don't have 52 days to waste.
If you're working with outdated staffing software, what other ways do you feel like it is holding you back?