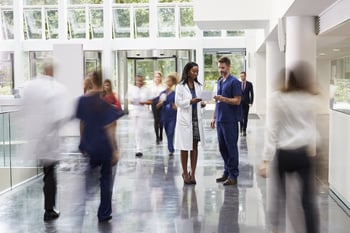 The impact of digital transformation is changing every industry and that means talent acquisition strategy can't be "business as usual." New growth requires a new approach. We recently had the opportunity to speak with two leading healthcare organizations about the challenges they face in hiring for both clinical and non-clinical roles as well as their winning strategies for attracting candidates and engaging top talent.
Michael Drayer, Group VP of Strategy & Client Services here at Symphony Talent was joined by Jessica Schuster, Manager of Candidate Engagement & Experience at Northwell Health, and Robin Epstein Ludewig, Senior Director of Talent Acquisition at UCLA Health, in our webinar "From Coast to Coast, How To Conquer Challenges of Quality Hiring in Healthcare." Together, they discussed the key strategies and tools that have helped them win top talent while recruiting in the rapidly evolving healthcare industry.
If you missed the webinar, you can listen to it on-demand here.
Breaking Down Barriers in Hypercompetitive Markets
For applicants, perception is reality. So how do you change that perception from the start? For many healthcare organizations location is a common misperception and regional nuances need to be taken into account to not only heighten the attraction to your organization, but to also break down barriers that may be stopping applicants in their tracks.
In large metropolitan areas like New York and LA, location can either work for you or against you. Yes, you may be located near a bustling city or beautiful beaches, but what your applicants may see instead is constant traffic and a high cost of living. To attract quality talent, you need to find out what is important to applicants specific to each position.
To do this, UCLA Health conducted focus groups to figure out the barriers that were stopping people from considering them. The root cause they found was an even broader misconception. "They didn't understand that it's everything from plumbers and plantcare, to IT, to physicians and nurses," explained Robin Epstein Ludewig. When applicants hear UCLA, they think of the school, not a healthcare organization. So in reality, it's not always about breaking down barriers about your specific location, it's also about your perceived location.
Similarly at Northwell Health, Jessica Schuster noted that one of the biggest misconceptions is that Northwell Health is only only based on Long Island, which is not the case. So if applicants think there is nothing to do on Long Island, or there is too much traffic, they may not even explore opportunities with the organization. However, Northwell has locations throughout New York state, including Staten Island, Queens, and West Chester, so the opportunities are not as limited as they think.
When recruiting in the hyper-competitive healthcare market, you can see why just boasting about your compensation and benefits package on your career website isn't going to cut it. You need to create a perception that truly reflects your organization, and the applicant needs to see that on the first click.
The Evolution of Critical Roles in Healthcare
It's no secret that patient care has evolved quite a bit in recent years, and that means that the critical roles in your organization are starting to look vastly different than they have in the past. Digital Content Producer, Senior Data Warehouse Manager, Financial Analyst, Virtualization Engineer, Sales Manager - the casual observer would look at these jobs and assume they are at a big tech company or even a startup. But these jobs are in healthcare, and are in fact positions that Northwell Health and UCLA Health are currently recruiting for.
Non-clinical positions are becoming increasingly important as healthcare organizations evolve to meet their patients needs. Individuals have more choices now when they are choosing where to get their care, and they are choosing that care in the same way they would choose a consumer product. In response, the industry is taking a consumer-centric approach, and utilizing consumer focused technology like mobile apps and patient care technologies. In order to innovate and meet that consumer demand, you have to hire people from backgrounds where you are competing with companies outside of the healthcare vertical.
"You can look at healthcare and think that we're just doctors and nurses, but we're not. We are everything in between. Any job that you can think of, there's probably at least one of them open within our organization," explained Jessica Schuster. As Northwell Health expands their practices, they are buying more properties and creating in-house teams to build and maintain them. This leaves them competing with everyone from the local plumbing company to realty agencies.
UCLA Health is located in one of the largest tech ecosystems in the world, and tech companies in Los Angeles reported a 24% increase in the volume of employees in the past year. So why would someone want to join a healthcare organization? "We believe that people want to have a higher purpose to their work and they want to have a little work life balance, and in healthcare you can have the opportunity for that," said Robin Epstein Ludewig. She continued to explain that everything they do serves the patient, but in a variety of ways, and that gives employees meaning to their work which they may not be able to get elsewhere.
Roadmap to Win
Northwell Health and UCLA Health may be on opposite sides of the country, but what they have in common is that they utilize a data-driven approach to personalize the experience for each and every applicant.
A Data-Driven Approach.

It's not just about adding bells and whistles to your career website. Yes, that will look great, but it won't drive results unless there is a thought and purpose behind every asset.
The first step is finding out how your job seekers behave. By using the right tools, you can determine where your candidates are coming from and what pages they are seeing first.
Northwell Health found that the majority of their candidates were coming through their job description pages, and were being driven by Google for jobs, other referrals, and job boards. With this information, they were able to utilize an omni-approach and create a truly dynamic experience from the first time an applicant comes in at the job level regardless of whether they came through the home page.
Personalization. It's not enough just to know what content your candidates are looking at; you need to personalize the experience. We know that healthcare is not all doctors and nurses, so you need to develop personas for each type of applicant that crosses your site.
Northwell Health developed six or seven different personas for their career website. For example the IT page: as an IT professional comes to visit the careers site, they will be shown a homepage that includes personalized content. As they move and migrate over to the job description page, they see even more assets that are personalized based on the user's persona. This content pertains to their specific area, and is something that will entice them, and that will change from IT professionals to nurses to researchers.
Employer Branding.

The mission, vision, and values need to be present in everything you do in talent acquisition. "It's not just words, it's something tangible. The focus from attracting talent to UCLA, going through the interview process, the selection process, to onboarding and their ongoing career education and career growth, it is all about the mission, vision, values," Robin Epstein Ludewig said. It's not just about the candidate being qualified for the position, its about them being a good fit for the organization.
Driving Results
Taking a data-driven approach isn't successful unless you measure results, and at the end of the day, it needs to have a positive impact on your organization as a whole, not just your talent acquisition. By utilizing the right solution set in your talent acquisition, you can help drive your organization through digital transformation and the evolution of the healthcare market.