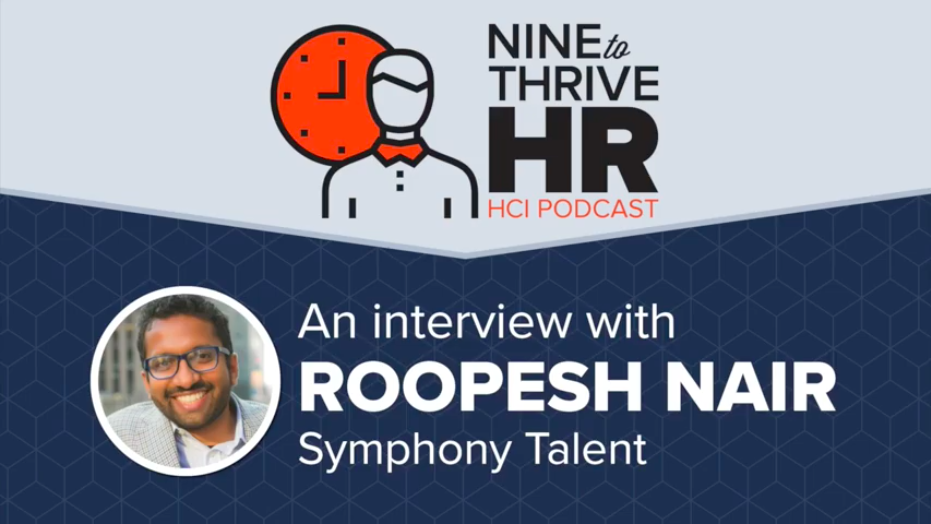 What must forward-thinking HR leadership do to stay competitive in today's candidate-centric recruiting environment?
Recently, Symphony Talent's President and CEO, Roopesh Nair sat down with Holly Pennebaker, Digital Content Editor and Program Manager for the Human Capital Institute for a highly enlightening podcast. They chat about how digital transformation is impacting the recruiting landscape – and the tools and techniques today's HR leaders need to embrace.
Some highlights of HCI's "Nine to Thrive" podcast include:
HR leadership's role in organizational change
Determining which tools and technologies are a good fit
Personalizing vs. digitizing the candidate experience
What's new and what's next
Listen to the podcast:
You can also read the full transcript below:
Holly Pennebaker: Hello everyone and welcome to a new episode of "Nine to Thrive HR." I'm your host, Holly Pennebaker. This podcast explores issues in the workplace and we share tried and true ways of solving talent management challenges. Today we have Roopesh Nair who's President and CEO of Symphony Talent. He specializes in strategy communication marketing and technology. He's ready to talk about the connection between employers and their people and the relative impact of digital transformation in the world of HR. So Roopesh, thanks for being here.
Roopesh Nair: Thank you for having me.
Holly Pennebaker: So let's start out with the basics of what does digital transformation mean to today's HR leaders.
Roopesh Nair: Sure. Digital transformation is actually part of an overall reshaping of global architecture which has been driven by advanced technologies in the digital and biological world. And in a recent World Economic Forum meeting, for example, this overall reshaping was referred to as the fourth industrial revolution. The World Order is actually changing because of this and business leaders are looking at various ways to transform their business leveraging these advanced technologies. The real truth is that this transformation is not going to be a matter of implementing a set of technologies which is definitely table stakes in many cases, but really a matter of changing the culture and core of the way people think inside the organization. In an enterprise scale company, this cannot happen without strong HR leadership that will need to help evolve the conversation that their organization has and help create a really nimble workforce. In addition to closing the gaps in the transformation by having a strong talent acquisition strategy, it is necessary for the CHRO or talent acquisition leaders to advance digital transformation at their organization so CHROs need to have a seat at the table as a transformation conversation is advancing inside their organization.
Business leaders in most cases actually end up ignoring the need for that partnership with the CHRO during this transformation and it is a big issue for many companies. Hence it's important that the CHROs adopt the drivers for this transformation in their own organization, starting with the most visible function - talent acquisition - then thinking about the transformation in terms of how their team functions. This acts as a proof point that they are serious about digital transformation efforts in their own organization and hence the rest of the business starts looking at them to really help them through their own digital transformation efforts.
Learn more: "The CHRO as Architect: Creating Amazing Employee Experiences"
Holly Pennebaker: So now we know what it is and why we need it. But how has the digitization of candidate experience impacted recruitment efforts over the past few years?
Roopesh Nair: First I want to clarify the difference between the digitization of candidate experience and true transformation. I think most companies have digitized their candidate experience well. It has been table stakes for many years now, kind of just converting what you had in pen and paper and moving it to digital. The simple way to understand the difference between digitization and transformation is to think about the dot com movement in the late 90s before the whole dot com bust happened versus the omnichannel experiences that companies like Amazon, Target, Apple, Marks & Spencer and others provide to their consumers today. These companies are putting the consumers at the center of the transformation and then redefining every interaction with the customer based on their needs and their behavior. In the same way, companies need to truly transform the candidate and employee experience to put talent at the center of their transformation.
Once you understand all the candidate behaviors and needs and then superimpose them onto the employer brand of the organization, you get a truly non-linear personalized conversation that creates a great mix of internal and external candidates (both active and passive) who are highly engaged with the company. This also helps the recruiter experience because having the pool of candidates who are highly engaged and readily available definitely steps up their recruitment effort. Think about hard-to-fill roles such as hiring engineers or e-commerce people or IT talent, along with finance and retail and healthcare. You can now have a talent pool which is well engaged – which can really change how recruitment is done inside the organization, not just purely the impact it has on the candidates.
Holly Pennebaker: Thanks for sharing that information. It sounds like there is a lot of work in this area and any help would be valuable so are there and what are the tools that the CHRO or talent acquisition leaders can leverage to both automate and personalize the candidate journey.
Roopesh Nair: To reiterate, the tools are actually less important than the overall strategy and the thinking that is needed. It is very easy for a team leader to fall into the trap of getting the most buzzworthy tools out there without thinking about how they fit into the whole non-linear talent experience I was talking about previously. Any tools they select for talent acquisition should be able to facilitate that non-linear conversation all the way from awareness to advocacy.
An ideal solution would be a single platform or a platform that can connect really well with systems the organization already has to facilitate awareness by reaching out in the most optimal way across all channels, including job boards, banner ads, social, Adwords and other traditional channels. And then getting into discovery where the candidate gets to know more about the specific job or the overall company. This includes the career website experience as well as continuous engagement through text chat, email messenger or whatever forms of engagement are available right now to get the person excited about the job. From there, you facilitate a seamless application onboarding and employee experience to drive them all the way to becoming an advocate for the company.
So, as I mentioned before, when you think about adopting a platform, there are tools which are available out there which can really integrate well with existing solutions inside an organization and provide a great candidate experience all the way from awareness to advocacy.
Learn more: "Digital Transformation: The Catalyst for Change in Recruitment Marketing"
Holly Pennebaker: That does make a lot of sense and I'll bet there are plenty of companies out there still trying to figure this out. But I also bet there's one who's actually done it really well. You said you have an example of a company that's completed a digital transformation. Maybe you could provide an example of how it's tangibly improved the company's recruitment efforts.
Roopesh Nair: Digital transformation is always an ongoing effort because the technologies are evolving really quickly. In my mind, an organization never completes their digital transformation. The idea is about being ahead of curve on the digital transformation effort. And if you specifically talk about digital transformation of the talent acquisition effort, a great example is one of the brands we work with very closely, Hilton Grand Vacations or HGV. HGV actually spun off from Hilton about two years ago and they took this opportunity to truly transform their talent acquisition efforts.
The first thing they did is actually build a single source jobs talent pool and application data for the candidates. Then all the media and content for Hilton were driven from a single tool across all of the conversations they were having with candidates. They also spent time thinking about how the rules would change inside the existing organization to drive that transformation right: you cannot just have a tool and not change the rules and responsibilities of people internally. I keep mentioning this to people, about how important change management is to really adopt these tools. For HGV, and doing all this has resulted in an almost 15 % reduction in their overall cost of higher and almost 25% reduction in their time to fill.
Think about time to fill. For a hospitality company or a retail organization, this is huge, especially during peak season in difficult markets. Time to fill has a huge impact also on engagement level itself, which eventually impacts retention. However, it is much more difficult to quantify that impact specifically in a short period because retention is typically a lagging metric. But the impact overall on the recruitment effort is significant. And that has a direct impact on shareholder value. One job not filled, especially during peak season in the retail, hospitality or for that matter the healthcare business, definitely has a direct impact on the dollar amount which is generated out of the retail function or the hospitality function.
Holly Pennebaker: Thanks again Roopesh. I'm sure our listeners would love to hear what they can expect going forward. So what would you say is next in the digital transformation of the talent acquisition landscape?
Roopesh Nair: I think it's going to be true AI. I foresee a day when AI will drive the conversations recruiters and hiring managers are having now but at scale. And they match the right candidates with the right jobs, have all the relevant conversations with them - including assessing them intelligently. The experiences that talent has with brands will be consistent, but also very very personal. Bringing a human aspect into that conversation is going to be very important. This will have a huge impact on the economy itself and a huge impact on the overall happiness of people at their jobs.
There are many talented people and there are many jobs - and we need to find out how to match them as efficiently as possible. I think AI and personalization are going to help us get there. And in the process the responsibilities of talent acquisition teams will also evolve from being reactive to the needs of business and what business throws at them in a very ad hoc basis to actually collaborating with the business more closely - focusing on having that human interaction with candidates who have the highest probability to be a fit in the organization based on the needs which are out there.
Holly Pennebaker: All right well that's all we've got time for today, so thanks again.
Roopesh Nair: Thank you very much!