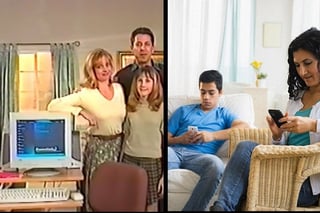 Job seekers used to spend copious amounts of time searching around for the right job. After all, there were literally hundreds of job boards out there to look through. So they'd hunker down and ask around. Perhaps their college had a job board. Superbowl ads, of course you have to check those out. And then there were all the specialty and niche boards to check out. As well as the online job boards of local newspapers. And industry publications. Gotta check 'em all!

Thankfully, that's all in the past. Job seekers now expect to see every job in one place, Google and then Indeed and SimplyHired (later bought by Indeed) have worked to open up the internet of jobs, forever changing jobseeker behavior.
This model is spreading. And to keep pace, job sites are pulling in all of the jobs from all of the companies. Aggregation is about the end user, and end users aren't too keen on having to bounce around when there are good shows to binge watch instead.
Job seekers used to visit a lot of places because the different sites had different and sometimes semi-overlapping sets of job openings to check out. Today, the modern candidate expects to see every job and they want the experience to be fast, easy and mobile-first. Strong search results, precise location filters, salary filters, and the ability to choose what companies' jobs they'd like to view are increasingly becoming their must-haves
There are still lots of job site options out there when you're buying candidate traffic. However, the reality has shifted. These sites used to have jobseekers bouncing around, knowing about the site, and typing it directly into their internet browser. In other words, a lot of direct traffic. Companies that buy job postings assume that the traffic they get based on that posting is because a candidate physically originated on that job site. This is often far from the reality. The result of this overall disruption in the job board space has led to a vast media buying ecosystem of paid traffic. A job board that's charging for a duration-based job posting may have no other choice than to plug in and buy their own clicks from this ecosystem. Their goal is to spend less on the traffic than the job posting itself was sold for.

The impact of online classifieds like Craigslist has been less than rosy for newspaper business models. Moving online from print was going from "dollars to dimes." The cycle of innovation continues unabated however, and we're in the middle of a new wave of change. Online ad buying systems are complex, and the way to win is to stay flexible with budgets, as needs and performance against those needs evolves over time. It's not as straightforward as negotiating yearly job board contracts anymore. It also means that things are harder to understand for employers than simply "posting a job."

One of my marketing professors once asked us what we thought the secret of success was in the early internet - and why he was able to succeed with his new business venture. The answer was "the alphabet." He created value simply by naming his company "Aardvark." Back then, the internet was just a directory within a couple of "walled gardens." Google came along and exploded that, and now people expect to find exactly what they're looking for, quickly, with a well-crafted search, or a voice command.
As the internet goes, so does the recruitment-corner of the internet. And now, Google itself enters the fray.
Let the games begin!