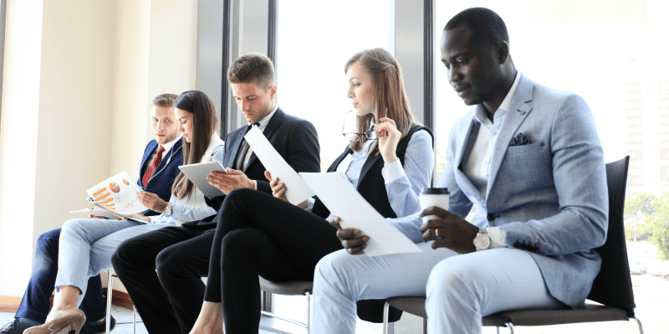 Savvy recruiters know that in order to snag the next generation of top talent, you've got to start early. Yes, even before that talent has entered the workforce! Campus recruiting allows you to nurture relationships with tech-literate, highly trained candidates whom you can often hire at a low cost. It's not surprising then that the rise in interest surrounding campus recruiting shows no sign of stopping. For example, LinkedIn's app for students launched just barely a year ago, with jobs presented in the "swipe" format college students are used to (thanks to dating apps). College career content empire The Muse recently cracked the top 20 on Deloitte's 2016 Technology Fast 500 Winners; the company has grown nearly 7,000 percent over a three-year period. But is your campus recruiting program keeping pace?
To attract campus recruits, you've got to speak their language and meet them where they hang out. In short, you've got to personalize the recruiting experience for graduates. Consider the case of Dixons Carphone, who launched a graduate recruiting program in conjunction with its new employer value proposition. One aspect of the campaign that got a lot of love was an addictive HTML game developed exclusively for students. The brightly colored online game weaved a fun-to-play HTML gaming interface with compelling facts about the company—graduates (and soon-to-be grads) were delving deeper into the world of Dixons Carphone without it feeling like work at all! Dixons Carphone targeted campus recruiting campaign was such a success because it spoke the "language" of college students — in this case, an addictive gaming format that this younger age group loves — which highlights how big a role personalization should play in campus recruiting.
Dixons Carphone represents the smart, new approach to campus recruiting. You can similarly activate measurable and meaningful ways to engage college students by adopting these three omnichannel tactics:
1. Leverage Social Media as the Common Denominator to Spark Connections
For millennials and Gen Z'ers (the generation born after millennials, roughly defined as those born between the mid-1990s and late 2000s), scrolling through Instagram or taking pictures on Snapchat comes as naturally as eating and sleeping. According to the Pew Research Center, 88 percent of young adults use Facebook, and 59 percent use Instagram—Facebook has one-and-a-half times the share of 30- to 49-year olds who use the photo-sharing app. If you want to get in front of college-aged recruits, leveraging social media is a no-brainer. Take an omnichannel approach to social recruiting by amplifying offline interactions through social media. For example, if you host a recruiting event on campus, take the conversation into the digital sphere by sharing photos from the event on your social media channels and even encouraging candidates to share their own photos with a dedicated, searchable hashtag.
You can take social a big step further, however, with AI. That's Artificial Intelligence, and it's the next big thing in data-driven recruiting. Fueled by data and predictive analytics, AI can help you laser target the right college-aged candidates on social media, thereby ensuring they interact with your employer brand on platforms they spend most of their time on. Plus, using AI helps you streamline and automate the targeting process; this frees you up to focus more on building relationships with your candidates.
2. Tailor and Re-target Your Career Website to Campus Recruits
There's no such thing as a one-size-fits-all approach to recruiting, and that's especially true of college-aged recruits. Chances are, you're not targeting college candidates the same way as older recruits on social media and other channels (or at least, you shouldn't be). So why would you send them to the same website once you've hooked 'em? Again, you can use the power of AI to personalize the recruiting experience for college-aged recruits when they land on your career website. Here's how it works: Let's say a college recruit clicks on your ad on Facebook, which leads them to the special campus recruiting section of your career website. AI's incredible personalization capabilities mean that whenever that candidate visits your career website again, they'll be served up the campus recruiting interface without even having to navigate to it.
Such a high level of personalization means you stay relevant to your college-aged candidates. Your campus recruiting website is the ideal way to showcase your unique employer brand developed specifically to resonate with campus recruits. Personalizing the website experience ensures your employer brand sticks with candidates long after they've X'ed out of your website. Take another look at Dixons Carphone. Its student-focused career website appeals distinctly to the younger student crowd; think bright, loud colors; crisp graphics; and tons of on-screen interaction. Moreover, on the menu bar, they even have a tab labeled "social," which encourages candidates to follow along with the Dixons Carphone story on their preferred social media channels. That's omnichannel in action.
3. Tap into the Power of Employee Advocacy
You'll also notice that much of the space on Dixons Carphone's website is dedicated to showing off current employees—employees fresh out of school themselves. It's a smart move; Dixons Carphone does a great job building a student experience by harnessing the voice of its staff as a meaningful avenue for students to learn more about their brand. After all, students are coming to the site in search of their very first job out of college—it's a big deal.
Similarly, you can tap into the power of your own employees with a targeted employee advocacy campaign. Recruit recent grads at your company to share employer brand content with their own social channels. Because we tend to be friends, both offline and online, with people who resemble ourselves, your recent grads' social channels are probably chock full of college students. Yes, you can increase your reach with employee advocacy, but it's about more than that. We also trust people who resemble ourselves, which means campus recruits will trust employer brand messages from employees who have recently been in their own shoes.