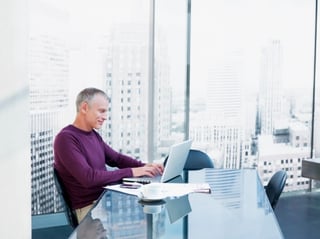 In 2007, Facebook—just a few years old at the time—introduced pages for businesses. LinkedIn launched in 2002, Twitter in 2006, Pinterest and Instagram in 2010, and Google+ in 2011. These developments marked a definite evolution on how companies marketed and positioned themselves in new, collaborative environments. Businesses that didn't jump on the social media bandwagon found themselves at a disadvantage for a multitude of reasons: access to new communities, activation of revived 1:1 communication, ability to elevate value proposition, among others.

The landmark moments continue. Hiring departments have discovered that social media investment is critical to attracting, nurturing, and ultimately hiring the best people for their companies. However, this is just one fraction of the omni-channel approach that has become mission-essential for companies looking to achieve their employment goals and grow the reach of their employer brand. Here are some omni-channel recruiting ideas for today—and tomorrow—that can help recruiting departments hire and scale efficiently and effectively:
Social, Smart, and Distributed
The history lesson that started this post didn't include online job boards—revolutionary when they took hold in the late 1990s, but now simply a recruiting given in 2016. Nearly two decades later, job boards cannot be the only option recruiters use to engage and correspond with job seekers. Companies should embrace recruiting ideas that maximize the omni-channel—a powerful trifecta of:
Social media: As already stated, this is a practically a requirement, and not an option, of modern recruitment marketing. Furthermore, the recruiting content you post to social media cannot be fluffy or without purpose—it should be honest, it should be transparent, it should be varied, and it should engage the job seeker to want to learn more about your company and the opportunities you offer.
Smart media: We're not talking about intelligent recruiting ideas here (though that's obviously important!), but rather, personalizing and tailoring content to the individual job seekers and their respective place in the hiring processes. For example, if you are nurturing a candidate via emails, each message should accurately reflect what has occurred so far—an email shouldn't urge someone to fill out an application if he or she already did so three weeks ago …
Distributed media: Employer job websites. Job boards. The aforementioned social media. Email campaigns. Paid advertising. Word of mouth. These are all important hiring channels, and focusing on just one or two can lock you out of a larger, possibly more qualified candidate pool. Source analytics will give you data not only on what media work best, but also on something we will discuss next that is just as crucial: demographics.
Roll with the Demographics
You may have ideal candidates in mind when posting and marketing a job opening; catering to that demographic from the outset is another strong recruiting idea that will improve the quality of hires. Two tips: First, cater your efforts toward your target demographics but don't limit yourself—you never know where you might find an ideal candidate who doesn't quite fit the personas you have established. Second, be ready to adjust, innovate, and evolve your strategies as technology, the job market, and your needs change. For example, Generation Z, defined as (depending who you talk to) either anyone born this century or in 2004 or later, is rapidly approaching its entrance into the workplace; recruiters must be ready to adapt to these future employees because they will bring vastly different expectations to the hiring process then, say, Generation X or even millennials.
Strong, Personalized Relationships
Smart media and the importance of tailoring recruiting content to a candidate has already been discussed, but recruiters should incorporate personalization into all facets of the hiring process. Strong relationships with candidates, especially ones who have already applied, are essential to the workers of today and tomorrow—they demand the process to be interactive and their employment to be an experience and not merely a job. The market today is candidate-owned, and a company that doesn't provide this kind of relationship will find itself at a competitive disadvantage. Fortunately, there are plenty of opportunities to create this personalization—from initial interactions on your company's job website and social media, all the way through to your sourcing, ATS, CRM, and credentialing solutions, and even during onboarding. The entire process is ripe for micro-engagements—points of communication that build the relationship and arm you with more data to refine your strategy even further. Consider these examples:
A chat function in which a candidate visits an employer's hiring website and is instantly greeted with a chat window and a live recruiter to talk to
Encouraging job seekers to like, reply to, and retweet your social media posts
Follow-up interactions, via email, texts, and social media, that keep candidates on your radar even if you aren't immediately on theirs
Ideally, a strong personalization strategy leads to the long-term engagement results that will ideally increase employee quality and productivity.
Advocacy from the Start
If you look at the hiring page for just about every business, it will state what a great place the company is and why you will love working there. This is so standard that many job seekers ignore it. If you truly want to set yourself apart, you must become your biggest advocate. In a sense, you should drink your own Kool-Aid—promote yourself across the omni-channel, and don't be shy about touting the benefits of employment and culture. Ask yourself: Who are you as a brand? Where do you want that brand to go—in other words, what do you want to be when you "grow up?" And how will you scale to get to that goal? You want to create advocates for your brand via your recruiting and hiring process; the best place to start making that happen is by strong self-advocacy from the get-go. Today's recruitment marketing goes beyond hiring; it must also include trust—you are asking potential employees to trust that they are making the right choice to work for you. Build that credibility, both on a personal and on an organizational level, and your brand will blossom.
Evaluate for the Future
The best recruiting ideas for the future sometimes spring from the results of the past. Even if your processes are working satisfactorily, there is always room for improvement and innovation. After all, what works today might not be as effective tomorrow, or what works today may be best for tomorrow—think rinse and repeat! This is where source analytics—raw data on the effectiveness of your hiring strategies and processes—are so important. Take a look at your metrics and determine what is working and what isn't. Solid analysis now will pay off in the future—you want to be ahead of the curve and try to set the trend with hiring rather than constantly playing catch-up to your competitors.
Clearly, the hiring landscape is shifting. Recruitment isn't just about pain-to-solution, but rather, pain-to-solution-to-opportunity. Yes, opportunity exists in this market; creating a healthy cycle that builds upon its own success can make the most of that opportunity and sets you up for success today and tomorrow.

What recruiting ideas have worked best for you as of late?