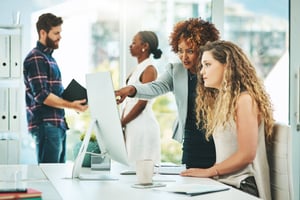 Did you know that fully two-thirds of US employees who left their jobs in 2017 did so voluntarily? That says a lot about the current job market climate and low unemployment rate, but just as much about how much attention employers should be paying to keep their newest talent engaged and productive.
The continuity between the candidate and new hire experience isn't always as clear-cut as the steps leading up to Day One. However, from a new hire's perspective, it's all too easy to spot that defining moment when an organization drops the ball and they're feeling lost (or not valued).
So, what's the answer?
That really depends on a lot of factors – from the particular role, to the geographic location, the nature of the business, and especially how the experience aligns with an organization's employer brand. At the new hire stage, it might be valuable to think about your newest hires not as a captive audience but more like your newest customers. Would you want to show a brand-new retail hire a cluttered back-of-store? Or immediately confront new healthcare hires with a catalog of systems and procedures that make them feel lost in a sea of bureaucracy?
Of course not. But given that every organization has its own strong – and less strong – attributes (as well as timelines for defining who's a "newbie"), I'd like to offer some of what I've learned in my 20+ years of People Success experience to offer a best-case scenario for creating a great new hire experience.
Keep the conversation timely
Nurturing doesn't end with the hire. There's often lag time between someone accepting an offer and showing up for Day One. Avoid the temptation to only celebrate the closing of the requisition – and consider ways you can keep your hard-won talent engaged.
For example, if you can give a new hire a video that provides an idea of what's in store – share it. Representing a company in its natural state – unscripted, credible, believable – provides strong insights into what they can expect. Also, if there are forms that can be filled out virtually, explore the technologies currently available to do this (and if someone's not completing the necessary "paperwork," consider this a red flag to check out why).
It's all about helping new hires feel welcome and part of the new team and your culture. Instead of awkward radio silence, they'll be engaged and looking forward to their first day.
Make Day One memorable – for the right reasons
New hires should never ask themselves "did they even know today is my start day?" Day One is special and should be seamlessly integrated with all their prior interactions with your organization and EVP. While it's smart to give hiring manager every opportunity to bring their particular "style" to the onboarding experience (some bring people into meetings or lunches, others do tours, still others reach out virtually), a few base-level touchpoints should be established and followed, just for consistency. Many companies have interdepartmental "to-do" lists so that everyone involved – from IT to facilities to new colleagues know what to have ready BEFORE the big day.
Break out the swag
It's amazing how much the small things count. Branded pens, notecards and the like might seem a bit old fashioned, but it's something they can show off to their friends that make them feel part of the bigger picture. It's also one of the first steps in turning a new hire into an employee advocate - which helps bring even more good talent into your organization.
Want to know the top 5 HR technology trends on the horizon for 2020? View our free webinar on demand featuring Madeline Laurano, Founder of Aptitude Research, Susan Russell, Senior Manager, Talent Acquisition at Nestlé Waters North America, and Symphony Talent's Shannon Seery - Download now.