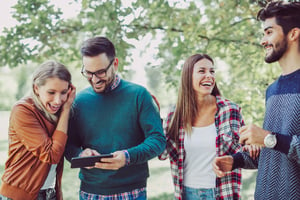 It's that time of year again. The leaves are starting to change, college hoodies are on trend, and pumpkin spice lattes are inundating your social media news feed. It's the back-to-school season and that means change.
It's also a great reminder that as professionals, we should never stop learning. When you work in recruitment marketing and social media, things are changing constantly, so if you don't force yourself to be an eternal student, you'll soon get left behind.
To make it easier for you, we've put together a syllabus with current content marketing trends.
Facebook 410: Advance Your Strategy with New Features
It's no secret that the controversy around Facebook's advertising transparency has caused users concern. In fact, a recent Pew Research study indicated that 74% of Facebook users over 18 have either adjusted their privacy settings, taken a several week break from the platform, or removed the app from their smartphone. Does this mean you should start diverting your budget and efforts from Facebook? Not at all. Facebook still reigns supreme when it comes to effectiveness for recruitment marketing on social media.
Facebook isn't just refining their ads platform, though. They've been testing the ability to add links in Facebook Stories and the ability to A/B test on organic page posts. Am I the only one who finds it interesting that they're working on tools for organic posts when the Algorithm announcement earlier this year indicated organic reach on business pages would be almost phased out completely?!
Want to take your Facebook Group to the next level? Facebook has added the Facebook pixel to Groups, helping Group admins understand how posts drive actions to their website.
Instagram 240: Put Transparency To Work for You
It's no surprise that Facebook is rolling out new transparency features on Instagram. For accounts that reach a larger audience, there will soon be an About This Account page and a formal verification process is currently available.
Twitter 398: Meaningful Interactions Rule Here, Too
Earlier this year, Mark Zuckerberg mentioned the Facebook Algorithm would prioritize meaningful interactions. Facebook isn't the only platform on that bandwagon. Twitter has been experimenting with new tweet interaction layouts and is asking for user feedback on the mockups.
Twitter has also been prompting some users to unfollow certain accounts. Twitter is choosing accounts users aren't engaging with and asking them if they'd still like to follow those accounts. This is an all in effort to ensure a more meaningful and engaging newsfeed.
Rounding out Your Social Media Strategy 101
It's always good to keep an eye on what's going on outside of the big three platforms when it comes to recruitment marketing. Some interesting tidbits we uncovered include:
If you're looking to reach a young audience,

Reddit is one strong option

, especially when trying to reach personas that aren't on Facebook and Google much. It's especially a sweet spot when targeting 18-29-year-old males.

In an effort to give their recently acquired platform an edge,

Microsoft is sharing job search results exclusively from LinkedIn

. Considering 33% of internet searches happen on Bing, it's definitely interesting news for recruitment marketing.

Get the latest trends on employee advocacy with this handy list of

27 Employee Advocacy Statistics

. It's hard to pick our favorites, but notable mentions include brand messages shared by employees getting 561% more reach than when shared on brand social channels, 89% of employees use at least one social media site for personal use, and 50% of those are already posting about their company. Read the entire list for more gems like those!