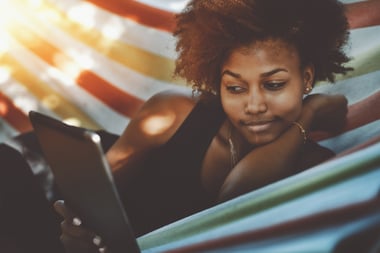 Ah, summer. We've missed you and your long, sunny days. There's just something about the first heat wave that makes you think, VACATION! Whether you're headed to the beach or just planning to staycation in your hometown, managing a healthy work/life balance is key to job satisfaction.
Unfortunately, it's reported that half of Americans (49%) have no plans to take a summer vacation this year. Why? One reason, expressed by millennials, is that they have too much on their plates! Not to worry, we're here to help you keep your social channels running, so you can enjoy some fun in the sun!
Plan, prepare, and unplug! Plan and publish content in advance. We're long past the days of publishing 10 tweets a day. Preparing 1-2 stories per week will keep your audiences engaged. Prepare a backup community manager or leverage a bot to auto-respond. We often see brand pages take a vacation as well. And guess what, followers are ok with that! And most importantly, unplug! That's the real challenge: Allowing yourself time to disconnect from a highly social world. If you absolutely can't turn off that phone, designate one hour per day to check your emails, news, and content marketing trends.
This week's trends are short and sweet. Perhaps our favorite social media sites are preparing for their own vacations.
Sun's out, Guns out: Pinterest is growing faster than Snapchat and Twitter as a result of their consumer experience. 90% of weekly Pinners use the app to make purchase decisions, while 78% of Pinners say content from brands on the platform is helpful. As consumer marketing paves the way for employer marketing, consider being a pioneer and help users shop for jobs. Reddit's also on the rise with an average view time of 15:10.
Drink the Kool Aid: And hop on the bandwagon for Facebook's Instant Article Builder. The platform's newest tool will enable publishers to generate articles instantly from their mobile site, no coding needed.
Summer, summer, summertime: Groove out to your favorite summertime jam while enjoying Snapchat's new sound responsive augmented reality mask. The pilot mask has animal ears that change colors and sizes based on the beats of your song.
Frosted tips and daisy dukes: Some of the greatest fashion trends come out in the summer. Following suit, Mary Meeker's 2018 internet trends report is out! A few notable highlights:
U.S. adults are increasing the amount of time they spend on the internet (5.9 hours per day)

Voice-controlled products like Amazon's Echo are on the rise

On-demand and internet-related jobs predominate the market
Expand your summer reading list. Subscribe to our instant blog updates!