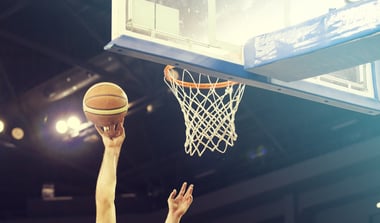 Many people don't think much about the state of Kansas. Flat. Barren. Brown. Cows. And I too was once the same as many of you. For the first 18 years of my life, I didn't think much of the 34th colonized state. I'm from Colorado where we're proud to have mountains and ski slopes, where we hike, bike and drink craft beer. What would I want with Kansas? It wasn't until I was looking for college that I visited (half forced, half curious) the University of Kansas and went to my first ever college basketball game at Allen Field House. From that moment on, I've been a proud Jayhawk.

So this time of year is extra special for me, as we approach Selection Sunday and the madness that is March. The beauty of March Madness is that you don't even have to like or understand sports (which TBH, I don't) to get into the fun of it. Anyone could win and that's the terrifying and exciting beauty of the game.
And much like the excitement and terror that comes with the upcoming college basketball championship, in the magical world of content marketing, we experience the same surprise, shock, dismay, and joy that comes with the love of the game. And that's the beauty of working in our industry. You just never know what's going to happen.

And with that, let's tipoff this week's trends, March Madness style. Rock chalk.
Game time stats: New Pew data showcased that Facebook is still indeed the MVP for most American adults. If you're shooting for the 18-24 range, however, you may want to reconsider your starting lineup. The underdog platforms of Snapchat, Instagram and Twitter are among top contenders for reaching a younger audience on social.
Airball, airball: Slam dunk, not so much for Facebook's Explore Feed feature. The platform has ended the feature after just a four-month run. Turns out people aren't fans of a split News Feed. Things people are fans of? Broadcasting their sports fandom on their status updates. Soon you might be able to do that, literally.
Three-pointer: It's a long shot but it could work. Advertising may be making its way to Facebook Messenger. The risk? Advertisers are concerned it is just a path to users' inboxes, and not an actual way to start a conversation.
Make some noise: For Instagram's latest feature. The platform is reportedly looking into adding voice/video calling features into the direct messaging section of the app.
Rebo(t)ing from a loss: Twitter's making good on its promises and bouncing back on its bot problem. The platform reported that it removed/suspended 3.18 million accounts. The final results? This is the first time the platform reported a monthly net loss in user count.
Want more action? Make sure to sign up for our upcoming webinar: Seasonal Hiring Tech for Success.