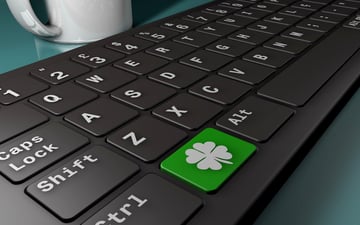 Finding top talent is like a four-leaf clover - hard to find, lucky to have, and may cost you a pot of gold. The most recent SHRM survey suggests the average cost per hire is $4,129. And according to the U.S. Department of Labor, if you hired a leprechaun, you could lose up to 30% percent of that individual's annual earnings.
That's why it's so important to rely on your recruitment strategies to drive results and save your luck for the lottery!
As you approach your strategy, don't put all your coins in one pot. While Programmatic Media can help drive your PPC forward; social media and email marketing help to nurture and influence your ideal candidates in their decision making process. Building leads and maintaining relationships with those leads will also help you when you have a need to hire quickly. Leveraging innovative technology, real-time data and artificial intelligence can help you find the right hires.
To learn more about how you can apply these best practices, sign up for our upcoming webinar - Seasonal Hiring Tech for Success.
In the spirit of St. Patrick's Day, this week's trends show that not only are employers competing for top talent, but social media platforms are competing to have that talent engaging on their sites.
Top o' the mornin to ya, Twitter!
In an attempt to improve the health of the platform, a panel of Twitter executives hosted a 45 minute livestream Q&A. A major theme was opening the verification process up to all users as one way to combat spam and fake accounts. Verification denotes trust and authenticity, which will be a huge win for brands with a careers presence on Twitter.
Facebook is after Snapchat's lucky charms!
Borrowing successful tactics from Snapchat isn't new for Facebook or Instagram. It's no surprise that the latest Messenger discussions included disappearing content.
Shamrock Shake It Off, @Snapchat!
The tables have turned, as Snapchat launches user tagging in snaps. Thank you, Instagram! Snapchat's also testing user-created lenses to stay competitive in the augmented reality space.
We'll count our blessings, YouTube!
YouTube Studio is moving out of beta with a new dashboard and 3 additional metrics. These insights will help marketers better understand the audiences their videos are reaching. This platform is a golden opportunity in the recruitment space, though often underutilized by talent acquisition professionals.
Sláinte! Happy St. Patrick's Day!