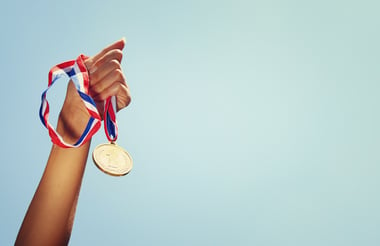 The Olympics. It's more than game, it's a time of year. The time of year when sports fans and patriots come together to cheer for their countries. It's not the sports themselves that draw us in, but rather the stories. Olympic athletes invite us into their journey. They share their struggles and strengths. We learn what drives them and what barriers they've faced along the way. They are transparent about their injuries and mental challenges, which is why we love their stories of redemption. We feel connected to the athletes, we want to see them succeed and share in their victories. We aren't just cheering for the home team, we're cheering for the team members who embody our home.
Talent Acquisition professionals can learn a lot from the Olympic stories. Just think of the interest your company could capture through sharing the compelling struggles and strengths of your employees. Remember, we're rooting for the people that encompass the brand. Showcasing your employee stories will also attract good cultural fits. We want to work with people who share our values, have similar interests, and inspire us to greatness. Stories are the real stars in content marketing and it's time to take home the gold!
Hear more about how impactful your employee stories are to attracting and engaging quality candidates in our recent webinar on candidate experience.

Speaking of GOLD, we present a special edition of this week's winter Olympic trends in the form of a virtual medal ceremony.
In bronze...
LinkedIn, for it's innovative new tool, Scheduler, which accelerates the recruiter to candidate conversation by automating initial interview scheduling directly through InMail. Nice, nice baby.
In silver...
Snapchat, for nailing a triple axel social update including their API transparency update, desktop snapmap and that fancy lens move.
... Points lost for SnapChat's redesign crash, though.
...That's gotta hurt. You win some, you luge some.
And finally... in gold...
Always a power player, Facebook really was in it to win it this week with more than a few key updates like that interesting downvote feature, making Groups cool again, reaching for new page insights, spinning out some video updates and that status update engagement-boosting finale that had us giving a standing ovation because who doesn't love lists?
What a week! What a show! Oh, before we forget... Alexa, turn on our #FridayAt5 song and publish to social, we're out of here.