In my last blog, I wrote about how Atlanta, Georgia-based Northside Hospital Healthcare System was redefining its recruitment marketing strategy in order to attract, engage and hire quality specialty nurses in an extremely competitive field. With three hospitals a stone's throw from its grounds and healthcare unemployment very low, candidates have options. Current employees do, too.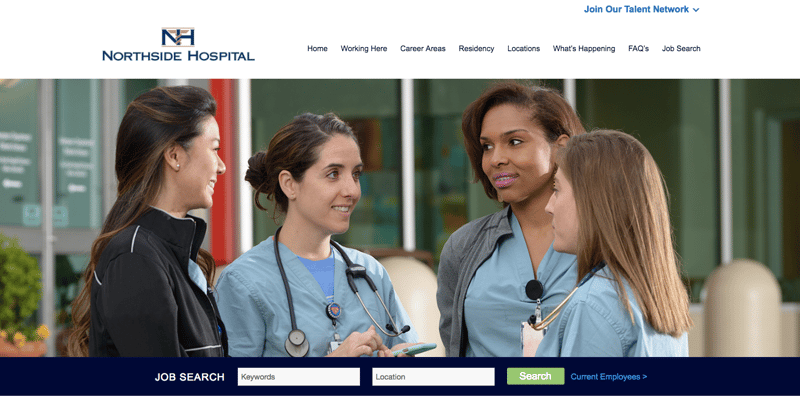 Having recently opened a cancer center in this competitive market was yet another reason Northside's TA team had to skillfully use sound, data-driven analytics and a comprehensive recruitment marketing strategy to source and retain talent.
For starters, Northside did a number of things to create a strong EVP. That included offering renowned job training and advancement opportunities; hosting fun events, like happy hours, that candidates actually wanted to attend; and creating a personalized onboarding experience.
Of course, it didn't stop there. While branded swag — like beach towels in the summer — reinforced that their employees downtime was respected and valued, they also developed flexible work arrangements — called UFlexNorthside — that let RNs strike a work-life balance.Taking things a step further, Northside also opted to offer a Local Travelers Program to attract outside-of-market talent: those who lived 100 miles or further out could opt to work three days per week and receive compensation for their commute or hotel.
All of this was a great start. Naturally, there was more Northside needed to do.
Initially, Northside needed to better target ads to attract new, qualified talent — and it needed to use robust analytics to do it. There was an initial discovery process, during which information was gathered, data was organized and next steps were reviewed on a monthly basis. The TA team needed to know what performed — and what didn't — so it could fine tune its approach to recruitment marketing.
With data in hand, Northside then decided to increase its Glassdoor budget, to clear results — the hospital snagged the site's coveted top CEO slot and significantly raised its employee rating on the site.
Piece by piece, initiative by initiative, Northside's approach took shape, building trust with employees and engaging new, skilled talent — all while its hiring team better tracked hires and made informed decisions about content and content placement thanks to relevant data. At the same time, Northside continued to nurture its EVP as an important part of the overall recruitment marketing strategy.
None of it would have been possible without real-time data — data that simplified and optimized Northside's recruitment marketing, guided its overall TA strategy, and cultivated its talent in a way that not only made them want to stay, but also gave talent a reason to sing Northside's praises.
Is there a one-size-fits-all approach that works for every organization? Not at all. That's why you need flexible, automated media optimization that heads you — for all the unique reasons that make you you — down the right path.
Watch the webinar on demand to learn how Northside Hospital Healthcare System is putting digital at the heart of its recruitment marketing strategy. During this webinar you will learn how the hospital is reshaping the way it attracts, engages and hires quality talent in a specialized, highly competitive field. Hear what content, channels and technologies Northside is using to attract top talent — an approach that you can apply to any hard-to-fill role in any field.