Atlanta, Georgia-based Northside Hospital Healthcare System is on the right track from a talent acquisition perspective. Having recently received a nod from Glassdoor as one of the "25 Hot Companies to Apply for Today," they're hard at work on the candidate experience in many ways. As part of a network of medical facilities with three acute-care hospitals, more than 120 outpatient facilities to provide a full range of medical services, however, they know there's high competition when it comes to hiring quality talent.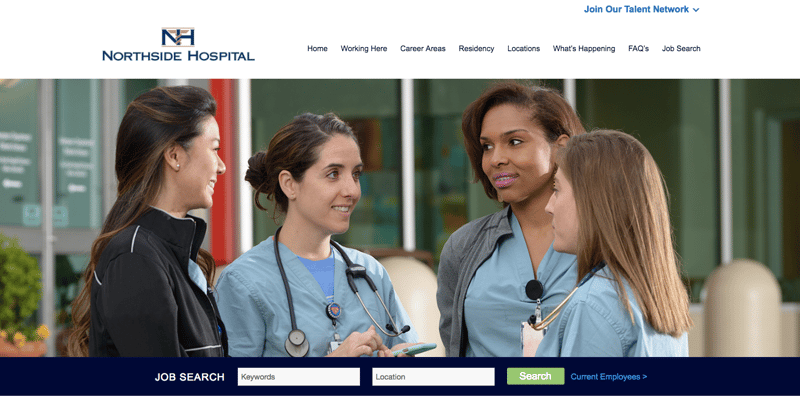 Boasting over 20,000 employees, Northside is one of the country's foremost leaders in patient care, delivering more babies than anyone else in the U.S. Still, they realize finding, engaging and hiring the talent to fill highly specialized roles, like bone marrow transplant nurses, isn't easy — nor can it be successful without a solid, digitally centric strategy to back it up.
Despite Northside's prestige, it stands to reason hiring challenges abound. Healthcare roles are among the hardest to fill — there's a severe shortage of available, skilled talent. That's increasingly true given healthcare unemployment in the U.S. dropped to 2.3% last quarter and the industry needs to add 2.4 million new jobs by 2026 to keep up with the needs of an aging population. Add that to the fact that nurses have no shortage of options — within walking distance of the hospital, no less. Nurses do move around — and will — given their skills are in high demand.
With such fierce competition, a middling approach to recruiting just won't cut it. Northside needed to stand out, and they realized it'd take more than a compelling employer brand and an engaging employee experience to make it happen.
Strategy Takes Shape
Hiring nurses for hard-to-fill, highly specialized roles in Atlanta's ultra-competitive market required Northside to enlist a strong recruitment marketing strategy. One that led with their EVP and culture as its differentiator outweighing salary expectations. That EVP paired with career site personalization, drip campaigns, and highly targeted media all focused on these difficult-to-fill positions.
Initially, Northside's analytics were next to nil — and that was a problem. Brick by brick, Northside began to build its omnichannel recruitment marketing strategy — fueled by robust analytics to back up decision making.
Ultimately, Northside realized it needed a few things in order to exceed prospective candidates' expectations.
Tell a Compelling Story, the Right Way
Fun employee events, flexible work arrangements, on-the job training and extensive advancement opportunities are the benchmark of Northside's EVP. It needed to figure out an effective way to demonstrate this culture across all media, including social marketing and the career website experience. That started with identifying the right content, and the correct way to present that story.
Personalize the Candidate Experience
Northside knew that the candidate experience is indicative of the employee experience. As a result, putting its best face forward — and communicating who Northside is and why it mattered — was key. With its career website as the central hub for communicating its employer value proposition, Northside is producing rich content that is relevant to job seekers, personalized based on their interests and that showcases what life is like as an employee.
Light the Path with an Analytics-Driven Strategy
Using an analytics-propelled recruitment marketing strategy is essential when it comes to allocating budget, understanding performance and deciding what to do next. Northside has a great story to tell. It just needed to do it in a way that met employees — and prospective ones — where they're at. By making smart hiring strategy decisions backed by sound data, Northside was able to boost its Glassdoor rating in short order from a 3.6 to a 4.4, as well as to snag employee choice-based top CEO acknowledgement on the site.
What makes its candidate experience so distinct? How is it that employees sing their employer's praises? How, exactly, is Northside attracting and retaining talent? Get an inside peek — Watch the webinar on demand to learn how Northside Hospital Healthcare System is putting all things digital front and center when it comes to its hiring strategy, as well as how it's reshaping how the way it attracts, engages and hires quality talent in a specialized, highly competitive field. Hear what content, channels and technologies Northside is using to attract top talent — an approach that you can apply to any hard-to-fill role in any field.
Stay Tuned!
In my next blog, I'll delve deeper into how Symphony Talent helped Northside tackle the challenges of recruiting in such a competitive market — and how a comprehensive digital strategy was integral to success. It's an inspiring story about creating an experience that resonates with today's digital natives. and I'm looking forward to sharing it.