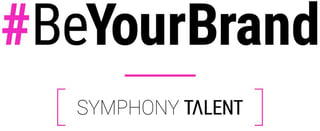 It seems anyone with an opinion and Google search is blogging about employer branding. From "authenticity" to "transparency," buzzwords abound. But what does it all mean? How are job seekers really behaving? Is "authenticity" simply telling the truth? To aid the discussion and cut through the noise, I've teamed up with Symphony Talent to take a close look at what's happening in the market-- and not just what sounds and looks good.
I'm going to find answers using a two-sided approach. First, I'll deep dive into the data behind career sites, social accounts, e-mail campaigns and other digital initiatives to see what the numbers show. Then, I'll follow up with a series of interviews with companies – ranging from hospitals to retail outlets – where we'll talk about everything from attraction to hiring.
In the digital age, people's behaviors change rapidly, and they expect the same digital experience whether they're looking for a job or buying a car. They don't have patience for things like poor navigation (they aren't going to hunt around for jobs or content), and their decisions are based on a variety of factors.
We debate a lot about whether candidates are ever passive, or if they can be tempted to explore an opportunity if it looks interesting enough. We know that each day people review hundreds of messages, from e-mails to Facebook updates. Our first battle is for attention - and attention from the right people. What content or message resonates, and what calls to action engage jobseekers? While it might be an old saying that content is king, surely, the truth is closer to "found" content is king.
What we look for in data is patterns of behavior. It is important to identify the trends, but trends only tell us what is happening. It's more important to explore and understand why.
I remember seeing a speaker in the early hype days of big data who included three slides in a presentation. They showed:
1: The number of people who drowned from falling into swimming pools over a fixed period.
2: The number of films Nicolas Cage appeared in during the same period.
3: The conclusion: that people drowned in swimming pools when Nicholas Cage was in a movie.
This reminded me that data in and of itself is a good place to start; however, all data really does is create questions. Real understanding comes from conversation and an exploration of the numbers. In the case of hiring, I'm interested in the real story behind the hiring, not just the headlines.
In the relationship between employer brand content and recruiting, it's easy to track volume (such as how many people applied to a particular link and what they did next), but we are more interested in uncovering the deeper story by exploring the data story through conversation.
I have plenty of my own opinions about the relationship between employers and modern-day job seekers, but I'll go into this project with a completely open mind. I'll be sharing the data through a series of blog posts and papers, and through conversations via individual webinars with each of the companies.
The 10 areas I'll focus on are:
1: How people are behaving on career sites now compared with 12 months ago
2: Whether people behave differently coming from social media channels vs. job ads, the content they look at and if they are likely to apply
3: The content people respond to, and what turns them away
4: Whether we can predict hires by behavior in the same way as e-commerce companies can predict hires (Sales?).
5: What being authentic looks like
6: How organizations balance the desire for "truth" with corporate control
7: Whether there's a difference between an internal and external employer brand
8: The difference between public and private sector employer brands
9: The impact of content on diversity
10: What is really new
This is just the starting point. I'm sure much more will emerge during the series. Follow the hashtag #BeYourBrand and sign up for alerts. Tweet or post your own questions as we work through the posts and conversations.
It's going to be fun,
Bill