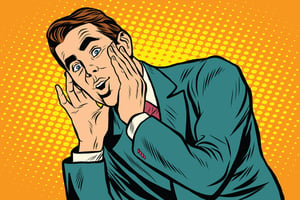 Programmatic. Automatic. Automated. Artificial. Intelligence... Is your mind going into a tail spin? The advancements taking place in the Talent Acquisition industry are remarkable no doubt. But sometimes even the most revolutionary concepts need a bit more explanation. We see this and we want to help. On April 27th, Symphony Talent welcomed Bill Boorman, founder of #tru conferences and media enthusiast for an interview style/ask-me-anything webinar with Symphony Talent's own VP of Solutions Engineering Loren Nelson to dive head first and bring some clarity to this new realm of modern, automated programmatic media.
Squeezing a live webinar into your schedule (regardless of how much you want to attend,) is tough to do. I get that, so we have you covered from all angles. Perhaps you are a YouTube fan, if so, you can find the on demand version here. If you prefer the quick and digestible digest, your golden nuggets of information are below. In short, this post will cover:
What is programmatic media?
What is automated programmatic media?
What does automated programmatic media mean to candidates?
What role does content play?
How does this impact on the candidate experience?
How do you measure impact?
How is candidate behavior changing the game for recruitment advertising?
Where to start?
What is programmatic media?
"Let's think about what programmatic media traditionally means..." Loren said. " I used to sit with clients once a year and plan a media strategy. What sites to contract with? What worked? What didn't?" Lots of planning, lots of evaluating, lots of turning the knobs to make sure that the media spend was being optimized to stay within budget, meet goals, yadah yadah. I'm sure this sounds familiar. Today, that constant evaluation is being made in milliseconds rather than once a year - after the money has been spent, telling us that recruiters need a way to not just be proactive in their spend, but have the ability to make real-time adjustments that will benefit your business. Are your ears perking yet? Traditional programmatic media demands human intervention and a significant amount of time to deploy.
What is Automated Programmatic Media?
Automated programmatic media is the new shiny object that is turning heads and for good reason. It does not require human intervention and is near real time in terms of deployment. Automated programmatic media allows the 'media' to compete for the companies in the best way to get the results you want. Think about it as an online auction on a pay-per-click model. Your recruitment teams therefore are now being challenged to deliver the results on what's driving clicks vs the "let's set up an annual contract and sit back and cross our fingers that it works". That's when you get the lion's share of the budget. Automated programmatic media leverages AI to automate media spend on sites that drive best candidates, refocus budget on highest priority jobs. So you may be asking, what determines the price? That's pretty simple: The basic laws of supply and demand. The more people that want to reach a certain demographic, job function, it will drive up the cost-per-click. This approach means media spend is being paid on performance vs. expectation.
What does automated programmatic media mean to candidates?
Huge opportunity, plain and simple. Think about relevance - as consumers we love it, in fact we crave it but we have high expectations. We want our consumer experience to be personalized, we want it to be on-point, and we want it presented to us on the channels where we engage in content naturally. Think of shopping on Amazon: you like that they're suggesting content based on your behavior. Why should the life altering decision of where to take your career be less informed than choosing a book to read, or selecting a hotel to stay at? Candidates are benefiting from the same approach, being delivered tailored jobs that are right for them on the channels that work for them. Candidates get the information they want to see in a way that's meaningful. Heads up! Don't forget about the passive candidates here as this approach also allows for these individuals to learn more about great opportunities without searching.
What role does content play?
As mentioned above, you don't want to target audiences with the wrong content at the wrong time, that's just spam. You want to target your audience at the right time, on the right channel. That's the magic formula, that's automated programmatic media. Cue: Nurture Marketing.
Loren makes a great point stating, "You need to move the needle slowly through content. It's about a relationship, not just a 'hello, let's spend the next ten years together." The average hire has been engaging with a brand for 7 months before they even apply! Automatic programmatic media fuels nurture recruitment and is ultimately changing the way people apply, as there are no more strangers, there is the foundational elements of relationship in the mix.
How does this impact the candidate experience?
It's critical to understand that companies should not solely be interested in knowing what the final trigger to apply is, that's just one touchdown on this journey. Companies must focus on the entire route to apply. For example, social content is huge, (think the main players: Facebook, Twitter, Linkedin,) as people (even before they are candidates) start exploring your brand they look to social media for information: What it's like to work there, what people are saying, etc. etc. Compelling content hooks people. That's no shock. If we look at the attribution of to source-of-hire, we usually see is 3-5% for social media. But once you dig under the surface you see the final click in the apply process is when you are on the career site. Again, this is why companies must double-down on nurture marketing and the contributing piece that automated programmatic media brings to this entire equation. Understanding the nurture process is a huge opportunity, it's going to be critical to knowing what's working and what's not. Companies need to embrace the omni-channel and understand all of the engagements that are important. Remember, recruitment marketing is a long game, not a sprint.
How do you measure impact?
We don't try to look at one solution as the silver bullet that solves everything. Automated programmatic media is about making budgets more efficient while making strides in the quality of hire department, not just volume.
Recruiters need to proactively be able to review talent. There is no way around that. There needs to be a blend -- it's about having the right tracking available to measure. We can take in the application data and use AI to inform on the programmatic media buying what media is driving volume (good to know) but what media is driving quality (the golden ticket!) We take that data, have AI match that data to the job requisite and automatically shift budget dollars to the medium to get more quality. It's not about gains if you aren't getting quality candidates.
How is candidate behavior changing the game for recruitment advertising?
As we size up what the new automated programmatic media methodology looks like, it's critical to understand just how candidate behavior is changing and how these changes are impacting the overall media process.
Hands down, the way candidates behave today is nothing like they behaved in the past. Even a year ago we have seen a complete 180. Why is this? The answer: Access. Today candidates have full-blown access to information. Through social media candidates have the ability to self-learn, absorb and be influenced which leads to the question of control -- you can't control the information but you can steer the conversation on social.
Your career site needs to be relevant to your visitors. When we look at career site activity, less than 2% of viewers look at content. But the jobs are getting more than 18% of views. You are condensing the experience into what really is a "consumer buying" moment. In terms of candidate behavior, people are searching for jobs not companies, so your content needs to be aligned. Last point on content: it's not about where to advertise it's' about identifying the persona of who you want to attract for a particular job. Then whichever sites that person with those attributes visits, you can bid on ad units to serve up relevant ads to those users. Automated programmatic media does just that.
Where to start?
If you want to take the inefficiencies and guess work out of recruitment advertising, eliminate the need for constant manual user management and are interested in freeing up your team's time to focus on candidates and managing media, then automated programmatic media is what you need and you need it now.
Automated programmatic media saves the time of manually making those adjustments, while using data to focus on those sources that are delivering the best-fit candidates, Your recruiter's time is not just important, it's precious. Think about the old way: in order to get quality talent in the door, recruiters would have to scour resumes. Piles, yes piles. It was labor intensive and inefficient. At Symphony Talent we are using AI to help empower the recruiter ie: "here are the top ranking by relevance through AI candidates that match your job requisite. Both the backend recruiter experience plus the front end media optimization is informed by AI to find the best quality." We can take in the application data and use AI to inform on the programmatic media side to show what channels are creating volume as well as what is showing quality.
We understand that an explanation can only get you so far, seeing a live demo is what makes the lightbulbs go on or in this case, ignites the fireworks. So let's continue this conversation, click here and an automated programmatic media expert will be in touch.