All working women hold multiple jobs – even if they only have one full-time gig. Because women work to break biases that plague their careers every day. These barriers include paternity leave, childcare concerns, pay gaps, missed promotions, imposter syndrome, etc.
It's tiring and unfair.
Why should women do extra work just to earn their fair share?
How can we support women in the workforce today and make a more equitable labor market for the future?
Debbie Tuel chats with Jess Von Bank, Head of Brand Strategy at Leapgen and the Now of Work podcast host, on how we can make work better for all women.
Here's a sneak peek at the steps Jess outlines on how to level the playing field and empower women.
Build awareness and acknowledgment: Our current labor market relies too greatly on other systems like childcare and school. This is evident because 5.4 million women had to leave work during the pandemic. (Learn more about the current state of the women workforce here).
Address systemic problems and perceptions: Today, working women face inequalities that prevent them from reaching their full potential. These issues are rooted in systemic policies such as paid leave, pay gaps and promotion opportunities (16% of women cite the motherhood penalty for missed promotions.)
Change the conversation for the next generation: To empower the next generation of working women and create a more equitable future, we need to make it possible for women to work on their terms without judgment or penalty. That means we need to have difficult conversations today.
Listen to the full podcast to dig into these steps and discover actionable items to bring to your organization.
Debbie Tuel:

Hi everyone, welcome to the RM Podcast. I'm your host Debbie Tuel, and I hope that you are ready for an all new lineup of experts who are itching to step out of the parameters of traditional recruitment and talent acquisition speak and get real on what it means to recruit on a worker economy and quite frankly an upside down world. Let's dig in together. The Washington Post recently published an article with Reshma Saujani that was forwarded to me by so many of you listening. If you don't know Reshma, she is the founder of Girls Who Code and the Marshall Plan for Moms, and she's also an author. In her new book, Pay Up: The Future of Women and Work (and Why It's Different Than You Think), she argues accurately in my opinion, that the pandemic exposed all the hidden work, domestic work done by women.

Debbie Tuel:

And that we now have this once-in-a-generation opportunity to change that. COVID blew the doors off, recognizing that workplaces have never been built for working mothers and 86% of women in the workforce will at some time be a mother. And we've always been operating on this proverbial seesaw, balancing our home life, balancing our career life, always trying to shrink ourselves to fit in. Today, we'll continue the conversation from last episode and discuss what the future of women and work looks like. And I'm so excited to be joined for such an important conversation by Jess Von Bank, head of marketing at Leapgen. Jess, welcome. How are you?

Jess Von Bank:

Thank you for having me. I'm fantastic. I'm so happy to be here.

Debbie Tuel:

It was only a couple of months ago where you and I were chatting on your podcast, The Now of Work, and I was like, "Okay, we've got to get Jess on the RM Podcast." Because even though you were doing some amazing work in the actual employee engagement and employee retention and all of the stuff that happens once you've got somebody onboard in the company, you started as a pioneer in the recruitment marketing space with one of the first technology providers in the space long ago, jobs to web, it all comes full circle. And then-

Jess Von Bank:

Yeah, totally. When I introduced myself, once a recruiter, always a recruiter. My first job out of college was not as a recruiter, it was selling commercial business insurance. And one of my colleagues said, "You would be such a fantastic head hunter, my wife does that." And I said, "What is a head hunter?" And I had a conversation with his wife and lo and behold, I was destined to be in the talent acquisition space. It's all about relationships and connecting people to opportunity. And then I fell in love with the technology that helps us create a better experience and do a better job of that. And so you're right, I was at the front of the employer branding, recruitment, marketing, talent attraction side of our space. And now I've spent my whole career in people and talent, the solutions we use to do a better job of making work work for people.

Debbie Tuel:

I love that. And work should work for people. It is a huge part of our lives, it's where we spend the majority of our day, unfortunately. But when you find that synergy between the work that you're doing at home and at work is where really the magic happens, right?

Jess Von Bank:

Yeah, absolutely. The reality is most of us work because we have to, we have bills to pay, but I do believe, I truly believe that we want to, we are wired to want to do fulfilling work that ties to our individual purpose. We want to make a difference in the world and work is a great vehicle to do that. Some of us do it in our personal lives and in other avenues, but work is a great vehicle to do amazing things with amazing people and make the world a better place. And I think that it can be that way, it should be that way.

Debbie Tuel:

It absolutely should be. And you and I got a chance to really get to know each other when I was at SmashFly and you were working over at Q Social with Josh Waite and so many other amazing talented people. And when we say everything comes full circle, you guys were then acquired by Symphony Talent as were we so lots of ties here bringing us together. So you really have roots within our space, our industry, our company. And Lauren and I, as we were prepping for today's conversation, she's like, "Oh, we still find some of Jess's works and little nuggets of Jess anytime that we're doing website work or blog work." You still have left your footprint everywhere that you go, and that's why I couldn't be more excited to have you on and chat today about the work that you do. So share with our audience that may not be familiar with you, what you're doing today over at Leapgen.

Jess Von Bank:

Yeah, absolutely. I described my experience and my beginnings, in the people and talent space, but at the end of the day, I'm a storyteller. I love to connect the dots and so I find myself in roles that allow me to do that or that need that. We don't do a good enough job of connecting the dots between why we do what we do and the actual people that can benefit. And all of the solutions that you and I get so passionate about this whole technology space, there's so much amazing technology. There are so many tools to help and support people, but we don't do a good enough job of connecting the dots to the people who are actually using them and should benefit from them.

Jess Von Bank:

And it really needs to be about changing the way people work. At the end of the day, you haven't really pushed the envelope unless you've tangibly changed the way we connect people to work. And so at Leapgen we're HR transformation consultants, we help HR departments, people functions inside the world's biggest enterprises, reimagine their HR operations, their service delivery models, how they deliver services and experience to the workforce, and of course, all of the tools and technology they use to do that. And so that's the whole HR technology, HCM market, talent technologies, all of the stuff we know exists, but we really reinforce the difference between digital and technology.

Jess Von Bank:

You have to think digital, you have to think like a consumer, you have to do human experience design to bring technologies and experiences to life to actually provide value. So that's what we do at Leapgen. I run marketing and brand strategy for us. We partner closely with the vendors in this space, we think a rising tide should lift all boats. And if we're really going to change this space, we have to help not just employers and enterprises, but the actual solution providers who are making these tools for them. And so I help them with all of their connecting the dots, as I said, their messaging and go-to market and how they connect solution to value. And I'm just giddy that I get to do all of that.

Debbie Tuel:

Well, and I think that your energy is infectious. It spreads with everyone that you work with and you speak with, and you do such an amazing job of bringing those stories to light. And two weeks ago we had Chandra Sanders on from the Mom Project, specifically talking about the work that they're doing with Rise, where they are helping to re-skill women of color, to help them get back into the workforce, helping build up their confidence of how they talk about gaps that they've taken in work and helping them build out their resumes and some amazing things. So, first of all pause, listeners, if you have not listened to that episode, go listen to that first, because we're going to build on that. Because Chandra and I spent a lot of time talking about bringing women back to work.

Debbie Tuel:

And what I really want to spend some time on Jess is talking about the women that are doing the work right now. We know that we have lost women and that is because we haven't made work work for them, as you mentioned. And so what can we do to make work work for women, work for working moms, work for women that are supporting other family members and that have these dual roles. And this is something that you are super passionate about that you advocate for women on a daily basis. So I would love for you to share some of the research that you found in digging up, hey, we can do better, because I know you've done the work, you've done the research, you're super well versed on this subject.

Jess Von Bank:

Yeah. I think the first place to start is awareness, educate yourself and build awareness around the fact that the system is broken. If we don't start with that acknowledgment, then what are we fixing? And so we do have to understand that women participating in the labor market, actively participating in the workforce in the way they want to and can, over relies on other systems. It relies on school and childcare. If those two things aren't in place, women do not and cannot participate in the same way as their male counterparts. And that's just a statement of fact, and the pandemic proved that. When schools and childcare systems broke down, work broke down for working women. That's why 5.4 million women lost their jobs over the course of the pandemic.

Jess Von Bank:

2.1 million women left the labor market entirely. They didn't just change jobs, find another situation that better suited them, went where the grass is greener. They fell out of the labor market altogether, and two in five of those may never return. So we have to ask ourselves why, what happened? Why did it break so drastically? And again, we know there are systemic reasons. We have not built the system of work in a way that accommodates anyone and everyone who can participate in it. And right now we're talking about women and working moms, but think about all of the groups that is true for. Think about diverse populations of the workforce, who can't approach work in the same way that you and I can, who have difficulty participating in the same way without flexibility, creativity, basic accommodation.

Jess Von Bank:

And I'm talking about such basic accommodation, it's sad. It makes me so mad when I think about all of the easy things we can do to make work work better for people. And so that's literally where we need to start. And then there's harder work to be done, there are bigger changes that need to be made because this is really systemic. This is a systemic problem. One example is paid leave so that other caregivers can step out of the workforce and step back in when it makes sense and not put all of that burden just on mothers and women caregivers. And so those things like leave policies, of course that's harder work, that's policy work, that's system change, but we have to do that too.

Debbie Tuel:

Yeah. And it's not just about putting the leave policies in place. I think that is step one, but I think the harder thing to do is break the bias that happens when somebody takes leave. For some reason in our society, we have looked negatively upon people who take breaks in their careers, that take leave in their careers. We want to celebrate them on one hand, we're like, oh, that's amazing that you were able to take a step back in your career to take care of your mom and spend time with your mom towards the end of her life or whatever the situation is, I'm using that as an example. But on the flip side, when they come back to work, we look at it negatively. And so there has to be this, yes, we need the systems in place, but the bigger challenge is how do we change the perception of some of these policies that we're going to put in place so that people do take advantage of them and don't feel guilty for doing it.

Jess Von Bank:

Yeah. Again, I think it's really important to lay down straight fact. So what you described is what I would refer to as the motherhood penalty and speaking of Chandra and the Mom Project, they've done great research around this, but you can find it anywhere. The stuff is not hard to find if you want to understand the impact of motherhood I guess on work. And I say that's not a bad thing, the impact of motherhood. But the motherhood penalty refers to the fact that women are less likely to work when their children are young than when they're older. So when you're actively raising small children, you're less likely to participate in the workforce. About 43% of women workers, I bet you don't know this, 43% of women workers have at least one year where they have no earnings.

Jess Von Bank:

Now think that's probably when they had a child and took leave, paid or unpaid leave, in this case, unpaid I guess, or they decided to step out and do some child-rearing at home during the early years. But the average woman about 43% of women have one full year with no earnings. We never make that up, that's one of the primary reasons behind the pay gap. The pay gap exists because we have these milestone moments where we lose earnings and then we never make them up again. In fact, once we lose earnings, that domino effect continues. We're less likely to go after a promotion, again, when our children are young in particular and we're passed over more, whether or not you've stepped out of the workforce to do child-rearing, you are overlooked. In fact, one of the stats I found 17% of women have been passed over for an important assignment, 16% said they were passed over for a promotion because they have children.

Debbie Tuel:

And what that doesn't even show is the stat of women who didn't even go for the promotion.

Jess Von Bank:

Who didn't even go for it. So that-

Debbie Tuel:

Who thought, "Oh, I can't. I've got kids at home, I don't know if I could take on more work," and they put it on themselves, right?

Jess Von Bank:

Exactly. I had a conversation with Chad and Cheese on their podcast around the imposter syndrome. And that drives me nuts, I had a visceral reaction when they asked me to talk about women and imposter syndrome because my response to that is no wonder women have imposter syndrome. We have barrier upon barrier, upon barrier and it's tiresome. It is literally tiresome debunking myths about how women participate or don't participate. And Cheryl Sandberg tells us to lean in, what if I want to lean out? This is too much right now, my priority is something else. And so we have all of these talk tracks and all of this language in our head and all of these preconceived notions and biases and all of these things we have to overcome when really it's up to us.

Jess Von Bank:

Number one, we have to have privilege and choice, and we don't have either one in today's system and how we've set things up. Some of us do not have privilege and most of us don't feel a sense of autonomy and choice. We feel judged, we wonder if it's okay, we know there are repercussions. And sometimes we're okay like, "Okay, I'm going to take a year off. I'm going to go raise my kids. I have too many kids, I can't do it all." But do I truly feel a sense of choice and freedom? And do I trust that my employer or an employer will welcome me back in a fair and equitable way, will provide basic and reasonable accommodation to allow me to participate in a way that makes sense for me. And I envision a future, I'm raising three young girls and I am bound and determined to change the conversation in my lifetime. Because I envision a world where empowered women can work on their own terms with no judgment, no repercussions, and certainly no hit to pay or promotion or succession possibilities, no hit to their opportunity.

Debbie Tuel:

We celebrated for it.

Jess Von Bank:

Yes, exactly. And so imagine a world where I say, boy, there's a lot going on right now and I'm going to choose to handle it in this way. I need to flex right now, I need to go part-time, I need to flex my hours. This is the schedule I can work, this is how I can contribute value. Maybe I just choose one project to actively participate in, take everything else off of me right now. When I'm ready to do more, I'll let you know. And that's a very adult, we don't even work like adults. We dance around pay conversations, we tiptoe around can I ask for flexibility or accommodation? Oh my gosh, can we just work like adults? And can women find their voice and say, this is what works for me. And because I'm a high value, high performing contributor who you should want to... Let's have this conversation. And to me, that is such a human, respectful, dignified way to approach this. And we're not there yet, but I think we can get there.

Debbie Tuel:

We're not you're right. We can, we're making progress. You've touched on so many key things there that I want to double click into. I think one of them is when you talked about the pay gap and we're just level set for everyone. I know we talked about it a couple of weeks ago, but just to reiterate guys, when we talk about the gender pay gap, we've made improvements, but we have not made significant improvements. We have still this huge pay gap that when you look at the world economic forum, they say, it will take us 135 years to reach gender parity if we keep going on the parallel path that we've been going on. We need to make changes to start to level that playing field.

Debbie Tuel:

So I think that is one area where every employer can do their part to help in leveling that, and start to empower women. But you're right. We've got to take control of our own careers, we have to be able to find our voices and we have to feel comfortable in our work environment to be able to voice that and have those adult conversations and feel supported. And you and I were chatting sometimes it's a privilege. It's a privilege to be in that position of making that choice, it's a position of privilege to be able to have those conversations and not all women are in a position of privilege. And that adversely hurts the diversity of most organizations.

Jess Von Bank:

Absolutely. Yeah. Debbie, at the time of this recording, it's March 17th, you will release this shortly. Two days ago, March 15th was equal payday. That means the average woman had to work until March 15th of this year to earn the same as the average man earned in the last calendar year. So men were done working on December 31st earned what they earned. To make up the gap, we had to work until March 15th. That's how to translate equal payday. That's horrible and Biden came out with a little bit of celebration, because it's earlier this year than it was last year. It's still March 15th. Yeah-

Debbie Tuel:

Guys, we're talking two and a half months here. This is not a small amount of time. This is like, why am I working harder and longer both at home and at work to bring home the same amount as my male counterparts? Somebody explain this.

Jess Von Bank:

I have to call this out, it's really important, it's really important, it's really important. Equal payday for black women is September 21st.

Debbie Tuel:

And that's shameful. It's shameful on all of us.

Jess Von Bank:

Shameful. So yes, the pay gap exists and there are a few key drivers behind why that happens. We just talked about the motherhood penalty. The fact that women step out of the workforce for child rearing, which should be their right and their privilege, their choice to do that, but they shouldn't suffer consequences for it. That's one of the drivers behind the pay gap. The other one is the broken first rung to management. We're not promoted at the same rate as our male counterparts. Either we don't step up and ask for it for reasons we know, we [inaudible 00:21:14] around some of them, but for other reasons too. And these are true diversity and inclusion things that need to be addressed in your organizations to understand bias that exist in your considering how you see talent.

Jess Von Bank:

There's bias there that needs to be overcome to fix that broken first rung to management. And there's other reasons too. So closing the pay gap, it isn't an oath or a commitment that you need to make in your organization. A promise you put on your website, you actually have to open the books. I'm a believer in pay transparency and you have to look for a disparity, you have to evaluate positions. And when we talk about equal pay, it's equal pay for equal jobs. If you and I do the same job and we are equally skilled, there should be equal pay for that. I'm not saying there's not room for negotiation, there's not room to excel, there's not room to be a top earner because you have unique skills and all of that. All of that is still true, I'm talking about basic parody and equity for the same work. And so you have to open the books and understand.

Debbie Tuel:

Jess, you actually, and I'm going to link it in the episode notes because you wrote an article outlining what are the 15 things that employers can start doing to attract higher and treat working moms fairly. And one of the things that you talked about is you have to track it, you have to have transparency. And I think that is so key, especially when we talk about the pay gap. And what you're talking about in that rung to promotion is if you are just thinking that, "Hey, we're going to pay everyone equally at the same level," that's that's step one. But if you are not tracking, what is the rate of which we're moving women up in the organization? What is the rate in which we're moving diverse candidates in general up in the organization and how does that compare to their counterparts? And then being transparent around, we're not doing enough, we're not doing the right things. What conversations can we have, what programs can we put into place, we're never going to get there.

Jess Von Bank:

Yeah. And again, I'm going to beat the drum on intersectionality. You can't just look at it for women. That's important start looking at women, but then don't stop there. You have to measure intersectionality, which means apply other demographic filters to that to understand women caregivers, women of color, people of color, women of varying needs or lived experiences. Other facets of diversity because I promise you every stat I rattle off, I'm big on just straight facts and data and show me, truly try to understand these issues. Every stat I rattle off for women is twice as bad for women of color, just double the badness. And so you have to remember, it's not just women, women of color are impacted or women caregivers are impacted even more adversely. And so when you look at ways to reduce bias and to track representation and to create parity and inclusive environments, which are truly accessible and approachable and have all the right accommodations in place, you have to look at those additional factors.

Debbie Tuel:

And the other piece that I want to touch on today is, and this is something as you mentioned, you are raising three strong little girls, not so little anymore, they are growing into strong little women. But it is something that is so important to you is to make sure that you're passing on these learnings to your daughters, to the next generation. And I think that we have shown, in the last two years, some positive and negative to our children, but I think we oftentimes are overlooking the impact of what's happening in the workforce today and how that is being shown to our children. What example are we setting when we see all of these people leaving the workforce? What example are we showing when we're having to shoe our children out of a screen or tell them to be quiet because it's going to interrupt my professionalism in the workforce. I think there's so much that we are overlooking of the examples that we're setting for our children and where we can do better.

Jess Von Bank:

Yeah, absolutely. One of my favorite words is permission. We have to give ourselves permission and we have to give others permission to have a voice, to take up space, to ask for what we need, to say no, to set boundaries. And we weren't good at that most of us, I'll just make a general statement, we weren't all that good at that even before the pandemic. And then add all of these weird pandemic circumstances and conditions and this weird blurring of lines. And we celebrate that like it's a good thing and it is, there are a lot of good things to blurred lines and that home life thing that just became super fluid. I actually don't prefer it all the time. I would actually like you to all be in another physical location for a few hours a day so I can use my whole brain on this whole task. Multitasking is horrible.

Jess Von Bank:

That means multitasking everything is half-assing everything. And so yes, it's a good thing to be celebrated, but it's probably really good if you don't have three critters hanging off of your arms. And so the way I think about raising my own kids and the way I think about being a voice in this space and for women and working moms and single moms and all of that, I realize I have a big voice and I use it. I try to use it for good. I'm good at self advocating. I ask for what I need, I stand up for myself. I teach my kids how to stand up for themselves, I teach them the proper escalation path, when to ask for help, where to find help, how to find the advocates and champions on the playground, because that's their world right now.

Jess Von Bank:

It's the same skills they're going to use in the workplace. And so that's me and my little world and the impact I'm able to have, but I truly believe we all need that. Not every woman has found her voice yet. And they're not going to march into their boss' office and self advocate tomorrow because they heard this podcast. If it gives you a little bit of permission that you can and should and you have allies and advocates and champions out there, that starts a little snowballing effect, but I say this all the time, please don't make women do all this work. Supporting women is not the work of women, it's the work of employers and human beings in society.

Jess Von Bank:

Don't make us do all the rowing and climb uphill on our own behalf. That's exhausting. If we can do one to many work as much as possible and pave the way somebody blaze the trail for the trail blazer, please. That is your job. If you employ human beings, that is the dignity you owe them. And so I speak about it from both angles. Yes, women, go, go, go ask for more. That's also exhausting. Speaking of the Mom Project, they put out great research about the fact that women do more than their male counterparts to represent the underrepresented. They do more to support marginalized groups, they do more to drive diversity and inclusion in their organizations because it benefits them. Obviously that benefits them and that nurturing caregiving part may come easily to some women.

Jess Von Bank:

I'm not going to make that generalization, but maybe that kicks in a little bit too, but that is exhausting work. So now you're creating a burnout factor for women who are just trying to make life better for themselves and everybody else, now they're burned out doing it. So it's really unfair. Don't create these conditions, reach out and help. And that's the difference between an ally and a champion. I've been asked that question a lot too. An ally puts acronyms behind their name on LinkedIn, awesome. Need that too all day long or go out and make a great social media post, showing your support for women's history month. I love it, that's great. That's perfect allyship-

Debbie Tuel:

It's a good step in the right direction. We need those.

Jess Von Bank:

But we also need champions and champions in my mind have influence, authority, budget, decision making power. They can actually activate change, they're in control to change the system. I need champions too, because otherwise I'm just rowing against the current not making much progress. I need champions all day long to change policies, to institute change, to hold people accountable in organizations for new standards, new measures of success for this work.

Debbie Tuel:

Jess, I think we can end right there with the standing ovation. Lots of people clapping and yes, as they're listening to this episode. So relatable, I think every single working woman can relate to these struggles and these internal and external struggles that we all face. And this has given us some really key ways that both we can stand up for our own voices and our own needs, but also to find those allies, to find those champions and to empower those champions to help make that systematic change that is going to help drive us forward. And so as we wrap out the session, there are a couple of questions that I have for you. One before we get to our rapid fire questions, because you are such a strong ally for your daughters and women in general, you have a little side hustle called Diverse Daisies. Do you mind sharing a little bit about the work that you do there?

Jess Von Bank:

Absolutely. I started volunteering for this organization about five, six years ago. A good friend of mine is the founder, Kim Perry. And over the past year, some changes in her own life, she found it necessary to pass the torch. And so I accepted the role of president of this nonprofit organization because I'm a huge believer, not just a supporter, but a believer in this work. It's a nonprofit based here in Minneapolis, St. Paul, it's designed to present activities, opportunities, enrichment, empowerment to young girls ages 11 to 15. And so we provide those at activities, inspiration connection. It's honestly about connection and relationship giving these girls friendship with each other, role models, experiences they might not otherwise have.

Jess Von Bank:

And as my own daughter's agent to the program, I'm seeing firsthand every single day in real life how truly important and empowering it is. These girls, especially coming out of these last two years, not just girls, kids, Debbie, you know this, they have had a weird two years. And the sad reality is they don't even know how weird it is, they have nothing to [inaudible 00:32:38]. They just think life is this weird. So as much as we can keep them connected and inspired to real stuff, what is real and paint a picture of hope and opportunity and excitement and all of that. Anyway, so that's Diverse Daisies and that's my side hustle. It all ties to my why.

Debbie Tuel:

Absolutely. And it's such important work and you're right. We've got to give them those connections, especially right now of what is going to be their why, how do they find their why, how do they connect with others that have similar whys that can help them in expediting and really blowing up whatever it's going to be that they do in the future. So I love the work you're doing, I appreciate you sharing that with us. So now we're going to jump to rapid-fire. Jess, what is the one book or podcast this past year, I don't know if you're more of a reader or a listener, that you have consumed that you would recommend for our listeners?

Jess Von Bank:

Okay. I'm going to tell you one that I haven't consumed yet that I'm dying to, and this is going to surprise you. I was such an avid reader as a kid, I still am I just don't find as much time for it. I'm such a bookworm. I was literally that kid that was behind a book all the time. We had guests come over, I was climbing into their laps handing them a pile of books, begging them to read to me. I was an early reader, a fast reader, words are like mono to me. And so my mom gave me the sweetest Christmas gift. You know how some of the sweetest gifts are the smallest, but they're so meaningful? She gave me a book saying Everything I Need to Know I Learned in a Little Golden Book. Remember those little golden books?

Debbie Tuel:

Yes.

Jess Von Bank:

There must be hundreds of them. And literally it's Everything I Need to Know I Learned in a Little Golden Book. I cannot wait to read it, it's like-

Debbie Tuel:

Oh, amazing.

Jess Von Bank:

I literally can't wait to just flip through it and-

Debbie Tuel:

Get all of the little tidbits. You need to start doing that on a daily basis. I'm going to start messaging have you read your page today? Make it your devotional for the next-

Jess Von Bank:

I know I should.

Debbie Tuel:

We also ask each guest to ask a question of our next guest. So first I'm going to take us back again to Chandra. Her question is for you, how are you finding your forward?

Jess Von Bank:

That's so easy for me because I look at all three of them every single day. I have three girls, even if I didn't have... Somebody asked me one time, what would you do if you had boys? And said I don't know-

Debbie Tuel:

Same thing. Jess, you'd be doing the exact same thing. You'd be teaching them some different lessons. But I think what you are teaching your girls is what you would be teaching the boys too only you'd teach them how to treat girls kinder.

Jess Von Bank:

I think so too. I would still be doing women's empowerment, raising girls and I would be teaching boys. I think that's just as important, but I happen to have three girls and I don't think that's any mistake on the part of the universe. And so my [inaudible 00:35:37] looks at me every single morning I wake them up for school. I'm intent on changing the conversation in my lifetime so their experience can be different than mine. Not that my experience is all that horrible, I'm just aware every single day that this isn't good enough. It's not good enough for women, it's not good enough for my daughters or yours, it's not good enough for the next generation of kids coming up in the world. We can do better.

Debbie Tuel:

Agreed. And hopefully I am raising three champions of our future. I hope that together, the girls and the boys will definitely change our future.

Jess Von Bank:

Yeah.

Debbie Tuel:

What would be the question that you ask of our next guest?

Jess Von Bank:

Yeah. Oh, I would say I know a couple of the guests that you have teed up and we all work in this, we all look at these and design and bring to our employers and clients amazing solutions. We've never had better technology than we have at our fingertips right now. And so I guess I would be very curious to know, what are we leaving on the table? We have incredible tools, technology, AI, machine learning, science, medicine, what are we leaving on the table? Is this a design consideration at this point? Have we not created the next big thing and this is literally an invention and innovation problem, or are we not literally thinking? I think we could design almost everything. I think we could create almost anything we need with what we have at our fingertips today.

Debbie Tuel:

Agreed. I like that. What is the one person that you think everyone should follow? Where do you get your information? When you get into Twitter or LinkedIn, who are you just overjoyed when you see that they've posted something and you go to read it?

Jess Von Bank:

A recent I'm fangirling him right now and trying to bring him onto my show. Chris Herd, have you heard of Chris Herd on Twitter?

Debbie Tuel:

I have not.

Jess Von Bank:

Okay, go follow him I gave you something new. He's a founder, he's a CEO, he's got a company around supporting remote workplaces. There's so many of them out there right now. What I love about him is his straight talk. Straight shooter, straight truth, straight talk around... He makes some really obvious statements that make you go-

Debbie Tuel:

Why did I not think of that? Why didn't I say that? I agree. All right, Chris Herd. First of all, everybody go follow him, I will too.

Jess Von Bank:

Yeah. I could tell you all of the big, popular people that post all of the [inaudible 00:38:16] quotes, but no, he's my recent hidden gem.

Debbie Tuel:

All right. And Chris, if you are listening to this, Jess needs you on. Now you've got to come on.

Jess Von Bank:

Yeah. We're scheduled to talk in a couple weeks, I'm so excited. And I just spoke with Alison the founder of the Mom Project. And I would say that was my other big find and crush over the last couple of years, I was loosely aware of them. They really came to light in the last four or five years or so, but now their research is impeccable. I love to ground everything in research and data, give me the fact and their research is impeccable. Go follow them too.

Debbie Tuel:

Awesome. Yes, totally agree. And finally I am, and I think this ties into the question that you had for our next guest. We do have a ton of great technology out there, is there anything that you've seen that you're like, "This is what we need or this I'm excited about or man, if we could just do this." Is there any new cool tech out on the scene that you're like, yes?

Jess Von Bank:

I'm going to answer it in a different way. We get really hyper excited about AI. And I think there's huge opportunity, I think we've scratched the surface. I think there's a lot that can be done, but I honestly think we have to start with automation. I know it's just such a boring answer. What we call AI-

Debbie Tuel:

It is a real answer, Jess.

Jess Von Bank:

Yes. What we call AI is honestly robotic process automation. Let's start with basic process automation, basic automation to assist and support humans because that's the beginning of the digital transformation that wants to happen. Stop doing the mundane, the repetitive, the stuff that takes twice as long to do. If we could only just get a machine to do and then we can start doing it intelligently and start to make well-informed data inspired decisions. Everything you talk about with AI, everybody out there who likes to preach AI, let's take it back a couple of levels and talk about where we're at so we can truly get to the intelligence that technology can offer.

Debbie Tuel:

Amazing. Jess, it has been and such a pleasure. I think it exceeded my expectations. I don't even know how that's possible. It is always a pleasure to chat with you. I'm so glad that we got to have you on the RM Podcast. For everyone that is listening, Jess, where can they find you?

Jess Von Bank:

I am Jess Von Bank everywhere on social, that's my handle on almost every channel. I'm at Leapgen, we have a community called The Now of Work. There are lots of ways to follow our teaching, our education, our community. If you just want to stay in the know on stuff and just find a tribe of people who have these conversations in real-time, we invite you to listen in anytime. And I'm at Leapgen of course, we're happy to help any employer who wants to do this transformation progress.

Debbie Tuel:

Amazing. Thank you so much for joining us. Until next time, thanks, everyone.

Jess Von Bank:

Thank you.
Want to sign up for the RM Podcast?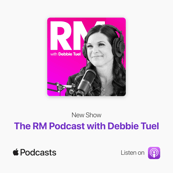 Want to learn more about the topics discussed today?
Check out more details on the Great Resignation & Rehire, CRM Tech Adoption, and the new ideas for recruitment marketing in the 2022 Ideabook -- all available at: https://www.symphonytalent.com/en/resources/.