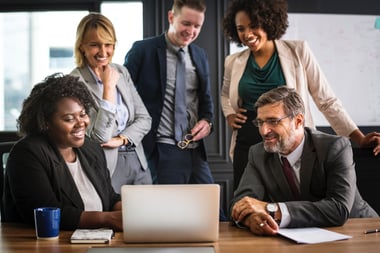 In this last year, I've seen so much of our vision for Symphony Talent come to fruition.
In recent years past, the trending industry concept has been to make recruiters "think like marketers" and "act like marketers." But marketing overall changes so rapidly that even marketers themselves find it challenging to stay ahead. We made a conscious effort to refocus this way of thinking and rather than try to make recruiters behave like marketers, we are empowering recruiters to leverage talent marketing solutions that allow them do what they do best - build relationships - and take marketing, which is critical to their success, out of recruiters' hands and into an automated engagement that creates a personalized experience for candidates. I've watched employer branding, talent acquisition technology, and talent marketing evolve and align solidly with this perspective and I'm glad we're playing a role in shaping the dialogue around it.
In short, the vision we all share is becoming a reality.
Bringing Experience to the Forefront
In many ways, 2018 was the year experience came front and center. Candidate experience – making every touchpoint on their journey relevant and inspiring. Employee experience - incorporating employee advocates into the recruiting strategy in order to provide job seekers with credible, transparent insights into the unique benefits of working for an organization. Recruiter experience – HR leveraging AI and machine learning to automatically deliver a compelling message to an audience of active and passive job-seekers, and automation to identify and source candidates. And, last but not least, ST's own experience in bringing new skills, concepts and technologies to the changing world of Talent Marketing.
TA leadership is evolving as well – becoming more candidate-centric and seeing the inherent value in having a strong employer brand supported by technology solutions that seamlessly bring it to life. It's also gratifying to see TA move from a reactive mindset toward strategic one, and in so doing, become true business partners with a place at the decision-making table.
Innovation and Recognition
In 2018, ST's calendar was fuller than ever – with attendance at events like Unleash, EBrandCon and HRTech, as well as an informative series of co-hosted webinars (thank you, ST clients!) that delivered a wealth of valuable information and insights. Over the course of the year, we also received two TAtech Recruiting Service Innovation (ReSIs) Awards, including 2018's Most Innovative Recruitment Advertising Agency. It's very nice (and more than a bit humbling) to be so positively recognized by one's peers!
On the technology side, 2018 saw the launch of Symphony Talent's Healthcare Hiring Solution, the industry's first talent acquisition solution set specifically designed for today's Healthcare Ecosystem. We also introduced new integration capabilities with the industry's major ATS platforms, including Workday, Taleo, Infor Talent Science (Lawson), and Kenexa. In addition, ST's M-Cloud platform (now part of the X-Cloud solutions suite) was recognized by Human Resources Executive as one of the top products of 2018. And just this month, we announced our partnership with Google Cloud Talent Solution to provide clients with enhanced search capabilities to attract, hire and engage quality talent more quickly and effectively.
In the End, It's About the People
We often speak to our clients about the important impact a strong, supportive culture plays in attracting and engaging great employees. Because at the close of the (work) day, any organization can only be as successful as the people who are part of it.
I'd just like to say that Symphony Talent is positive proof of this. As a team, we bring extensive experience and a real passion to our work every day. Not only are ST's people highly knowledgeable, professional, and innovative, they're willing and able to be there for each other and their clients, no matter what. Over and over, I've seen firsthand their ability to pull together, tackle the "impossible" and turn a challenge into a triumph. Our people like each other, support each other and love what they do. All of which makes me proud to be a part of our global - and growing - family!
I'd again like to thank our client partners and Symphony Talent subject matter experts for delivering great content throughout the year to help equip employer branding and talent acquisition leaders with the tools they need in order to be successful. And in case you missed my last post, here's a link to my personal picks of ST's top blogs of the past year.