They say culture is the beating heart of a company. At Symphony Talent, culture is embraced by those who share in our core values. Here's my story: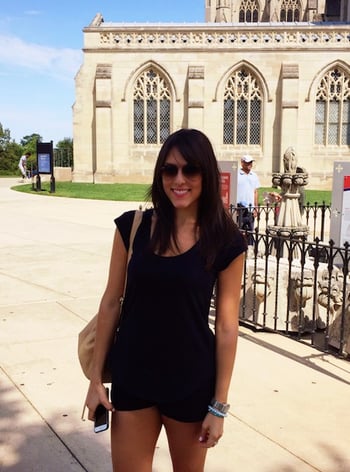 When I graduated college, I knew I would have to work extremely hard to get the job I wanted. At the time the economy wasn't doing so well and finding a job was a challenge. The world wasn't going to cater to me and the search was long and frustrating. I just hoped that for my first job I would be able to have the opportunity to grow professionally and be able to meet great people. At the time I was working a job that wasn't in my field, but it was important to me to have one while I was looking. Night after night filling out application after application felt like a never ending task. One evening, I came across an Account Coordinator position not too far from where I live.Two days later I received a call to interview and 5 years later here I am, a Senior Associate, Strategy & Client Services and a new addition to the Content Marketing Team.
My role has changed over the years, I've grown professionally and my skill set has expanded. I'm able to do things now that I once had hoped I would have the opportunity to do. In my time working here, I've found one thing to be true. Your co-workers make ALL the difference. I know mine do. I've had the opportunity to work with a lot of people from all departments. I can honestly say that the people that work here are one-of-a-kind. Smart, creative, thoughtful, supportive and dedicated. When I have a question about something, there is always someone that I can seek out for an answer. When I need support I know someone is there to assist me. And if I need advice or guidance, there is always someone to lend an ear. We all work together and collaborate in a way where we not only get our own jobs done, but we learn and constantly grow together as a team. Having worked closely with some for so long, I consider them my work family. And for that I feel very lucky and very grateful.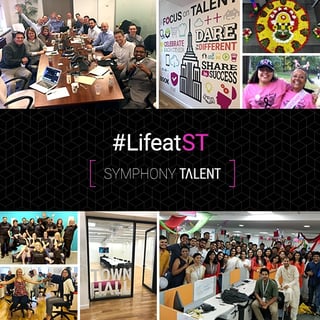 Out of all the companies I could have ended up at, I landed among a group of wonderful people from all over the world. Here at Symphony Talent, we have offices in New York, Houston, Oklahoma, Bangalore, London and Bedford. Not to mention remote employees from all over the globe. Working remotely on some days, still allows me to continue to meet more colleagues virtually, which one wouldn't think would necessarily be the case.
When it comes down to it, there will be great days, days to celebrate, challenging days, days you just can't wait to be over with. But working here you're never alone. You're always a team, always learning always growing, always supporting and celebrating each other and collaborating to contribute as a team.