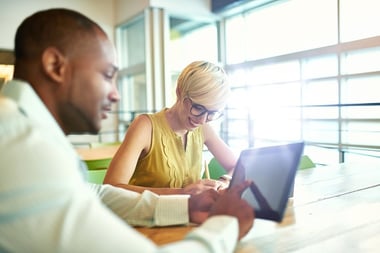 We can't overstate the importance of a career website — it's a central hub for reinforcing your employer brand. Yet, when it comes to applying for jobs, candidates may not head to your home page first. If the candidate initially lands on the job description page, it has to be as robust – and engaging – as possible. It's important you provide them with all the information they need upfront so they can make an informed decision, but it needs to be done in an easily digestible, inviting way that takes a top-down approach.
Given the digital transformation that's underway, rules and expectations about the candidate experience have changed, making enhanced job descriptions more important that ever. Now, social media and aggregators, such as Google for Jobs and Indeed, actually send potential candidates to the job description first — so much so that 50 percent of traffic initiates there. That makes it an integral opportunity to sell job-seekers on your company.
But these "cold call" landings — the user's first site visit — often fail to provide context that drives personalization, and personalization is the very key to engagement. That personalization can only fully happen with data in hand, data that lets technology step in on your behalf. Once it does, you can deliver tailored content based on the way a user interacts on the site.
So how do you use enhanced job descriptions to reach candidates and get them to "close the deal" (a.k.a. get them to apply for the job)? How can you enable technology to do the heavy lifting? And how can you use enhanced job descriptions to effectively reinforce your employer brand? Read on.
Enhanced Job Descriptions — the Key
It all starts with knowing what makes an enhanced job descriptions successful. From the get-go, think in terms of personalization — it's a key way to drive conversion and get users to return to your career site. Symphony Talent recently partnered with Google Cloud Talent Solution, providing a combination of machine learning-driven application program interfaces (APIs) and Google's search results to improve search performance and conversion.
Here's how it works: APIs — a set of routines, protocols, and tools for building software applications — specify how software components should interact. Using them, Google Cloud Talent Solution delivers high-quality results to job seekers. When they initiate a search, it goes beyond the limitations of typical keyword-based methods, taking into account the role level, jargon, abbreviations and acronyms, and misspellings. In addition, the job search capability leverages machine learning, so the results will continue to improve over time.
The level of personalization you can achieve using information about past searches, saved jobs and previously looked at jobs — as well as small interactions (like "Hi Tim" on the page header) — are tools that help candidates feel welcome, while helping them engage with your employer brand.
Writing an Enhanced Job Description
When it comes to writing job descriptions, they should be clear, concise and scannable — you don't want to bombard candidates with an overwhelming, off-putting list of requirements the moment they land on the job description. As such, bulleted lists work well. Be sure you clarify the experience, qualifications and skills you expect from a candidate, and make sure you stay focused on must-have expertise, as opposed to what you'd "like."
Consider ways to express your employer brand and boost your employer value proposition, too. An enhanced job description should evolve beyond qualifications, must-haves and duties to showcase the employee experience. Speak to candidates directly, in a human way that's free of ambiguous buzzwords and jargon — otherwise, you risk eliminating great candidates before the process even begins.
In essence, an enhanced job description should encapsulate what it's like to work for your organization. And it should make clear why a candidate would want to. Clearly and concisely written with the experience, qualifications and skills required up front, it should bypass lingo in favor of clear, warm and human language that speaks to the candidate — not at them. In essence, your description should give the candidate a sense of whether they're a good culture fit for your organization.
If you're a big, recognizable company, you can leverage awareness, weaving in a voice and message that reflects your employer brand — as well as the employee experience. That's where additional, relevant content comes in. A "day-in-the-life" video, told compellingly through the eyes on an employee, lets you highlight your people and helps candidates envision themselves as a part of the mix. So does a post that lends beyond-the-basics insight into a role you know the candidate is interested in. Tell them about company perks, bonuses and the ways your organization promotes work-life balance — these things matter to candidates when they're choosing between employer A and employer B. As for additional content that you share, examples of career paths and career progression are a good place to start.
Once you're able to personalize the content further to their interests and expertise, true personalization can lead to the win — or hire.
Organizing the Page
At the end of the day, it's not just about enlisting technology to do your heavy lifting — it's about providing candidates with a thoughtful, purposeful page — one that guides them along their journey, is engaging, and leaves a great first impression. You want to guide them down into the funnel and gain valuable insight into what makes them tick. It should be the user who gives you "permission" to serve up more valuable content — permission that comes in the form of clicks.
For this reason, how you organize information on the page matters, too. The candidate navigated to the job description because they were interested in the position, so your goal should be to keep them there, engaged and interested in learning more. Too many organizations continue to feature the job search bar on job description pages. That makes little sense because it discourages the behavior you're trying to ignite. So, ditch that job search bar on the enhanced job description page — or at least reduce its prominence in favor of the "apply" button, the desired action. You never want the apply to be out of sight or inconvenient to access, so make sure it "stays" with the user, whether it's in a sidebar or header. Ultimately, you need to capture the candidate's primary contact info, be it an email address or mobile number, get their resume and ensure you have necessary compliance data on hand.
All content on the page should be prioritized based on what you want the user to do. So, after the application, serve up interesting or useful details, such as other similar, available jobs in the area. Next, it's time to provide informative content about the position they're interested in. What they click on and how they interact with the page will give you insight to fuel more personalized future engagement.
Stay Tuned!
Next, I'll discuss how personalization helps you engage and hire quality talent.