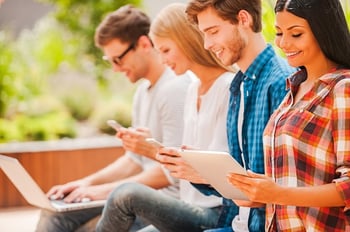 Staying abreast of recruiting trends and revealing the latest in technology that supports best practices in this challenging industry are the heart of what we do at Symphony Talent. Not too long ago, we stumbled upon an article over at Personnel Today, by contributor Jo Faragher, that effectively highlighted what we believe to be the leading recruitment trends. The article mentioned that the recent JobsOutlook survey conducted by the Recruitment and Employment Confederation showed that, "8 out of 10 employers are planning on hiring more people in the next few months", but that, "94 percent of the organizations polled were concerned with not being able to find enough skilled labor" and would be relying on temporary employees to fill in gaps.
Technology combined with service offerings are making it easier for the world's best-in-class companies to secure high-quality employees. We understand that it's a candidate-driven market and the way in which companies source, nurture, engage and select good people is shifting dramatically. Fast growing industries like Retail, Information Technology, Healthcare, cannot afford to take chances when it comes to hiring the best, yet they are the industries having the most trouble finding top talent. The Personnel Today article looks at how technologies and the impact of employer branding are shaping the way that companies attract and obtain talent in a mobile friendly, fast-paced recruitment atmosphere.
It's about forming meaningful relationships with candidates
In recruiting, it's easy to get caught up in filling job orders with warm bodies, without the thought to some monumental questions: Who are these people? What will they bring to our organization? Will they make an impact? How will they help drive brand awareness? Recruiting should focus on the person, not the requisition. Each individual has something valuable and unique to bring to a brand. The sooner recruitment professionals can use their above-average personality skills to connect with candidates on a human level, the better. This is specifically relevant during the sourcing period of the candidate lifecycle. Developing 1:1 relationships through content marketing, targeted advertising and personalized email will elevate the perception candidates have with your brand. The Personnel Today article advised that recruiters are shifting their efforts towards marketing to candidates much like companies market to prospects, leveraging relationships and insights to make educated plays.
Tailoring messages for a personal experience for candidates
Modern Recruitment Marketing should be focused on directing tailored messages that appeal to targeted and desired candidates. The days of posting a handful of job openings to a job board, waiting and hoping that people will apply are over. Today's modern candidates have become increasingly more savvy about job searching, thanks to transparent information available about companies through websites such as Glassdoor and social networks. These channels open a line of communication from candidate to company that directly impacts candidate perception around your brand - a new line of communication that recruitment organizations should leverage rather than shy away from. In the world of consumer marketing, segmented and tailored marketing messages are very basic, yet recruiters have been slow to adopt the concept.
Faragher mentioned in her article, "Just as programmatic advertising uses customers' browsing data to deliver specific messages to different audiences in the consumer world, it is possible to create algorithms from a whole host of candidate data to better target the job ads they see." In other words, tailored messaging makes the candidate experience more personalized, while taking advantage of automation and analytics. Taking a marketer's approach with candidates can help to attract them and gain their attention when other companies are blaring their advertisements. Get rid of the spam, the fluff, and stick with honesty, integrity and transparency.
Being transparent as an employer
It is critical for employers to embrace transparency in both their marketing, branding and recruitment efforts. Why? The job market is undergoing a massive shift and opportunities are increasing monumentally. According to the BLS, as of February 2016, hiring increased to 5.4 million, the first time for an increase of this size since the fall of 2006. This means competition for talent is on the upswing and recruiters who are transparent and advocate the value the companies bring to the table will fare the best to win this war on talent and increase their employer reputation at the same time. Being transparent also evens the playing field, enabling a more diverse population of candidates access to career opportunities.
Transparency is not only ethical in hiring, it's effective and efficient. Providing candidates a sneak peek of what it's like to work for your company is very appealing. In a world where companies are being actively reviewed by candidates and employees, transparency lets them know that you have nothing to hide, that you value your staff and that the opportunity is there.
Importance of mobile capability
Another significant trend in recruitment revealed by the Personnel Today article was the growing importance of mobile capabilities. Millennials have truly because of their reliance on mobile technology for all areas of their lives, including the job search process.
Here are some interesting facts:
A Deloitte survey discovered that Millennials are so reliant on mobile devices that, "90 percent of them check their mobile phone within one hour of waking up, and 50 percent are checking status updates and engaging in mobile apps on average 25 or more times a day." Another study, conducted by Kelton Research focused on job search habits, and showed that, "86 percent of active candidates use smartphones to begin a job search." The Kelton survey also mentioned that, "70 percent of candidates prefer to apply for jobs via mobile devices."
The act is that the majority of hourly candidates who are applying to multiple jobs, engaging with your brand, multiple times a day are doing so via their mobile devices, not through traditional application processes. Why? Mobile is more efficient, engaging, and most of all, easy.
Adding value through video
The use of video in marketing has grown to be very popular, so it should come as no surprise that this medium is now entering the recruitment arena. Video is effective in recruitment for a number of reasons. Video marketing assets give candidates a realistic view of the company and what it may be like to work there.
Videos can be a great way for recruiters to engage with multi-generational candidates, because nearly everyone loves to watch content vs. read it. Videos also support greater transparency in hiring because candidates can see and experience the corporate culture immediately, rather than waiting until they arrive for an in-person interview. Incorporating a video in a lead capture page or on your career site or even posting to your branded social media channels are interactive and honest ways to showcase and promote your brand to potential job seekers.
Overall, the Personnel Today article made some very good points about recruitment trends and how employers can embrace them for better hiring. Symphony Talent is always staying on top of the news and trends within the talent acquisition market in order to serve our clients with the top recruitment solutions that make a difference. What trends are you following?