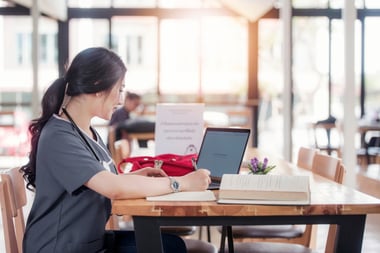 In Part 1 of this blog series, I talked about how digital transformation is changing the rules around the candidate experience – and that the home page is often not the initial point of entry for a candidate's journey. As Bill Gates pointed out an essay of the same title, "Content is King." From a recruiting perspective, his statement is spot-on. If the first thing a candidate lands on is the job description page, it needs to be as robust – and engaging – as possible. So where do you start? Below are a few simple guidelines for building a content-rich experience that can make all the difference in attracting top-quality candidates.
I'm using the candidate journey for a nurse practitioner as an example. However, these principles can apply to just about any industry.
Six Ways to Make Your Job Description Pages Work Harder
1) Clear, Concise Job Descriptions. Don't leave candidates guessing about the role and its responsibilities! Be specific and direct. Clearly define the experience, qualifications and skills required. Our nurse practitioner candidate will be looking for required certifications, National Board Certification, degrees, and current licensure requirements – so feature them prominently. To make sure you're not eliminating potentially great people, stay focused on what's really essential to success in the role: the "must-haves" vs. the "likes."
Put yourself in the candidate's place and keep the conversation "human." Speak directly to them (say "you," not "the selected individual"). Use keywords from the professional world they live in. Make your description scannable by using bullets and short, easy-to-read paragraphs and sentences. Avoid buzzwords and job titles that sound "cool" but are, in fact, unclear. Candidates probably aren't using search terms like "guru," "rainmaker" or "evangelist." You shouldn't either!
2) Culture Fit. Do whatever you can to give potential candidates a sense of whether they're a good match for your company. If you have an established and credible employer brand, leverage it to bring a voice and message to the description that's in tune with your organization's culture. Be true to the nature of your business. Our nurse practitioner candidate will want to know about a healthcare provider's vision and mission, the importance of patient-centered care and how the role fits into the patient care continuum.
A short, well-produced "day in the life" video on your job description page can do a lot of the heavy lifting. It's also an ideal opportunity to highlight your own people as brand ambassadors for your organization and help candidates see themselves as part of your team.
3) Perks and Bonuses. Highlight the benefits or partner rewards that actually matter to your candidates. For example, our aspiring nurse practitioner may be particularly interested in recognition programs, tuition reimbursement, work/life balance and employee health services. These are the types of perks this candidate wants to know about – and they'll give you a decided edge in a competitive market.
4) Relevant Content. You worked hard getting candidates to this page. Chances are this is your first (and possibly last) opportunity to pique interest. Don't send them off to other pages on your site half sold! Examples of career paths and growth opportunities are always welcome. Candidates applying for RN positions would be interested in seeing how they might progress into a nurse practitioner or administrative/management role.
As I noted above, whether on the page or in a modal, videos are a wonderful tool for bringing your message to life. You can also call out relevant blog posts and events that would be of interest – even if the candidate isn't yet ready to commit. Remember, the more you tailor your content toward their interests, the more effective your results.
5) Easy Apply Process. Think of your candidates as consumers. Chances are, many are "comparison shopping" for a career among multiple organizations. From their perspective, a cumbersome and
overly-intrusive application process can be the deal-breaker.
For maximum conversion and impact, embrace the 2-step apply:
Step 1: Capture primary contact info (like an email address), a resume and any other compliance data you need, and leave it at that.
Step 2: Once you've narrowed-down your pool of qualified candidates, nurture and engage them through a more robust apply process that allows for additional scrutiny.
6) Keep the APPLY with the User. Many highly-skilled positions (particularly in healthcare) have key job information located at the top of the page. When the user scrolls down, it's out-of-sight and inconvenient. By placing this information in a sticky header or sidebar element, it's always visible – keeping this all-important conversion element front and center.
Don't get me wrong! The homepage of your career site is critically important to your employer brand and tells your story to (hopefully) millions of users who come across your careers site passively, or from inbound links on corporate properties or social media channels.
That being said, the job description page is a critical hand off point. With many job seekers jumping the turnstile and driving directly to the job details, you need to be ready to store your story there, too.