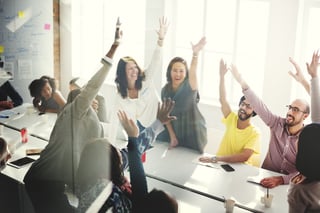 Your employees are the #1 way you can humanize your brand and connect with your audiences in an authentic and meaningful way. They are a key ingredient in the social era. On September 19th, I had the opportunity to participate in the live HCI webinar: Invest in the Voice that People Trust: 3 Steps to Ignite Engagement. As part of this presentation I provided our live audience an actionable tutorial on how to get started with an employee advocacy program.
In this two-part series, we'll break down the importance of employee advocacy and how it can improve your recruitment efforts tenfold. Read on and learn how to get started.
The rise of social media over the past decade has had a dramatic impact on talent acquisition for both companies looking to hire and potential job candidates. At this point, the majority of recruiters have made successful hires through social media, and job candidates regularly turn to Facebook, LinkedIn, Twitter, Instagram, Snapchat, Glassdoor, and other channels for an insider's view of a potential employer and their opportunities.

Most online adults follow brands and consume updates companies publish to social media, and as a result, posting careers and employer brand related content to social media is also now commonplace. However, the latest 2017 Edelman Trust Barometer found that "a person like yourself" is now as trusted of a source for information about a company as a technical or academic expert.
Your engaged employees are "a person like yourself" to a potential new hire. When they share content about their employer and post their own work stories to social media - they amplify your employer brand - validating what candidates may have read on the careers website or in your other recruitment marketing. Having "someone like them" validate what the company is saying about themselves as an employer builds TRUST.
Further - if that information is shared from someone they already know in their network -- data from Nielsen has shown that 90% of people trust recommendations posted from people they know. [Nielsen Global Online Consumer Survey] Trusting individuals over marketing messages is a trend that has been on the rise for years. Increasingly we see that people act upon the information they receive from -- TRUSTED sources -- individuals vs. a brand handle. Despite this - activating employees to create and share employer stories is often still overlooked by most organizations.
Advocacy and Engagement
Enabling employees through support, training, and tools to be the voice of your company instills a culture of trust. Collaborating on telling the company's story with a combination of brand content and the employee's own content and stories from their POV increases engagement and spirit of teamwork and transparency. This trust provides greater satisfaction with their employer and culture.
Further, when your employees are engaged in your culture and trust your employer reputation -- they are your most effective spokespeople - attracting not only quality talent to your organization, but also creating trust with your customers. Employee satisfaction impacts customer satisfaction with engaged employees more often delivering on your brand promises and providing exceptional customer service.
Employees and Content Creation
Employees are not only your most trusted source of information for candidates, they can also be your best content creators.
The area that most often causes most social recruiting strategies to derail is the challenge of creating authentic and relevant content on a regular basis. Employee advocates have specific information, expertise and insight into the hiring area that is very valuable for candidates. Sharing this information in social media will help candidates understand if they are a good fit for your organization and, if they have the necessary abilities/skills to do the job, and ultimately to make a better career decision.
Furthermore, when your employees share content they reach exponentially more people than your company's brand posts:
REACH: On average, employees have 10 times as many connections on social media as your brand. If you have 100 – 200 employees sharing content -- the increased reach could easily amount to 1,000X or more.

SHARES: Studies also show that content is re-shared 24X more by other people when originally shared by employees as compared to when shared by brands.

ENGAGEMENT: And Social Media Today reports that content shared by employees can generate 8X more engagement.

It seems natural -- you'd much rather talk to your friend than a brand, right?
Creating Advocates
Activating employees as advocates seems like a natural for almost any company – large or small. The challenge is how to manage it, and ensure that social media activity is aligned with the brand and then channel this activity into measurable benefits for the company.
Creating loyal brand evangelists' takes time, investment and an understanding that it is a much bigger program than simply giving them some content and links and asking them to "tweet about it!"
Set Realistic Goals & Milestones:
If you don't know where you are going you will never know when and if you get there. As with any marketing initiative, start by asking what your goals are and developing key performance indicators (KPIs). What do you hope to achieve, and how can you measure it? Make it tangible and numbers-driven so that you can measure success over time. This must include assessing and understanding the risks associated with activating employees and a plan to mitigate such risks.
If you are running tight on budget and resources, the best thing to do is to set solid short term objectives, goals and a plan to achieve them. You want to show progress quick and prove to your stakeholders that you are serious about employee empowerment as part of your social recruiting strategy.
Identify, Invite & Train
The first step is to make sure you are selecting the right employees. Start with a small group of socially savvy employees - and at first the program should be invite only. Confide the goals of the program and the impact they could have on the organization, and the benefits to their own personal brands by enhancing their social presence.
If possible, it is best if you can first engage those employees who are already active on the social networks.
Do a quick audit of the social employees who you are considering engaging in the journey. What social networks are they using? How are they using them? Are they already living your brand promise on and offline? What steps and actions are needed to get them fully on board with your journey?



Before activating your advocates - If you don't already have social media guidelines, now is good time to draft one in order to supply your advocates with what can and cannot be discussed about the company (consult marketing, legal) and what brand-related content will be permissible to post on social media.
Make sure employees sign off on this before moving forward. It's important to trust your employees, but also to verify they are

staying within guidelines

you've established.
You'll need to offer solid, simple and straightforward training. Initially focus on the program itself – how they will participate and be compliant with the rules and guidelines of the program. Then focus on social media best practices and helping them develop their personal brand and leverage their own networks for social recruiting. This will help increase brand awareness and brand equity not only your brand but also for them! WIN-WIN





Keep your advocates on brand by

educating them

, on your brand promise as well as the informational needs of your target candidates. They can't evangelize what they don't understand. It's not enough that you just give them a brand guideline book and help them memorize it for a day. Your goal is to inspire them to live your brand promise. You want it to exude from their words, actions and hearts every day!
Specifically training can focus on:
regularly post engaging content that conveys culture and values to help candidates understand the organization / see if they are a match beyond the "required skills" list
foster real-time dialogue with candidates – act as SME and respond to candidates with specific role / Business Unit information, and thought leadership
Like / Share / Retweet Company Careers posts and encourage connections to follow your company




Finally communicate, communicate, communicate and offer rewards. If you choose your advocates well - you can run off of their enthusiasm for awhile, but injecting recognition, fun, and competition into your program can enhance your success and keep your advocates active.
Every employee advocacy program should include Recognition – Recognize your MVAs (Most Valuable Advocates). You could do this via email, employee newsletters, intranets, internal team meetings - you name it. Ensure your advocates know the impact of their efforts and feel appreciated.
Gamification– Keep score, competition drives activity and efforts. You could do this with a leaderboard - many software systems that are used to manage advocacy programs have gamification and competition built into it.
Rewards – Choose rewards that your employees would want to receive. You could try gift cards, t-shirts, mugs, discounts.
Effective planning, training, and reward systems will enable you to let go of the reigns, establish trust, and activate your employees to multiply your social recruiting efforts many times over.
Interested in watching the entire on-demand webinar? Please click here.