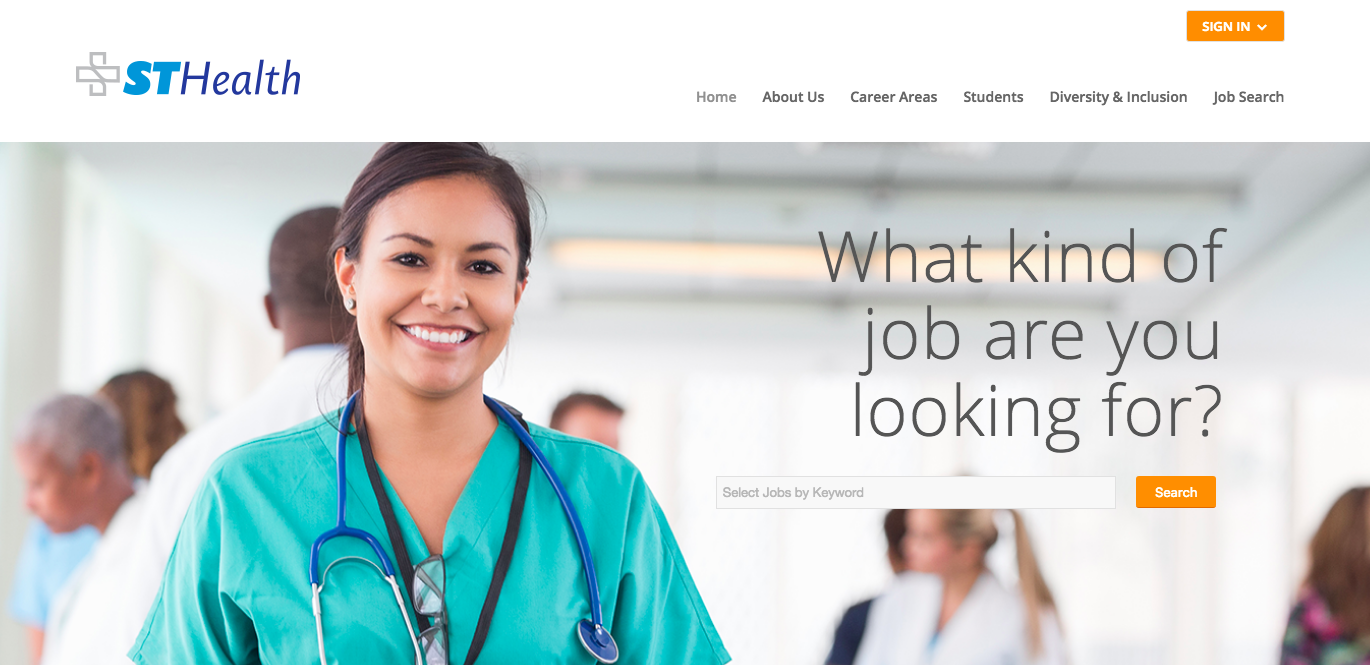 If you're involved in attracting and retaining talent for the healthcare sector, we don't have to tell you it's tough out there (in fact, the healthcare industry is projecting 1.2 million vacant positions by 2022). More than ever, your reach has to go well beyond your local market – making visibility a top priority. Then there's the challenge of keeping the people you already have on board engaged. And between an ongoing nursing shortage, campus recruiting efforts and the constant challenge to fill critical roles in Engineering, IT and other non-traditional disciplines, it can seem more than a bit overwhelming. That's why we're happy to share some good news:
Introducing ST Health, the industry's first talent acquisition platform specifically designed for today's modern Healthcare ecosystem.
More than a third of Symphony Talent clients are in the healthcare industry. We have partnered with forward-thinking talent acquisition leaders in the healthcare sector to meet their need for quality talent, address the challenges of hard-to-fill roles and locations, source quality candidates for clinical and non-clinical roles, and streamline the time-to-hire process. It was these pain points that were the inspiration for ST Health, a platform that brings best practices developed over many years into a solution that's comprehensive, yet incredibly simple to use. This recruitment marketing platform prioritizes personalized experiences from candidate, to recruiter, to employee needs.
Let's take a look at how the ST Health platform tackles tough recruitment and retention challenges from a 360-degree perspective:
YOUR CANDIDATES
To deliver a consistent candidate experience that connects beyond a superficial level, ST Health leverages the power of personalization to speak to top talent about what matters to them most. From your career home page to your search and job descriptions, every touchpoint drives them to greater levels of engagement – with relevant information based on their "must-haves", including,
Personalized home pages that deliver content relevant to healthcare candidates as soon as they enter your site.

Personalized job descriptions

based on your organization's unique value proposition as well as the interests and preferred locations for the most highly sought-after hiring segments (including the non-traditional). Plus, the capability to connect with healthcare talent communities of interest.

Job alerts and recommendations based on their profile that help candidates see where they might "fit".

Relevant video content to help the candidate gain a clear understanding of the working environment within your healthcare facility at the job search level.

Automated Individual and pre-built Email Drip Campaigns designed to nurture job seekers throughout the apply process.

And an easy apply option that pre-populates fields, captures key data (such as certifications) and then allows the recruiter/candidate relationship to build organically. Even chat bots that simplify and explain the process, step-by-step!
YOUR CURRENT EMPLOYEES
Once they're on board, the ST Health platform can help employees stay engaged with your employer value proposition - and even promote it to others in their social and professional networks. Some key features you'll want to leverage for your current employees include,
A dedicated employee portal, that seamlessly builds upon the candidate experience, providing a chance to interact with colleagues and foster a sense of "one."

Internal job boards

Talent advocacy features (including gamification) that allow your

ambassadors and brand champions

to easily post on social channels and send your message out to a wider community

The ability to incorporate online training modules and professional development programs
YOUR RECRUITERS
It's time to let your Talent Acquisition team focus on what they do best (attract and retain talent) and let ST Health take care of everything else. ST Health's efficient and effective recruiter experience for HR professionals includes,
A simplified – and unified– dashboard with everything in one place. All fully integrated with your current ATS.

Pre-loaded job templates.

Pre-built drip campaigns specific to healthcare which leverage AI to speak to candidates at "triggered" moments based on where and how they first contacted you.

The ability to organize candidates into "Smart Folders" that automatically add relevant profiles.

A

flexible media platform

that adjusts your media strategy based on real-time needs.

Simplified out-of-market recruiting, including the ability to conduct candidate searches by geolocation.

The ability to target candidates outside traditional HC roles.
ST Health is an exciting product - and we're excited to show it to you. Request a Demo and see for yourself how it can significantly increase the quality of your hires, reduce time-to-fill, and lower your cost-per-hire.