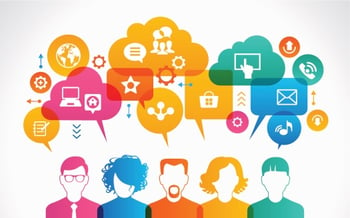 Social media permeates almost every part of human life. From the time we wake up in the morning, to well after our work days have ended, we spend countless hours engaging in social networking activities. The use of social media continues to expand through use of mobile devices, with practical uses for both business and personal responsibilities. According to most recent figures, "Approximately 2 billion internet users are using social networks," and Facebook is the confirmed leader with some 1.59 billion users (Statista, April 2016).
Social media has successfully become the go-to strategy for top recruitment teams to source, engage, interact, nurture, screen, and hire specific talent.. This is because of its unique ability to connect people in a humanistic and transparent way. While recruitment professionals often use social media to look at the profiles of applicants in order to "check up" on them; the true purpose of social media is about engaging with candidates, educating them, influencing them and connecting with them on a personal level.
The Use of Social Media in Omni-Channel Recruitment
Why is social media becoming a compelling way or revolutionary avenue to recruit talent? Tim Gould, Editor of HR Morning, advises that, "84% of organizations use social media to recruit and 9% plan to use it." This statistic comes from a 2016 Society for Human Resource Management survey, but he goes on to mention that the combination of social media being a fact of life in recruitment, particularly when it comes to passive candidates, and the rapid growth of mobile apps have contributed to the increased use of social media recruitment.
Usage of social media for recruitment often includes:

Directing potential candidates to your career site - Use social media to drive traffic to your

career site with optimized keywords

that make openings easier to find. Use clear, appealing titles and descriptions to call out open positions and attract new individuals to your career website.
Engaging candidates in an honest and natural way - Your candidates are already hanging out on social media and using it to connect with friends, acquaintances, and companies. Using this medium to engage with potential talent in an authentic way allows you to meet job seekers where they are.



Searching for both passive and active candidates - Don't limit your focus just to active candidates; also seek out and establish relationships with passive talent. While they may not be ready to take a leap now, they are worth the effort because they are high achievers and when the moment is right, will think of your company first.



Promoting upcoming job fairs/events - Let job seekers know the next time place they can see you in person and chat about job openings face-to-face!



Highlighting your employer brand - Websites like Glassdoor have paved the way for a no-holds-barred look at what it's really like to work at a company. Use social media to showcase why your organization is a great employer and what your employees love about working for you.


Showcasing employee testimonials - In the same vein, include employee testimonials on social media to give candidates an honest look behind the curtain of what current employees say about working for your company.
Circulate targeted/appropriate content - Extend the reach of your brand by optimizing content to ensure segmented delivery. Proactively

insert branded content

to your talent pools in environments for which they frequent, such as social media channels and career websites, to keep your brand on top of mind.
Building an army of enthusiasts -

Leveraging complimentary tools

to advocate branded and influential content helps organizations find and encourage brand promoters to help attract others with a similar mindset and background to build an "army of enthusiasts" for your company.
Taking the Omni-Approach to the Next Level
While there is no secret formula for using social media in recruitment, there are some proven best practices that any recruiter can use to better connect with candidates. Consider making these a part of your strategy:
Think like candidates - Try to attract candidates by tapping into their minds and likes. Use a "transparent resume" approach by describing the ideal candidate in job advertisements and on career profiles. Develop a job image that reads like a living profile of a real person.
Recruit "already fans" - Take note of candidates who are very active because these individuals may be promising as future hires - they are already enthusiastic about your brand.




Leverage content effectively - The value of content on social media is in the natural way it can be used to inform and educate your candidates. From blogs that highlight culture, to employee videos, to philanthropic endeavors, use social media to post interesting, humanistic pieces that would appeal to potential employees.




Dig into analytics - Social media has the advantage because it enables recruiters to measure how involved candidates are in the social communities they hang out in, and how often they share posts and participate in discussions.



Social Media Recruitment Advantages
Social media tools can complement the new way of the omni-channel , mainly because these avenues facilitate new ways to quickly engage your community in an environment they are already comfortable with. You have heard the phrase "be where your candidates are." This is the truth - engagement comes naturally and organically when you are sourcing and educating candidates within channels where they already interact. Tools that leverage social interaction and living profiles put recruitment organizations in front of other organizations that don't use these resources.
What are the main advantages of social media within the larger scope of recruitment? For employers in general, they have access to a much larger pool of candidates that they can engage and influence, and they have the added benefit of being able to gain insights that won't appear on any resume. For recruiters specifically, this is a more natural way to connect, build strong talent communities, gain details on the personalities and interests of each candidate, and essentially, "Be where they are."
Exciting things can happen when the right candidate connects with a job that he or she is perfect for. It's a win-win for recruiters who use social networking and for companies that embrace social recruitment and value the power of your brand.