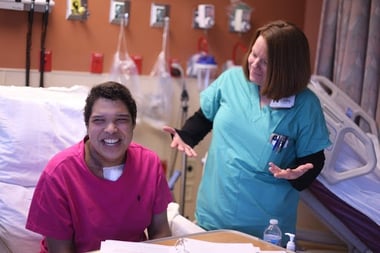 In my last blog, I talked about the series of challenges Memorial Healthcare System (MHS) faced when they needed to look outside the local market to attract, hire and engage CVICU and CVOR nurses. The cardiovascular specialty is especially competitive: from the physician level down, everyone is competing for the same talent. But when you're doubly challenged to compete with better-known healthcare organizations, your sourcing strategy needs to be both highly specific AND as comprehensive as possible.
MHS's TA team was fully committed to getting this right. For starters, they ramped up their presence at seminars and conferences outside the local market – putting representatives out there to bolster awareness of the healthcare system, the exciting things happening within Memorial Cardiac & Vascular Institute and establishing a presence within the wider CV nursing community.
This was a stron
g start, but as you know, there are only so many local candidates - and a limited number of conferences and seminars to attend (and staff available to travel to them). This is where a digital sourcing plan that considers every possible touchpoint came into play.
Building awareness, getting personal
As I mentioned in the last blog, "Memorial" is a name used widely within the healthcare sector. From the target audience's perspective, it was hard to determine which "Memorial" MHS was – especially since neither their name nor their logo provided any clues about geographic location. And even when this becomes clear, we're still asking nurses to leave their current employer and relocate themselves (and possibly their families) to Florida. These emotional triggers were the rationale for developing the #teamMHSflorida hashtag, which made it clear where they were located and alluded to the strong, collaborative culture the candidate could expect.
A hashtag by itself wouldn't be enough to reach nurses "where they live" both geographically and emotionally. Before jumping straight into a media plan and creative executions, we needed a foundation to bring them all into sharp focus. That's why we started by developing a strong Employee Value Proposition (EVP), the foundation upon which to deliver our consistent and compelling message.
Preparing our message for the market
Any marketing professional will tell you that a lot of the "sell" depends on the differentiation – and validation - of your core messages. After all, candidates are consumers too (except in their world, the "product" they're buying is a career). It stands to reason that the same marketing principle of "unique selling points" supported by relevant content will engage them and ultimately compel them to apply.
Working together, Symphony Talent and MHS developed a Service Vision (which I'll reveal in our upcoming Webinar) that's engaging, concise, easily understandable and reflects the MHS culture as it is now and where it aspires to be in the future. This provided the information and elements that went into an EVP, which leverages candidates' emotional drives, provides a clear set of expectations and helps answer many of the "why's" of working there. And while the EVP was not created specifically for CV Nurses, its messaging is consistent with what we know to be true about Memorial and can be targeted to specific audiences based on hiring needs.
Putting our plan into action
From research we've done already into the healthcare sector, Symphony Talent knew that targeting CV nurses currently living in the northeast US was an ideal place to start an out-of-market campaign. We also knew that it is possible to pinpoint nurses who live in a particular ZIP Code (or even a city block) and automatically push out content to the job boards, social media, and websites they frequent. Then once a level of interest (in the form of a response) was established, our CV Nurse campaign could become increasingly more personalized, with messaging that spoke not only to why they should come to MHS's cardiovascular institute, but to the many advantages of relocating to Florida.
For example, when a candidate visits the MHS career site, performs a search and clicks on a CVICU job, the next time they go to the homepage, it's already personalized and organized based on their last visit. And should they bypass the career pages entirely and go straight to a job description, they'll see content like testimonial and culture videos, links to upcoming events, blog posts, along with other emotional triggers that assist in their decision-making process.
In the upcoming Webinar, I'll be sharing MHS's recently launched career website, which features their EVP's new positioning, a "checkout-style" application process, as well as information about the cultural and lifestyle benefits of living in South Florida. But what's equally exciting is how it functions holistically within a larger universe of candidate touchpoints that use AI and machine learning to build on a highly-focused candidate experience via drip campaigns, social media channels, invitations to specific talent communities, blogs, and more.