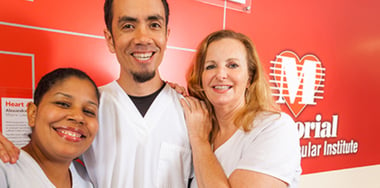 From a talent acquisition standpoint, Memorial Healthcare System (MHS) has a lot of the "must-haves" right. For 65 years, they've been a leader in high-quality health care, with a work environment that can be described as smart, fast, technically advanced - and always improving. Formerly considered one of several South Florida "regional leaders," today they are one of the nation's largest public healthcare systems - highly regarded for their exceptional patient- and family-centered care.
MHS's Cardiac and Vascular Institute is ranked in the top 1% of all cardiovascular centers (Society of Thoracic Surgeons, 2016), placing it among the top 12 programs in the United States. This was no accident. Memorial Healthcare System committed extensive resources to grow their CV service line, expanding both adult and pediatric CV procedures and patient care while setting standard that put them among the best of the best.
Casting a Wider Net
As competition tightened in the market and the system grew to meet the demands of a wider community, the 'war' for talent became more difficult. It would mean initiating a recruiting plan that would look beyond the local market to find experienced CV talent – and this is when Memorial identified several hiring hurdles.
Name Recognition. One of the system's biggest difficulties was in simply standing out. There are probably hundreds – if not thousands – of "Memorials" located nationwide. For candidates, figuring out who this particular "Memorial" is and why they would be a great choice was almost a job in itself.
Location. There's a decidedly split opinion among out-of-market candidates regarding Florida's appeal as a place to live and work. While some are attracted by the state's abundant sunshine, recreational options, year-round warm climate and no state income tax, others look at the same qualities and think crowds, tourists, hurricanes, and sweltering temperatures.
Patient Acuity. Overall, 19.9% of the Florida's population is aged 65 and older, the highest percentage of seniors in the nation. In the healthcare sector, some candidates may view the unique challenges of caring for an older population as a bonus, while others see it as difficult or intense.
Culture and Opportunity. Memorial is a not for profit institution. This means there are other hospital systems in the area that offer potentially better pay. However, if you're specializing in cardiovascular care, it's your passion and money isn't necessarily the deciding factor when choosing an employer. Memorial offers a vibrant, supportive culture, career paths, high employee satisfaction scores, and patient safety and care standards few can match - making them an ideal culture "fit" for many great candidates.
Learn More!
In parts two and three, I delve into how Symphony Talent helped Memorial tackle the challenges of recruiting on a national scale - and how a comprehensive digital strategy was crucial to delivering results. It's a great story about creating an experience that resonates with today's digital natives and I'm excited to share it with you!
Listen to the free webinar on-demand to hear more about how Memorial Healthcare System is bringing digital to the core of their talent acquisition strategy and redefining how they attract, hire and engage quality CVICU (Cardiovascular Intensive Care Unit) and CVOR (Cardiovascular Operating Room) nurses in this competitive landscape.