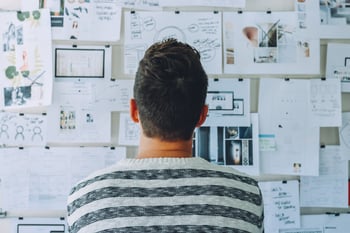 We exist in a new playing field, or "arena", when it comes to recruitment marketing. Traditional approaches have taken a back seat to the "new kid on the block"—that is omni-channel recruitment marketing—and organizations with talent on their radar are taking notice and more importantly taking notes. With consumer and brand engagement at the heart of your organization's viability, talent leaders are taking a page from the overarching consumer marketing playbook and directing its influence to building refreshed and disruptive talent acquisition strategies.
But why the shift in methodology? What has consumer behavior taught us as a recruitment industry and how has it had such a footprint driving new approaches and leading into an "omni-potent" way of recruitment marketing? Exploring the nervous system of consumer marketing, specifically in retail, peels back this layer of understanding and outlines why today's modern recruitment organizations must focus on the omni-approach to connect and engage with key talent.
Welcome to the New Consumer Experience - Engagement with a New Lens
Shopping still remains America's number one pastime, and while mobile and online experiences are part of the overall consumer experience, 93% of total retail sales are still generated in brick & mortar stores. RetailNext reports that the current sales value of U.S. brick & mortar retailers is $3.9 trillion, with two-thirds of consumers who buy online interact with a physical store before or after their purchase.
People still crave, desire and expect an in-person, in-store shopping experience so brands must invent avant-garde ways to engage contemporary consumers through rich experiences and humanistic connection. "We are in the business of connecting businesses and consumers. To do that you must adapt—you must service the customer—business is as simple as that. However, today the journey has sped up and technology is changing everything that we do." Steven Lowy, CEO at Westfield Corp—delivered in his keynote last spring at the ShopTalk Conference in Las Vegas, Nevada. Note: You will see a multitude of references to this event as it was and is the disrupting chasm shaking up the retail world - driving new insights and a taxonomy of information when developing marketing strategies.
How your store will rise above the competition comes down to three factors: How are you getting people in the door, what experiences are you providing, and how are you ultimately standing out? The outcomes of these questions depend on a single person who embodies your brand to its fullest and who has the capacity to deliver at every moment of your consumers' experience… That person is your retail employee.
Connecting with your Best Consumers - The Fabric of Your Brand Viability
Brands need physicality—human bodies that drive real connections, real engagement and provoking dialogue. The conception of a loyal community begins with consumer/associate interaction. In one of the ShopTalk Sessions, "Driving In-Store Mobile Engagement," Pawan Verma, Chief Information and Technology Officer at Foot Locker shared "Today's customer is informed and knowledgeable before they even step foot into your store - their opinions have already been identified," so when a customer enters your store they're depending on your workers to create a desirable and memorable experience for them, beyond what they already know.
In his article, Frontline staff - critical to customer service success, author Derek Stokely states, "The frontline staff member is your organisation. Your organisation can be 10,000 strong, but for the customer, the person handling the transaction is the organization."
The Fusion of the Masses - Consumer Behavior Meets Recruitment Marketing
How can brand loyalty, consumer engagement and talent advocacy drive talent acquisition strategies? While this might seem like a one way street, great talent in your stores fosters brand loyalty; there is a strong flow in the other direction as well. Brands should remember that loyal customers make the best brand ambassadors and the type of employees you want interfacing with your customers.
Use what you've got to get the most bang for your buck. Don't limit your recruitment marketing options: make it physical, make it human, make it mobile, and tie it back to your brand - and most importantly "be where your people are!" Creating employer brand loyalty and amazing experiences for consumers directly translates to hiring top talent and using current employees as recruiters is a steadfast way to interest great candidates in your brand. If you've hired the right people, they can become an extension of your recruitment marketing efforts.
The next step is simply provide outlets and avenues for these ambassadors to stand out and easily discover opportunities at your company.
The New Norm in Talent Acquisition - It's not a about the "Funnel Anymore, it's about the End-to-End Journey"
While staffing brick & mortar stores can be a significant expense, it's a cost that needs to be viewed as an investment in your brand's success. "I would say that employees are not your greatest cost," said Brett Wickard, founder and president of "lean retail" software solutions firm FieldStack, "The right employees are your greatest asset and absolutely an investment in your organization."
Strategic retail leaders are now seeking new ways to develop and implement authentic recruitment experiences, and they are looking outside of the box and across new channels. The new norm of hiring, focused on omni-channel recruitment marketing, is about acknowledging and understanding that candidates must be engaged and treated as customers to foster brand loyalty, and they must be accessible at all touch-points of the candidate journey from multiple angles.
The majority of organizations are under recruiting siege to engage and hire top talent before they're snatched by the competition. In today's shifting recruitment climate, businesses can't afford to hire mediocre employees. Today, talent leaders have a new vision to stand out and find better talent. This plan starts with the right solutions and services at the center point of your hiring strategy: a combined, holistic strategy that combines the best of technology with proven service offerings to create and ignite an end-to-end talent strategy.
"Some companies don't have an engagement problem, they have a hiring problem," states Bob Kelleher. Getting omni-channel recruitment marketing, employer branding and talent advocacy right is as simple as a new flow: get better at engaging, get better at nurturing, and get better at hiring by getting the best technology, the best support and services, and the best opportunity to advocate—transforming what used to be a recruitment funnel into a cyclical, holistic candidate journey.
No aspect of recruitment is simple. Luckily, there are new methodologies and solutions that eliminate friction to make talent acquisition and omni-channel recruitment marketing less frustrating and more efficient for your candidates and for your HR business units. The important thing to remember is that individuals are looking to get better jobs, with better wages, more flexibility and extended opportunities. They are not applying to your organization to help you fill a rec—they are there to take the first step to a better life.
Bersin by Deloitte's 2014 findings states: "High Impact Organizations have 40% lower turnover and are able to fill vacancies 20% faster than companies with reactive tactical recruitment functions."
How can your brand stand out among the masses, meet and connect with top candidates, and evolve into a high-impact organization?
It starts by exploring unique solutions that offer modern capabilities to sourcing top candidates, engaging them, and making the process into a series of micro-engagements that is easy along along the way. In the eyes of your candidates, you are just another organization looking to hire someone to fill a role. It's time to be better than that and invest in the workforce who ultimately makes your brand great. Be where they are at all times. Whether that's in your stores, in advertising, on social media, or across your career websites, have your brand embedded within every touchpoint. Leveraging your employer brand across multiple channels not only allows you to bubble to the top of these modern candidates' minds, it organically leads you to follow that omni-channel approach that is driving industry success for next-gen commerce.
Connecting to Next-Gen Talent - Leverage Consumer Knowledge and the Love for Advocacy
Consumer behavior can speak multitudes when it comes to how organizations should revise recruitment practices and leverage advocacy opportunities in order to meet the expectations of this shifting market. By understanding the trends and insights these behaviors provoke, organizations can revive their recruitment efforts and prioritize advocacy to help their brand stand out to top talent. The war on talent is not going away; it's simply taking a new direction.
Consumer experience is evolving the way brands thrive and grow. Omni-channel Recruitment is refreshing the way consumers engage as candidates. To put your brand on a path of maturation, prosperity, and fortune, you must adjust your hiring lens to see the talent landscape differently. Once you do—you won't look back—nor will your talent.