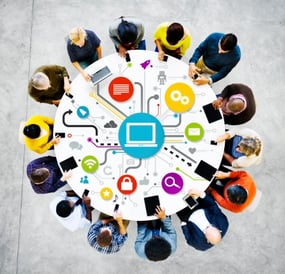 Total employment increased by 151,000 jobs in January 2016, with some of the greatest gains made in the retail, food services, healthcare, and manufacturing industries. According to McKinsey, we could increase our global GDP by $2.7 trillion by better matching people and jobs. With employment rates rising, it can be more difficult than ever for recruiters to keep up with the demands and engage top talent.
A career website can be a powerful tool, but simply creating a listing of available jobs is not enough. Statistics from Kelton Research suggest that 55 percent of active job applicants want to be able to upload a resume directly to a company's career site. While a fully-featured and mobile-friendly career site is essential - as a significant part of a solid end-to-end recruiting strategy centered on attracting top talent - there are lots of supporting factors that go into making this piece of your recruitment puzzle a success.
Beyond simply building a career website, you should consider the following things when preparing your recruitment arsenal:
A Strong Talent Brand
Businesses such as Apple, Google, and Facebook are able to attract major talent because job seekers understand their talent brand and company culture. People want to work for these organizations because they hear great things about them from the media, their peers, and social networks. Building your own talent brand is critical to your recruitment success, and your career website can actually play a key role in conveying and publicizing your brand.
Your site should contain elements that will clearly and concisely communicate your company goals, values, and culture. Your site needs to deliver:
A clear message explaining what your company is about

A genuine and authentic look at what it is like to work for your organization

A sense of excitement about working for your brand

A mobile-optimized experience that allows people to submit an application or request further information on the spot

A call to action that motivates viewers to respond
As a compliment to building a career website, it is essential to live the values and goals you embrace each and every day. Developing a strong talent brand is an important part of attracting talented individuals to your company, and a large part of building that brand involves embracing the people behind your business and creating a culture that inspires people to love their work. When people enjoy their jobs, they are more likely to serve as advocates for your brand. The 2014 Edelman Trust Barometer shows "regular employees, particularly those with technical expertise, continue to be among a company's most trusted spokespeople." Creating a reputation for employment excellence may take time, but it is a recruitment strategy that will continue to yield dividends in the form of higher quality job applicants.
An Effective Social Media Strategy
Social media represents another critical piece of the recruitment puzzle. A career website can help in this regard by making it easy for interested applicants to share job openings with others in their social network. Referrals can be one of your best sources of quality hires, so make it easy for current employees to share jobs with people in their trusted networks. Your career website should also make it easy for interested job seekers to quickly integrate information from their social media profiles on professional networks.
Once a job seeker has expressed interest in your organization via your career website, their profile should be added to an organization's CRM. Quick tip: Before you begin sharing and leveraging your social networks, make sure they are up-to-date and appropriate. When seeking specific skill sets or qualifications, recruiters can then quickly search for potential candidates in the system and send notices about job openings and encourage job seekers to apply.
A Fully-Integrated, Omni-Channel Approach to Talent Acquisition
Every organization's recruiting strategy is unique and influenced by myriad factors such as business needs, company culture, geographic location, industry, and available talent. No matter what the unique needs of your company are, leaning on omni-channel strategy in addition to having an integrated and comprehensive talent acquisition strategy is critical to success.
Your career website should serve as a tool to advertise your talent brand, provide material that encourages sharing on social media, and create a talent pipeline that will fuel your hiring efforts.
A solid recruitment strategy involves much more than simply taking a "build it and they will come" approach. A solid career website is essential, and should be an extension of your company's brand, but it is only one piece of a complex puzzle. Your brand, your social strategy, and your integrated recruitment toolset must all work together in synchronization to produce the best possible candidates that will fuel your company's success for years to come.