Access to information gives rise to two big issues (and how employers can combat them)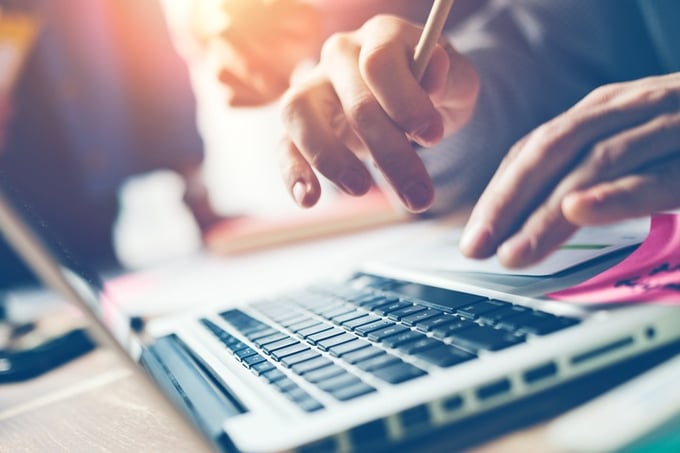 Sixteen. Sixteen.
That's how many resources job seekers use, on average, when they're applying to jobs. This stat from CareerBuilder highlights one of the most fascinating hiring trends facing recruiters today: From social media and blogs to paid ads and video marketing, candidates have more access to information about employers than ever before. And that means that employers have more opportunities to woo the right candidates through captivating employer brand storytelling — and to do it on their own terms. Here are three big ways that access-related hiring trends are influencing candidate behavior — and providing employers with the opportunity to upgrade their content marketing game:
More content — and more ways to access content — gives candidates the opportunity to self-educate in turn giving employers the opportunity to tell their story.
Years ago, candidates largely had access to information about an employer through official channels, like a career website and job descriptions on job boards. Today, though, it's so much easier for candidates to seek out information on multiple channels. Social media, sponsored content, even review sites like Glassdoor — with easy-to-find and easy-to-consume content so accessible, candidates get a more holistic view of a company.
What's more, access to information eliminates barriers to learning more about a company. Candidates no longer have to carve out hours at a time for job searching — they can just pull out their mobile phones. In fact, according to Glassdoor, nine in 10 job seekers search for job openings via mobile devices. Employer-branded content is literally at their fingertips. Imagine: Candidates can be learning about your company and exploring opportunities while in line at the grocery store! Ease of access to content from an employer can move a candidate from "attract" to "apply" more swiftly, cutting down on time to hire. That's because, with candidates taking more time to self-educate, you get more opportunities to influence their perception of your organization — so they more quickly come to the realization that your company is a perfect fit for them. The best way to influence their perception of you? By engaging with them through branded content that tells your employer story. It's your time to shine, baby.
Increased access to information gives employers more opportunities to shine.
More, more, more! There's more good news about "access" hiring trends: More access to information gives employers more opportunities to engage candidates. In fact, newer channels available to employers — including social media sites like Facebook and Twitter — were created precisely to nurture engagement and community. Thus, increased access provides employers with the chance to showcase a whole new side of their brands to their candidates. The content that candidates seek out on Facebook, for example, can (and should) be different from what's on a career website, designed to elicit a more immediate response.
To really take advantage of the glut of information access, though, employers must get a few things right about their content marketing:
The content they're producing must be interesting to their candidates. What's going to get them to hit the "Share" button? Consider carefully what speaks to your audience to ensure your content doesn't fall on deaf ears.
Content must be tailored to different platforms. Increased access to information means you can meet and mingle with candidates where they prefer to hang out online. That's

huge

. The catch? Content must feel organic to those different platforms; otherwise, you risk sticking out for all the wrong reasons. It's like showing up to a casual housewarming party wearing a costume — you just look out of the loop and

so

out of place.
Even though content should be tailored to different platforms, all of an employer's content should align with the

employer brand

story. A thoughtfully considered employee value proposition (EVP) becomes all the more important in the age of access. By

developing an EVP

, you can rest easy knowing that no matter where a candidate learns more about you,

what

he or she learns will be accurate and consistent with your brand.
With great power comes great responsibility. Translation: An increase in access to so much info may

overwhelm candidates. To keep overwhelm at bay, employers must be more responsive than ever. That means firing on all cylinders on, say, Facebook, ensuring no candidate question goes unanswered. You can even add a real-time chat component to your employer website, providing more direct access for candidates' questions and concerns. With so much info to sift through, it's paramount that you make it easy for your candidates to cut through the clutter.
Access to information provides companies the ability to "always be attracting."
Candidates now expect to hear from employers everywhere — their newsfeed, their inbox, their favorite industry magazine. Not only do candidates have more access to employer info, but they're granting you more access to them, welcoming you into their day-to-day lives. The result? Employers can now always be attracting with an A+ content marketing game plan. Instead of waiting for candidates to come to them, they can push out interesting, on-brand messages to networks teeming with candidates, eager to consume engaging content. What's more, with the rise of programmatic media, employers can do so easily, efficiently, and cost effectively. Powered by artificial intelligence, programmatic media puts employer content in front of the channels most likely to be consumed by your ideal candidates. It also automatically recalibrates your content and ad campaigns; in a 24/7 digital world, you need to be able to track and adjust who sees your content and when on the fly, in real time. In short, access to information and tools like programmatic media mean savvy employer brands can now control their own narratives like never before.
It also means employers can more easily reach passive candidates: individuals who aren't looking for a new job yet but would be a great fit at your company. While they may not be stopping by your career website, passive candidates are consuming content in a host of other ways, whether it's scrolling through social media or reading their favorite industry publication. By disseminating your employer-branded content through a host of avenues (content on social media, sponsored or guest content in publications, etc.), you increase the chances that you'll get in front of passive candidates. That gives you a big leg up in the first phase of attraction — building name recognition and the all-important trust factor.
As Kelsey Meyer writes at ERE Media, "Too often, teams think of content marketing solely as a tool for sales growth and forget another critical group of people reading content in your industry — potential employees.... Those future employees want to know that the team they're about to sign on with is credible, innovative, and ultimately worth committing their talents to — and when it's done right, your content can show them that." By getting consistent with your content marketing, you get your brand in front of passive candidates — so you're more likely to be the first brand on their minds when they are ready to start their job search.
What do you think about these new hiring trends related to "access"? How have you taken advantage of candidates' increased access to information about your brand?