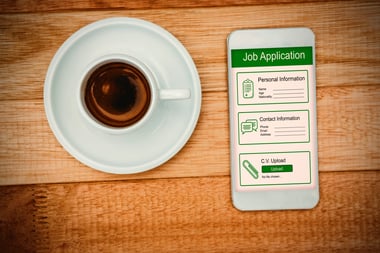 Do I have enough people? Do I have the right people? Do they have the right availability? Are they happy? Will they stay the whole season?
These are questions that keep hiring managers up at night.
After working in retail management for over ten years, I know the struggle, and the struggle is real. You stop associating the word "holiday" with something fun and exciting. Instead, you have flashbacks to the times you didn't have enough associates on staff to make a solid schedule, or your merchandising manager decided to move away the week after Christmas (totally not personal examples).
But guess what? Your hiring managers don't have to go through this.
Store managers and hiring managers have a lot on their plates when it comes to the holiday season. They have schedules to make, operations to complete, merchandising to update, a payroll budget to stick to. And, of course, they still have sell to the customer! To get every single one of these tasks done, they need one thing: top talent.
To save your hiring managers time, payroll, and stress, you need to equip them with tools that set them up for success. Have all the conference calls you want about best practices, but these managers are never going to meet their hiring goals if they don't have the right recruitment software solutions to support them.
You can alleviate stress for your store managers by applying the following solutions:
Programmatic Media
Store managers are focused on running their store, and that's what they should be doing - driving your business. They shouldn't have to become "Mayor of the Mall" and take the time to walk store to store asking to share associates, or drive to the local college campus to post "Now Hiring" flyers.
Take this burden off of their shoulders by adopting a programmatic media solution. Today's job seekers aren't completing applications in stores; they're doing them online. And that's exactly where your recruitment advertising should be. Programmatic media takes the inefficiencies and guesswork out of recruitment advertising, and will automatically use your media spend on sites that provide the best-fit and highest quality candidates for your open positions.
Simplify the Application Process
Have you ever actually tried to apply for a cashier job? Sometimes it feels like you're trying to get security clearance to the Pentagon - it's way too long. To keep your applicants engaged in the process (and actually complete the application), you need to simplify it. By creating a shorter, simplified application process, just as easy as an online check-out experience, you will begin to make new recruitment technologies do the work for you.

The days of a candidate walking into the store, filling out a paper application, handing it to the manager, interviewing on the spot, and walking out with a job are long gone. With paper applications becoming a thing of the past, the majority of retail job applications are completed online. The new challenge store managers face is incorporating personal engagement and speed into the online application process.
To overcome this, you need two things: text-to-apply and easy mobile apply. You can mimic that same experience with a candidate by using just these two solutions. A candidate can walk in the store, speak to a manager, text-to-apply, complete the application on their mobile device, and potentially interview on the spot.
But what happens if the hiring manager is off or is helping a customer? Someone could jot down the candidate's contact information on a piece of receipt paper (which will probably get lost in the abyss of the stockroom) or you could educate your teams to encourage candidates to text-to-apply to start the process, and let an applicant tracking system do the rest.
Applicant Tracking
With an applicant tracking system, you can build campaign-level, personalized email engagement right into the candidate experience. This allows store managers to reach out to candidates right from your platform to complete the application process, and enables them to keep both active and passive talent on their radar.
Applicant tracking systems also use artificial intelligence technology to automatically match the most qualified candidates with your open positions. This frees store managers from sifting through an overwhelming number of applications, and puts the best applicants at their fingertips.
By incorporating these solutions, you not only help your store managers meet their seasonal hiring goals, but you can help make the holiday season fun and exciting again. Having a fully staffed store allows your store managers to create a schedule that supports their sales plan, complete operations efficiently, and spend time training their new hires to keep them engaged and turn them into advocates for your brand.