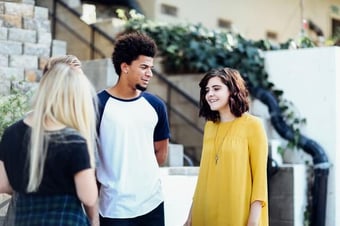 Millennials bring passion, innovation, and ambition to their careers. This enthusiasm might be their greatest asset, but it also requires a recruitment marketing strategy unlike what companies may have been comfortable with in the past.
Here are some traits that millennials offer today's workforce:
Always seeking better opportunities:

According to a Gallup survey, 60 percent of millennials would be open to a new job, and 21 percent changed jobs in the last year, which is three times the rate of non-millennials.¹

Though this can partly be attributed to the solid economy (low unemployment and strong job outlooks mean workers aren't so afraid to quit one job in search for another), it also reflects millennials' willingness to find the best opportunity for themselves, even at the risk of temporary instability.

A desire to make a difference:

A Bentley University survey showed that 84 percent of millennial respondents said that "knowing I am helping to make a positive difference in the world is more important to me than professional recognition."²

Having witnessed corporate failures and recessions, 94 percent of college-educated respondents agree that their generation is questioning the assumptions of the business world and asking themselves, "What is the best use of my heart and mind?"³



Company culture matters: Whereas previous generations are focused on job stability and compensation as major priorities, millennials prioritize company culture as a huge motivator for selecting and staying at an employer. A Hodes study showed that around half of millennials say that "work environment/culture" is an attribute that makes an employer attractive (41 percent) and impacts their decision to stay at an employer (47 percent).

⁴



But make no mistake of it—money and stability matter too: Though millennials are known for valuing authenticity and purpose in their professional endeavors, they also care about compensation and job security. A 2015 study by EdAssist shows that financial security is millennials' No. 1 concern, with 71 percent saying that they would prefer a retirement savings plan over other financial perks.

⁵

Moreover, a

Business Insider

survey from 2014 revealed that 10 percent of millennial respondents left a job because it did not pay enough, 10 percent left for a job that paid more, and another 15 percent left for a job that offered greater advancement. The same survey found that 26 percent of millennials would have stayed with their first full-time job if it paid more.

⁶



Opportunity for growth is an important factor: Millennials want to see an opportunity for personal and professional development when assessing employers. A PWC report entitled "Millennials at Work" showed that almost two-thirds (65 percent) of respondents stated that "the opportunity for personal development" most influenced the decision to accept their current jobs—even more than the organization's reputation (36 percent) or even the role itself (24 percent).

⁷

Another report stated that 52 percent said opportunities for career progression made an employer attractive.

⁸



When millennials are engaged, they are vocal: This generation isn't shy about shouting from the rooftops—particularly on social media—when a positive experience warrants such an action. If millennials are engaged and enjoying their jobs, they won't hesitate to becomeadvocates for your company and your brand, especially if given the means to do so.

Tech-savvy, tech-inspired:

Millennials aren't just proficient with today's technology—they understand how it can benefit them. For example, a Generation X candidate might be content to visit a company's jobs page on Facebook; a millennial will post, share content, and visit the company's other channels. As a result of their tech expertise, millennials are more inclined to engage with technology-aligned processes—and in today's digital world, they expect nothing less.



Innovation is inherent: Returning to the earlier concept of wanting to make a difference, many millennials see innovation as the means of achieving that goal. Their ideas aren't simply borne out of a desire to be heard, but also out of an expectation that they can drive improvement and effect change. This penchant for innovation is important during all stages of a millennial's candidate journey—if your brand can demonstrate what potential can be realized by working for your company, the odds of hire and engagement increase dramatically.
These characteristics of millennials reinforce why recruiting this generation is challenging, but also reveal why this generation offers so much potential to employers. Solve this puzzle, and the benefits to your hiring process—and your company's bottom line—can be significant.
1. "Millennials: The Job-Hopping Generation." Gallup.com Business Journal, May 12, 2016.
2. Millennials in the Workplace, 4. Bentley University, 2012.
3. Millennials in the Workplace, 2.
4. The Growing Value of Employer Brands. Bernard Hodes Group, 2012.
5. "New EdAssist Study: Millennials Seek Financial Stability from Employers." EdAssist.
6. "Exclusive Survey Shows How Hard It Is for Millennials to Find Good Jobs." Business Insider, June 18, 2014.
7. Millennials at Work, 11.
8. "By the Year 2020, Almost Half of the Workforce Will Be Made Up of These People"