Goldman Sachs reports 2.5 million people left the workforce during the COVID-19 pandemic and won't come back to work. At the same time, we see an average of 4.5 million people quitting their jobs each month.
These numbers are daunting and make the job of sourcing for open roles difficult. The good news is there are other ways to source.
Recruitment marketing programs aimed at alumni support your contingent, gig, part-time, and full-time sourcing efforts by allowing you to tap into a large talent network that already knows your organization (and will require less time & money to ramp up).
The key is to hook alumni back in and lean on them to refer new people.
Let's rethink the talent lifecycle by tapping into alumni talent pools.
Debbie Tuel:
Hi, everyone. Welcome to the RM Podcast. I'm your host, Debbie Tuel, and I hope that you are ready for an all-new lineup of experts who are itching to step out of the parameters of traditional recruitment and talent acquisition speak, and get real on what it means to recruit on a worker economy and quite frankly an upside-down world. Let's dig in together.
Debbie Tuel:
When I got into recruiting 15 plus years ago, we were talking about how retirement and baby boomers leaving the workforce, was really weighing on executives to fill their succession planning and pipelines for new talent and I think we're starting to really see that all come to fruition. Goldman Sachs reports that 2.5 million people left the workforce during the COVID-19 pandemic and have no plans on returning back to work. At the same time, we see an average of 4.5 million people quitting their jobs each month. Tack onto that that the average tenure has dropped down to 2.5 to three years and these numbers are daunting, and they make the job of sourcing for open roles extremely difficult.
Debbie Tuel:
But there is some good news, there are other ways to source. In fact, if your organization has been around for 20 plus years, the odds are that you have more former employees than you do current employees and that is a luxury of talent that we cannot afford to ignore anymore. Recruitment marketing programs aimed at alumni can help support your contingent, gig, part-time and full-time sourcing efforts by allowing you to tap into one of the largest talent networks that already know your organization. They already know your culture. They will require less time and money to ramp up, and the key is how do you hook them back in and lean on them to refer new people at the same time? It's time for us to start rethinking the talent life cycle and tapping into our alumni.
Debbie Tuel:
Today we're going to talk about exactly that, and I am joined by Brian Sommer who, after spending nearly 20 years at Accenture, stepped out and founded TechVentive, where he, as a technology industry analyst and consultant to some of the largest firms, is really focusing on the best way forward for those that are embarking on digital transformation initiatives. His book, Digital With Impact, is an executive guide that can help you and your firm avoid a transformation misfire. Brian, welcome to today's show, how are you?
Brian Sommer:
Happy to be here, Debbie. Or I used say howdy, but anyway, that gives away where I'm from.
Debbie Tuel:
Brian, we actually did not talk about this as we were prepping for today's call. You may not know this, I live in Boston, but I am originally from Austin. I had no idea you went to UT.
Brian Sommer:
Yeah, I did. I did six years there. I did my undergrad and grad work there, back to back at UT Austin. I actually own the family ranch with a brother and sister down between Houston and Austin, so my ties down there are still pretty strong.
Debbie Tuel:
Yeah, no, my mom, my sisters, my grandmother, all my aunts and uncles, my entire family is still down in Texas. I am in Austin often. Yeah, small, small world. Although I am a Red Raider, I am not a fan of UT, but hey, it's all frenemies, right?
Brian Sommer:
I have a nephew who made the same mistake, but anyway, good school though, good school.
Debbie Tuel:
No, he made the right decision, he made the right decision. Well, speaking of alumni, right? This is actually a really good topic, you're UT alumni, I am a Red Raider. We have really strong ties to our schools and our networks and our communities that come from that, and we want to chat briefly about how that parlays into corporate recruiting. Every year Symphony Talent does ideas from everywhere book, where we talk to industry leaders like yourself and ask like, "What is the big thing for 2022? What's the big idea?" And you mentioned something that really piqued our interest. You said, "Hey look, we need to be sourcing for talent differently." And you didn't necessarily mean, "Hey, you need to go find a sourcing tool that's going to help you source talent." Share with us, what did you mean and what were you thinking when you said we need to be thinking about sourcing talent differently?
Brian Sommer:
Well, let's face it, folks, everybody's had their own kind of methods and practices for acquiring talent, they go back before the pandemic and some had some novel methods. But for the most part, you needed a position, you put out an ad or posting or what have you, and you found candidates and you got things going. Some of the more advanced folks use things like resource management or recruiting type of tools that could cultivate a relationship with prospective job seekers or [inaudible 00:05:12] job seekers, and you could build up a pipeline then. But what we have right now is we have a remarkable phase in our economy where huge numbers of people are just deciding to hang it up and resigning, so we've got the great resignation going on. But we also have all the real experienced people, or called the gray resignation, is going on at the same time.
Brian Sommer:
Now I take offense to that term, because I'll never forget I was a whopping 22 years old you in a barber chair in rural Texas, getting a haircut, and I couldn't believe it. I saw a clump of white hair hitting the apron, stopped the barber right then and I go, "Is that mine, or was that on the apron from a previous customer?" He goes, "No that's yours. You got some gray hair on the temple." I've had gray hair for a long time. At least I'm happy knowing that I still have almost all of my hair at my age now, so that's good. But the gray resignation's real, and what this means is you're losing a lot of very senior, highly qualified talent, and you're losing a lot of talent, period. Now the question is, where are you going to find replacements for them?
Brian Sommer:
I think people are guilty of using incrementalism. Well, we just need to run more ads, more postings, whatever and build up the pipeline. And I'm like, "You guys, you got too many people fishing in the same over-fished pond. You're not going to get any great results from that." What we have to do is think differently about getting a new source for this, and it turns out that for some companies that are really smart, they treat their former workers as an asset. Now they're not on the payroll right now, they're not something you can find as a line item on the left side of the balance sheet under current assets or long-term assets, but they are assets. And they're assets because they know your methods, they know your practices, they know your customers and your target markets, and, and, and, and, and.
Brian Sommer:
And yes, they used to work for your company. Now the question is, how do I really get some value out of that asset and maybe get them back into the company, if not on a part-time basis, make it a permanent basis? That's what we need to think about. We need to be thinking out of the box on a different way to attract a different group of people that aren't being overfished to death, if you will, and bombarded by recruitment offers from other firms.
Debbie Tuel:
Yeah, Brian, I think that's such a smart way to be looking at new areas that we can start to fill that pipeline. We've been talking about this with a number of our customers for years, but many of them don't have solid programs in place to drive those alumni networks, those boomerangs, that bring back programs. But we're seeing not just the great resignation, and just to talk about that from a stats perspective, most people know this, but just as a reminder, 2.5 million people left the workforce and said they wouldn't return. We've got 4.5 million people quitting each month, and 2.9 million jobs shy of February 2020 levels. When we are seeing these people leave the workforce, I think that's one issue.
Debbie Tuel:
But the other thing that we've seen over the last 10 years, and expedited more recently, is that the average tenure today is 2.5 to three years and that's very different than 20, 30 years ago, when my dad was an IBMer. If you're an IBMer, you're an IBMer for life. You go to work at IBM, you retire at IBM, and that's just not the case with the talent that's coming in today. I think that idea of being able to when people leave after three years, keep in touch with them, network with them. They're faster to ramp, they have the knowledge, they're going and getting the experience. When we bring them back in, whether that be full-time or part-time, we're going to get a lot more productivity, faster. And I'd love to hear if you're seeing organizations start to think that way and build that into their transformation strategies?
Brian Sommer:
Well, I do and I don't. Let me take some of the don'ts for a moment, these are the misfires out there. I'm old enough now to have kids who are in nice, professional jobs out there. They're fairly young in the workforce and they're part of that group that thinks in terms of two, three years in a position, whatever. But what's fascinating is, actually the truth be told, they'd stay a lot longer with their old employer but for a couple of problems.
Brian Sommer:
One of my children was running a big deal with a major international manufacturer, running big production facility of theirs, and he got promoted and he'd been with the company three years and they'd had him on a management development track, and they were doing a lot of what you would think are the right things to do to build up and keep and retain talent. But they had an old promotion system in that company and they told him after that last promotion, that he wasn't going to be eligible for another promotion for not... Hang on for it, it's not one or two years, it was eight years.
Debbie Tuel:
Wow.
Brian Sommer:
And so real quickly it became apparent to him that what he had was a job, not a career.
Debbie Tuel:
Yeah and he's looking at like, I just capped out for the next eight years if I stay here, no matter how much they put into me.
Brian Sommer:
Right. And it's not that he has ants in his pants, he has more ambition than to just sit around and do the same thing for eight straight more years. What I'm getting at is, a lot of companies are looking to bring people in to fill jobs and they don't think about creating careers or career paths for people, so that's one big issue. The other big issue is one of the biggest faults in many HR technologies that I see out there, is they love to talk about the employee experience and employee engagement and these soft side issues, but let's face it, folks, more than half the time when somebody leaves your firm, they're not leaving the company, they're leaving their boss. We don't see HR technology vendors getting in any hurry to actually create software that helps identify psychopathic bosses or other ne'er-do-wells or whatever, ineffective leaders, heartless scoundrels, whatever.
Debbie Tuel:
The rotten egg.
Brian Sommer:
Yeah, and there's a bunch of them out there. If companies got rid of those individuals or actually did some HR analytics to find out who is-
Debbie Tuel:
Where's the toxicity within the company?
Brian Sommer:
Right, get rid of them, and that might actually help you retain the people you have. We have two problems with the great resignation. We got to find out what's the underlying root cause, why are these people leaving? Well, in a lot of cases of the 4 million or four and a half million you referenced a moment ago, they're leaving because either someone's paying them currently slave wages right now and they could do better somewhere else, or they've got an unenlightened boss who's doing stupid stuff, like making them work in high-risk areas where no one's wearing a mask and all that other kind of stuff, and not paying them well. And making them work outrageous hours or using an AI program to do a performance evaluation and not realizing that the AI program's got a bunch of problems with it and is incorrectly terminating people for no real good reason at all.
Brian Sommer:
I mean, I could go on and on. There's just a ton of these, let's call it stupid management tricks 101 going on out there in the world, and a lot of the workforce is too smart for that, and they're not going to put up with it. So they're going to, in the words of Dear Abby, seek true love elsewhere, and that's one of the big drivers for a lot of this churn. Companies have to get their head around that, and then they have to, again I'll go back to, they need to find different sources or new sources, or underutilized sources for talent, and that's what got us to the alumni discussion earlier.
Debbie Tuel:
Let's talk about the positives. We just listed out a bunch of what the companies are not doing, right?
Brian Sommer:
Yeah.
Debbie Tuel:
They're not addressing what is the root cause that people are leaving? How do we create career paths for individuals? How do we identify the toxic people within our company and make changes there in order to retain talent? What are the do's? What companies are you seeing that do have strong alumni programs, that others of us can look towards and say, "Okay, if I want to build this out, here's an example of a use case that I can bring to my executive team where it's working?" Or have you seen that?
Brian Sommer:
I'll start with where I've seen it working well, and then I'll talk about the tactics, I guess, that are used, secondary. I saw this one dental chain that does a fantastic job, and when you think about a dentist's office, it's usually one or two practitioners at most with a handful of dental hygienists, and then you've got the usual support staff, the folks who handle the insurance billings and the appointments and the like. They're not huge offices. I mean, we're talking maybe six to 20 employees to a dentist's office, and here's a chain full of these folks, and their biggest issue is, what do you do when a dentist needs time off? They need a vacation or maybe they've got a health issue or something that's popped up, how do you handle that problem?
Brian Sommer:
Well, this one client of mine has an incredible alumni network where they have lots of dental hygienists and dentists who have either gone into retirement or whatever, but they treat them as if they're in the reserves and they can activate this person in a heartbeat and have them go in and fill in for somebody at some office for a couple of weeks, or what have you, or even longer. They could even use the reserves to open a new location until they get the permanent person in place. It's phenomenal, and yet these people love it because A, it keeps their professional certification current. It helps them make some money, but not so much that it screws up their social security benefits or whatever, and they find it really quite fascinating and fun to do.
Brian Sommer:
Now, I also saw a similar deal, dealing with pharmacists. Pharmacists have a similar problem where you look at a pharmacy and it's got a handful of people that are pharm techs that interact mostly with the customers. You got one or two pharmacists to a store, and then you've got some other people up in the retail part of the front of the store. They're not huge from a staffing perspective, but the problem is you need folks who have certifications that are valid and licenses that are current, and you need to be able to move them around. And I've seen in rural markets even, where there are some druggists who work for competing firms, who'll go fill in for a colleague at another store for a while to help them out and get them through this deal. And this is how you maintain, if you [inaudible 00:17:15] uninterrupted service, you provide continuity to the customers and the like, and it requires trust. All that is there.
Brian Sommer:
The mechanics of how these companies can do this, is you can't just have a piece of software that's an alumni system, because most of those, they just track, if you will, who used to work for us? And what were their employment dates? And a few other data facts. And they allow other alumni to get in touch with each other, but the employer's not doing anything active with it. That's a passive system, that is a system that will add little or no value.
Brian Sommer:
What companies need, is they need to treat the alumni in that system as if they were potential job seekers or passive job seekers, and they need to do more from an outreach perspective to let them know, these are the opportunities we have coming up. But they also need to proactively know things like, where does this person actually live? Because you're not going to want to pick up some person who only is interested in maybe working a day or two a week, and not have them... You're not going to seriously consider them for a position that you need to fill temporarily on the other side of the country. There's got to be some smarts to it, it's got to be more than just a directory. It has to be something that's active in delivering value for the alumni.
Debbie Tuel:
Absolutely. I see so much applicability to this concept. I think I've got school-aged children, there's obviously a huge shortage of teachers right now. Many people during COVID took early retirement and they're looking for substitute teachers. They're looking for people to fill in for maternity leaves and things like this, and what a great way to find that pool of talent, than reaching into your alumni network and reaching into your retired teachers and saying, "If you want to come work temporarily or a day or a two, let's activate you." And this can scale in so many different areas. But to your point, the tactics and the technology maybe aren't there yet. What tactics have you seen work? And what technology is out there? You've got to have the communication, you've got to have the right information and you've got to keep them engaged.
Brian Sommer:
A couple of things. The folks on the outside, particularly those who work... You could be looking at someone who maintains certain kinds of equipment, they need to have a current certification. If you want them to be an active part of your alumni network, then you at least have to be willing to help them get access to whatever training they need to stay current, and may have to pick up and pay for their certification or testing cost, if that's what's required. But in doing so, you've created a bond with them that's going to be super tight and they'll want to continue to work for you.
Brian Sommer:
Another thing you need to understand is you really got to find out why did this person leave in the first place? And you rattled off a good list of them, and you're right. There are a lot of people that leave because, it could be either maternity or a family leave kind of issue, or they're caring for a-
Debbie Tuel:
Or maybe they need a mental break, or guess what? I'm going to raise my little kids and then now they're in school and I'm ready to go back to work. Or it could be, "Hey, I've got a sick family member and I'm going to go take care of them." I mean, there's just so many, outside of what we talked about at the beginning, outside of the, "I'm leaving my boss." It's like, "I need a personal mental break for whatever reason, and I'm going to leave." And we could've left on the best of terms, I could've been your best employee.
Brian Sommer:
Right. All those are right on the money and I'll add one more. Some people just need a sabbatical, they need to get away for a while, clear their head and drop all the day to day job minutia and start thinking big picture once again, and see things in a fresh new light, and then they're ready to come back and reengage. I don't really care what the reason was, but a company needs to know why and they need a truthful answer. And unfortunately, a lot of people that leave because of a bad boss, are never going to admit that, which puts you in a little bit of a deadly embrace problem here. You won't really know exactly why they left, but I can guarantee you that the smart alumni return systems don't necessarily put people back in the old chain of command with the same old bosses and everything else. They put them in a new situation where they're going to have an opportunity to probably meet and interact with other individuals, and possibly grow or add value in a different way.
Brian Sommer:
I think that's important to recognize, again folks, more than half the time people leave, it's because of their boss. If you're going to bring them back, you got to put them into a different environment unless they specifically asked to be back in their old environment. Just ask that question, like, "Would you prefer to go back to your old part of the company, or do you want to be in somewhere else?" And you'll be astonished how many want to go to work in a new part of the firm, or new to them at least.
Brian Sommer:
Another thing is you need to have a more enlightened view about the nature of work, and we've had a lot of people finally come around to work from home and other kinds of things, which may be important to more of the alumni than you think, compared to maybe say the rest of the general workforce. Particularly those who are evaluating, "Do I go to work and put up with all the stuff I used to and the commutes and everything else? Or do I do something maybe part-time as alumni, or even full time as alumni, but can I get it more in my terms, on where I work and how I work?"
Brian Sommer:
I would say three years ago, a lot of firms were not terribly open to the idea of work from home, and we've seen that change. Now the question is, what do you want these folks to deal with? A third thing is you want to equip these people with the tools that are going to be required to make them successful as alumni. That may mean you may have to help people kit out their house with broadband internet, with printers and other things, even though they may only work part-time with you, but that'll help out.
Brian Sommer:
Retail's an interesting place where you got just millions, tens of millions of people that have worked for one company or another, and they've left. And why did they leave? Well, a lot of times they left because somebody was paying them 50 cents or a dollar an hour more. Now you could go get them back and I can tell you right now, the first question they're going to have is, "And how much are you going to pay?" I think what's more interesting to me is how many employers are starting to wake up to the fact that we haven't been good actors in this space for a while? We have people on our payroll that we only give them four hours a week of work and they want to be full time, so you've got the reality of what they get and the hope of what they would like to pull in for earnings, and they're not being met.
Brian Sommer:
I think employers have to take a more serious look like, is it okay from time to time, to have people work a 40 hour week? What a concept. Or maybe get some overtime from time to time? And again, you have to talk to these people, the alums, to find out what is it you want or need? Because you're trying to come up with, if you will, almost a customized map that helps you understand, for this person, they only want to work a maximum of 20 hours a week. For this one, they want to get all the hours they can. Different alumni at different points in their life have different demographics and economic needs, and I think you got to be responsive to all of those.
Brian Sommer:
When you asked earlier, what do you need in a great alumni system? You need something where you can really find out the totality of what is it the alumni would find attractive, that would get them to come back in? All this means is, it's not just a systems deal, but to have someone in HR or whatever, that's willing to fight some good fights and get some of the policy changes put in place that allow this new kind of work, flexible kind of worker to come back into the company.
Debbie Tuel:
Absolutely. And Brian, I think a piece of that too, is understanding that the employee doesn't always make the right decisions. They don't always know, right? They may take that job that is going to pay them a little bit more, give them a little bit more flexibility. Then they get into the role and they realize the grass isn't greener. Maybe there are some things that they liked at their old company that they're not receiving. So even just making space and rethinking our mindset of our employee is not making a bad decision for leaving and we're okay for them realizing that the grass isn't greener and coming back and being more embracive of that concept of, hey, if tenure is dropping of our employees, then we are never going to have a pipeline of talent big enough to continue to refill these roles with new talent.
Debbie Tuel:
We need to be thinking about how do we watch the growth of these employees over their career? And bring them back in, in ways that work for where they are personally at that time in their career, so that they're coming in and out of an organization instead of just that static one-time employment.
Brian Sommer:
You bring up a very good point, Debbie. That one-and-done attitude is highly prevalent in a lot of employers. Some employers feel it was an act of betrayal that somebody left the company, and it may have just meant that they were, if you will, seduced by the siren song of another firm, and you're right, they found out that the grass wasn't that much greener over there. There are companies that actually have bans or prohibit people from being rehired. And I'm sorry, in this day and age, that's just not wrong, that's just plain stupid. And quote me on that, make that your sub-headline for your podcast here. But we need to think less in terms of petty vindictiveness towards somebody who did leave and think about, how do we create a culture that actually embraces these folks and brings them back in?
Debbie Tuel:
We've put the investment into our employees, we need to realize the full potential of that investment and realize that it doesn't end when they leave, right? We see this in consumer advertising. If you buy a product at a company, they know that you are going to be the best person for them to advertise to come back and buy again, to tell your friends about the product that you bought. We need to be looking at our alumni networks in the same way. If you leave the organization, we need to stop thinking about it as a negative and start looking at it as a positive.
Debbie Tuel:
This person had an experience at our organization, they're going to go and tell their friends about it. Can we make that positive and start to get referrals from our alumni? They potentially could come back and add value faster than somebody else that we'd hire externally, let's get that full potential out of talent. I think until we shift that mindset, we're not going to be able to effectively drive these alumni networks like we're talking about, which is going to be really important as we continue to try to fill this gap of talent that we're seeing so prevalent now in the workforce today.
Brian Sommer:
Yeah. I agree with all those points you just brought up and I guess I would just offer one additional caution to your listeners, and that is sometimes it takes people months or years, they agonize over when they're going to leave their current employer. In that timeframe, they've gone through a whole bunch of thought processes in their brain to finally get to that one conclusion, and they make that decision and then they're gone. Now, trying to get them to come back in, there's always the risk that now they've burned in all those synapses in their brain on how they know how to make that decision, are they going to make another one and leave your firm again in just a short amount of time? And again, I want to go back to, that's why it's so important to find out why did somebody leave? And what is the new bargain or contract, employment contract, or mental, or otherwise, that they want to have now with your company?
Brian Sommer:
Again, I think it's important that you strongly consider putting people in different parts of the organization or in different roles, whatever, and you change it up so that they're not going to be confronted with very similar circumstances as what they encountered previously. That would be a really great thing to do. I will tell you that one of my old employers, they hold some alumni events once a year, and they'll book something like a baseball park deal and buy a bunch of tickets for people to go there. I don't go to those because A, I can't meet anybody I know there, I'm not going to see them because we're talking in the thousands of people. If I ran into anybody, it would be an absolute, total accident or coincidence, not that it was some pre-planned deal. Some mass deals aren't going to work, we got to get it down to the person and we got to find out what really makes sense for them.
Brian Sommer:
There are some programmatic deals like the ones I gave you about the dentist and the pharmacist, but you're right, you can do the same thing... I think about how many hospitals are short, all kinds of different nursing positions are just going begging right now. You're correct about school teachers, there's a lot of challenges there, from getting those filled. But you see it even in factory workers and factory jobs and assembly positions, even warehouse distribution environments, everybody's looking for talent and I'm sorry, if we all keep looking under the same rock, we're not going to find anything, so we have to think differently. We have to change our tactics if we're going to be successful as employers.
Debbie Tuel:
Absolutely. I think that's a great place for us Brian, to wrap up the conversation today. Because you're absolutely right, we can't keep looking under the same rock and the same rock that everybody else is. I think we've uncovered here an untapped gem that a lot of organizations should be looking into, and that is that alumni talent. How do we activate them? These people already know your brand, they already know your mission and your values, they've gone through your onboarding and your training. You've invested in them, you've spent time and money and energy on them, why not extend that life cycle of that candidate and help them in their career, come back and help you build your business over time? I really appreciate the conversation. Before we let you go, Brian, we've got some rapid-fire questions that we ask each of our guests. The fun give back to the community session of the show. What is the one book or podcast that you would recommend from this past year?
Brian Sommer:
Wow. I don't know about on the podcast, but I would say on books, I read a whole bunch of them. I'm not going to be so vain as to promote one of my own, but...
Debbie Tuel:
I'll give you a chance to promote one of your own here in a minute.
Brian Sommer:
No, no, no, that's okay. I'm going to actually tell you probably one of the more interesting ones that still I go back and reference, is an old... It's probably out of print now, it's called, Bargaining Across Borders. I help clients a lot of times negotiate software contracts, but I read that book because when dealing with multinationals, I'm dealing sometimes with technology or salespeople or clients in other parts of the world, and I never thought about some of the cultural deals. And when I read that book, it was like, oh man, I encountered that in Thailand. Or I encountered that in a machismo kind of culture. Or I encountered this problem in some other places.
Brian Sommer:
It was an insight into people and how they impact something as technical, like all the contractual legalese kind of stuff in a negotiation deal, that I still remember, and I still reference those kinds of things all the way to this day. It was written kind of a firsthand book by a person who traveled around the world and uncovered how business actually works. Since we're talking about people, I thought that's an interesting different angle, I know from what you're used to, but it's one that adds value.
Debbie Tuel:
Yeah, absolutely. No, I think that's a great recommendation. Definitely, working with a lot of our global multinational companies, I can see where that would be a huge value, so I'll have to pick that book up. Who is the one person that you think every one of our listeners should go follow for some good content or new ideas?
Brian Sommer:
Well, since you've probably got a lot of HR folks in here, and I know everybody knows who Josh Burson is because he speaks at every HR event. I'm usually speaking at a third of the ones that he's at, but he gets the top billing every time, so I'll give him a hat tip. But I tell you one of the smartest ones I've run into, is if you get a chance to check out John Sumser. John really does an outstanding job understanding all the new cutting-edge technologies that are impacting HR. I could go on and on, there's a million of these highly influential people in HR.
Debbie Tuel:
You're right.
Brian Sommer:
But John I've actually had the pleasure of sparring with him on stage on some events, and-
Debbie Tuel:
I can imagine that would be some good sparrings, so yeah, we'll definitely link to both John and Josh for our listeners. We have, on March 8th is our next episode, it's for International Women's Day. We're super excited to talk about some of the bias and some of the return to work programs for women. What would be the one question you'd ask our next guest?
Brian Sommer:
There's so many new advanced technologies coming into the HR area and they're going to require almost like STEM degrees out the wazoo, for machine learning and data analytics and big data and everything else. I really want to hear some executives, female executives in particular, talk about what are you doing to bolster the skillset of other women in business, to be able to be equal players, partners, whatever? And bringing those new kinds of capabilities into the firm, and to really understand what they can do or should do or shouldn't do with those technologies, moving forward?
Debbie Tuel:
All right, great question, I'll make sure we ask it on the next episode. What is the next cool piece of technology that you are excited for? Is there anything that's caught your eye that you said, "Wow, this is a gap, you're solving for it."
Brian Sommer:
Well, I'm not going to get too excited about NFTs and blockchain and so forth, we all been reading about those. I guess what I'm going to tell you is, I'm always excited about the potential behind real, highly transformative innovation. But right now I hear everybody slapping that digital transformation term on everything and anything, when most people are just digitizing stuff, they're not really transforming anything. I would have your listeners remember what you see all the time on television on those home improvement shows, where they walk in a house after the big reveal at the end of the 30-minute segment, and they go, "Oh my goodness, look at this room. That accent color you painted on that one wall really transformed the whole room." You bought a quart of paint, folks, and you painted one wall, that didn't transform anything.
Brian Sommer:
Transforming would've been like you built out an addition, you rewired the whole place, you did a whole bunch of other stuff that really changed how it's going to be used and affected. And I think what we need are, we need people who have more than just vision, but actually have the ability to execute on this and really take our organizations to a completely new level of capability and performance.
Debbie Tuel:
Brian, thank you so much for joining us today. Where can our listeners find you if they want to read your book and find out more about you?
Brian Sommer:
I write all the time for diginomica, diginomica.com, you'll see... Do a Google search, put my name and just put Sommer plus diginomica and you'll pull up a million articles there. But I write for other pubs and other things also. I'm reachable on Twitter at @BrianSSummer. And the book that you referenced is one called, Digital With Impact, you can find it on Amazon. But again, I just want to tell you I'm not here promoting that. You asked, that's the answer.
Debbie Tuel:
Great. Thank you so much, Brian. And again, we will be back in two weeks on March 8th for International Women's Day. We are looking forward to help breaking the bias on the RM Podcast and we'll see you all then. Thanks so much and have a great day.



Want to sign up for the RM Podcast?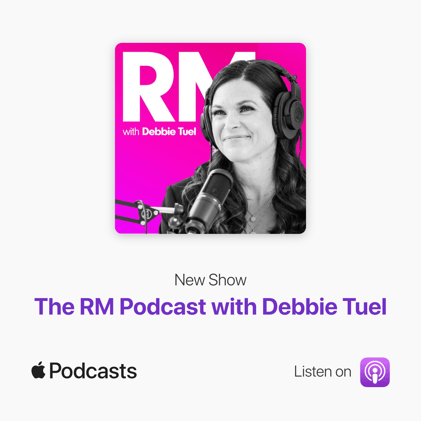 Want to learn more about the topics discussed today?
Check out more details on the Great Resignation & Rehire, CRM Tech Adoption and the new ideas for recruitment marketing in the 2022 Ideabook -- all available at: https://www.symphonytalent.com/en/resources/.