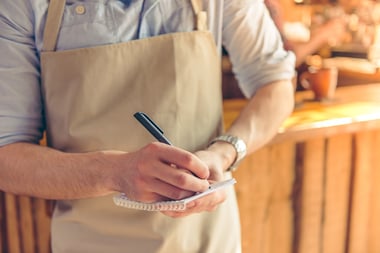 Recently, I traveled to a client meeting with some co-workers. After a long day of discussions, process mapping and product development, we headed out for dinner. We chose a small chain with a flair for local dining choices and drinks. And I remember thinking at the time how personable, outgoing, knowledgeable, and confident our server was.
When I was working my way through school, I had a similar job - and I appreciated the level of attention for our table. So I asked our server, "How did you get this job?" By the way, if you work in hospitality or retail, you know how loaded this question is - especially in a world where high turnover and limited skill sets are needed, yet service directly correlates to business revenue.
What happened next was a lesson in listening and learning as this "live case study" began reflecting the realities of recruiting and retaining good employees in the retail industry.
Let's explore our server's experience, step by step:
Applying for the Job
First of all, our server told us that his application process was painful. He didn't understand why it was so complicated and took so long. In fact, he had dropped out of applying for jobs at a number of other restaurants because the entire experience was out of step with today's mobile-friendly expectations. Applicants aren't looking to spend their time wading through a complicated process – especially when they're not yet fully committed. Make it easy: just an email address and a few top-level questions. From there you can use automated personalization tools to create a truly relevant experience in the right places with the right messages.
Identifying With the Brand
In spite of the protracted application process, our server identified with the restaurant's culture, the food and his past experiences dining there. In other words, he felt aligned with the consumer brand and that was enough to get him on board. His story reminded us that applicants shop for jobs much in the same way they buy products online at Amazon or Macys.com. Attention needs to be focused on building an employer brand that's closely aligned to – and reflects – this consumer promise. And it has to feel relevant, authentic and personal to them at every touchpoint.
Which brings us to our last takeaway;
Leveraging Relationships
The server told us that, before he applied here, his friends recommended a couple of places – which made us all think about how great employers leverage their referral programs to the max. Your top employees likely know other potential top performers. Activating your current employees as ambassadors of your business is one of the single best ways for a company to recruit. It's also a way to bolster employee morale. After all, when someone recommends your business to a candidate, they're automatically reinforcing their own reasons for choosing you.
Once our server was done venting about his experiences, he asked my co-workers and me why we asked that question. And our simple answer was that we're in the business of helping our clients fix everything he had just complained about. He seemed genuinely interested in what we do and happy for a chance to offer his perspective. We thanked him for sharing his experiences - and we left a nice tip.