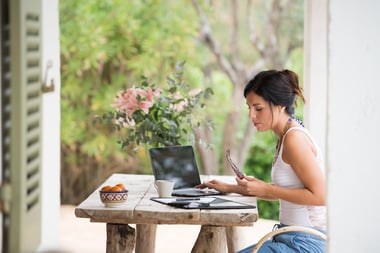 Flexibility. Autonomy. Low employee turnover (a.k.a. employee retention). In 2018, employees want the former two, while employers seek the latter most of all. The thing is, everyone can have their cake — workplace flexibility and of-the-moment recruitment tools — and eat it, too.
Recruitment trends in 2017 saw an emphasis on increasing employee engagement, boosting employee retention and using automation technology to streamline processes, therefore it is no surprise this year will see further disruption to what's tried and true. That includes non-traditional work arrangements — flexible schedules and remote work opportunities, in particular.
According to the Society for Human Resource Management's most recent Employee Benefits Survey, in order to remain competitive in the talent marketing sphere, it's necessary to accept — even champion — workplace flexibility as part of your Employee Value Proposition (EVP). Once considered an impediment to productivity by employers, it turns out telecommuting and variable work schedules are now among the most effective tools for both attracting and retaining employees. It's why two out of five survey respondents cited non-traditional work arrangements as essential tools in their recruitment arsenal — with 62 percent pointing to telecommuting and 57 percent to flexible schedules, no less.
HR Technologist concurs, noting that — in addition to using Artificial Intelligence (AI) in hiring, personalizing the hiring, using video conferencing to assess candidates and employing data-driven and analytical screening tools — remote work is on the rise. Why? Employer flexibility boosts employee satisfaction and, in turn, retention. Whether you offer remote work for part-time employees, offer summer flex hours or a promote a compressed work week component for full-time staff, a happy employee who stays with the company saves time and money, lightens the load for recruiters and means you don't have to hire, train, re-hire and train anew. That satisfaction also translates to increased productivity since employees who are fulfilled at work are more likely to be loyal and dedicated to tasks at hand — regardless of their office locale. Further, this strengthens your EVP and turns your current employees into advocates for your employer brand.
This overall trend, not surprisingly, is driven by millennials, who unabashedly cite workplace flexibility as a major draw when choosing an employer.
Unfortunately, one problem remains: as much as employees crave workplace flexibility overall, many still fear potential repercussions. May 2018's survey report A Manifesto for Change, released by researchers at Deloitte and U.K.-based Timewise — an advocacy group for workplace flexibility — shows employees are afraid to take advantage of flexible work arrangements, fearing they'll be stigmatized, appear ineffective or get passed by for career advancement.
Of workers who responded, 70 percent want to see managers support and foster work/life balance; 25 percent believe their careers failed to advance on account of electing flex work; and 17 percent think flex work would inhibit career advancement. These statistics, even if the trend toward workplace flexibility suggests otherwise.
While the tides are turning overall, the millennial demographic, who expects workplace flexibility, is also driving the candidate-centric digital transformation — be it built-in artificial technology and machine learning tools, personalization in hiring or data-driven analytical and screening tools — that's occurring in today's talent acquisition space.
As an employer looking to bridge the gap, it's time to adapt or become irrelevant in the eyes of candidates. The question is, where do you start?
At the end of the day, CEOs and workplace leaders need to promote non-traditional work arrangements and modern-day hiring processes as selling points — ones that improve the organization's EVP. Work-life balance, and the role digital technology plays in making it possible, should be part of your company's manifesto — normalized not stigmatized.
Keep up on the latest trends. Subscribe to our instant blog updates!