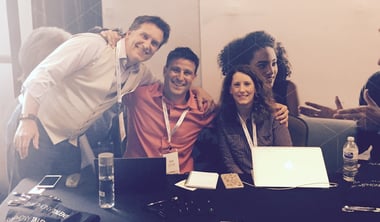 San Diego, "America's Finest City," provided a perfect setting for last week's EBrandCon, the industry's leading employer branding strategies conference. Talent acquisition, content marketing, and employer branding experts all came together to discuss a variety of branding-related topics, including employer brand strategy, building brand ambassadors, measuring ROI, and crafting outstanding brand content.
Despite the unexpectedly chilly temperatures in southern California last week (was I the only one who thought it was a pleasant 75 degrees every day?), we hunkered down with industry thought leaders to hash out the do's and don'ts of developing and implementing a best-in-class employer brand strategy.
There was, however, one point on which pretty much everyone agreed: people want relevant, resonant, and engaging content no matter where they are in the talent lifecycle. This led to a very active and highly informative discussion and gave all of us – and hopefully you – a few things to think about when you're building your own brand strategy:
Flip your way of thinking upside down.
Most brands articulate the "what" first, and the "why" later. While what you're providing is certainly important, why you're doing it is what's going to get people excited about – and engaged with – your brand . What you do should never outdo why you do it.
Make a business case for Employer Branding.

A strong employer brand can save your company money. A bad reputation could cost a company with 10,000 employees over $7.6 million in additional wages, not to mention the high cost of recruitment, onboarding, and employee turnover. Eighty percent of hiring managers agree that an Employer Brand is important to recruiting top candidates. If you don't have a clear and consistent Employer Value Proposition, you're wasting money!
Talent advocates are king.
Employee advocacy programs are a great way to keep current employees engaged and leverage their personal and professional networks. Eighty-four percent of people prefer personal recommendations over advertising. Content shared by employees has eight times more engagement and 25% more shares than brand-shared content. Encourage your employees to share their experiences and your brand story. Develop a hashtag for your own employer brand (like #SalesforceOhana or #LifeatST) so that you can keep an eye on employee engagement across multiple channels.
Know your audience.
Whether you're talking to candidates or employees, relevant content is a must-have. A clear and consistent EVP + Target Audience + Where they are in the talent lifecycle = the right content for everyone! People want relevant, resonant, and engaging content that speaks to them and their needs. The wrong messaging can quickly turn potential candidates off.
Be authentic.
Buzzwords like "collaborative environment" and "work-life balance" on a career website are just that - buzzwords. What do they mean – especially when just about every organization uses them? Employee stories bring your company's values to life. They validate your employer brand and create an emotional connection with your audience. So when you say that your culture is "like a family," you have examples that prove it! Get real-life stories of employees treating each other like family. Whether it's on a blog or on a video, share those stories and let your culture speak for itself.
Don't fake it!
The best way to improve your employer brand is to be a better employer. Look at what you're doing right now – and what you could be doing in the future – to deliver on that promise.
After an exciting experience filled with productive and informative "back and forth," the Symphony Talent crew took the opportunity to walk along the water, do a little yoga, and chow down on the finest sushi in San Diego.
After all, all work and no play makes #LifeatST dull - and our team is anything but!