The truth is recruiting today is not the same as it was five years ago—it's not even the same as it was one year ago. The COVID-19 pandemic and social movements have brought to light some things we aren't too proud to see. Recruitment isn't always fair.
Despite this sad reality, you can change the game. Move your company forward with recruiting technology that eliminates manual and redundant processes to save your business time and money AND fuel your digital transformation with DEI best practices.
Recruiting Technology Built with DEI in Mind
As humans, we have conscious and unconscious biases that impact our hiring decisions. To make matters worse, our tech has preferences because its code creates bias algorithms. However, the beauty of technology is that it learns and evolves—much better than humans do.
So here are a few ways to wrap your head (and tech) around all the industry buzzwords in a way that makes sense for the real world.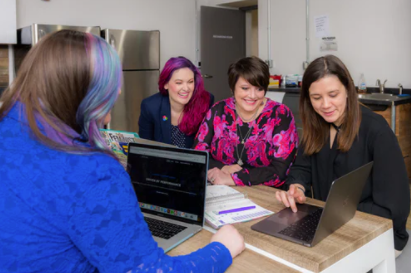 Add DEI to Your Recruiting Tech Stack
To get started, you first must evaluate your current talent acquisition software and how your organization looks to attract talent.
Are you using recruitment software to meet your goals while simultaneously opening the door to more inclusive hiring practices? If you don't say yes right away, you might want to consider the following key areas DEI recruitment fits in the hiring lifecycle.
Tools to Attract, Engage, Hire and Career Path Talent:
To hire a more diverse team, you need more diverse candidates to apply. According to Symphony Talent's research, diversity dominated conversations in 2020, but we didn't see that translate to recruitment marketing tools (like career sites).
That's a problem. If the world is talking about DEI initiatives, then they will want to see your company's position and, at the very least, your commitment to fair recruitment practices.
Like it or not, your company is being judged on how you handled 2020.

-Julia Levy, Head of Global Talent Acquisition, CommScope
Key recruitment areas to incorporate DEI best practices:
CRM: Build diverse talent pipelines and communicate your DEI goals directly within email campaigns. Your talent community wants to know about open roles, but they also want to learn about your culture and commitment to fair recruitment and equitable culture. To connect with talent, share information about new hires, employee resource groups (ERGs), events, and activities that support DEI programs.
Career Sites: Reveal your authentic brand and commitment to DEI on your career pages. Your career site is your prime piece of real estate—use it to your advantage by highlighting employee and customer testimonials and ERGs. You can also enable a chat assistant to answer questions anytime. This assistant can be programmed to answer role, company, and corporate mission-related questions. This helps prospective candidates learn more about your brand without draining your resources.
Programmatic Media: Access the broad set of media placement types to target diverse job boards and brand advertising to target diversity hires and, more importantly, ensure various groups of talent see your posts. No one wants your company to employ token diversity roles. Instead, we want you to be able to open the door to a broader range of talent communities by leveraging resources to get in front of top talent. If you only post in the same place all the time, you're going to get the same types of hires over and over.
Video Interviews

:

Leverage on-demand video interviews to help reduce bias and better understand candidates. On-demand videos help candidates explain their interests and talk to their skills in a more engaging way than simply submitting a resume. Video interviews also help reduce bias by hiding candidates' names and personal identifying information and can be used in audio-only formats, too
Talent Assessments: Qualify hires with post-apply assessments to dig into skills and expertise rather than focusing solely on personal attributes.
Analytics: Track your DEI efforts within one platform for a holistic view of true-path recruitment marketing analytics, efforts and spend.

DEI Plugin

: Detec

t conscious and sub-conscious bias in content, including job descriptions and campaign content by implementing a DEI plug-in. This helps you take a step forward toward inclusive progress and opens the door to all talent.
DEI in digital transformation is a journey of growth. Your strategies and tactics are fluid, but your mission to attract diverse, top talent and retain critical performers remains key. Ingrain DEI in everything you do to lead with transparency and tie it all back to your employer brand to make a real impact.
Discover more about DEI and how tech and an authentic employer brand can support your strategy in our 2021 Recruitment Strategies Report.