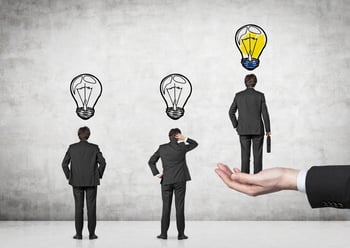 Every company - regardless of industry - is going through some form of digital transformation, reinventing its products, services, and engagement to meet the evolving expectations of social, mobile, and digital natives. As a talent leader, you're in an excellent position to help drive digital transformation for your organization and help your organization achieve stronger business outcomes.
On January 31, Roopesh Nair, CEO of Symphony Talent, and Sherry Schultz, SVP, CHRO of Advantage/EZ Rent-A-Car, joined forces in our webinar "Talent Leaders: Help Your CEO Drive Digital Transformation." Together, they talked about best practices for talent leaders to pave the way for implementing these changes.
If you missed the webinar, you can listen to it on-demand here.
Driving the Digital Transformation of Your Talent Acquisition Process
Today, many businesses are being challenged by competitors' digital-only solutions (think Amazon vs. big box stores or hotels vs. Airbnb). But in reality, every company is to some extent a digital company. That's why your digital transformation experience is critical. As a talent leader, you can "get a seat at the table" by sharing the lessons you learned from your talent acquisition transformation efforts and investing in the right team members to accelerate the efficiency and productivity of the transformation.
Consumers expect to be engaged by brands in the digital space. So do candidates. It's safe to say that at least one in five candidates is a customer, and in retail organizations, that ratio could approach five out of five. By creating candidate experiences that reflect and extend your consumer brand, you'll attract more loyal consumers and candidates. But how? Here are some things to consider:
Build Awareness.

Leverage automated advertising platforms to optimize your reach across active and passive sources.
In the webinar, Roopesh shared that, "There are enough recruitment ad platforms available today to continuously optimize your spend based on your actual goals." This helps save your team's resources for use elsewhere, such as focusing on the candidate experience, building and nurturing relationships, or thinking creatively. "If your people are spending too much time on [recruitment advertising], there is probably something you can think about as an alternative." An intuitive ad buying tool will push your ad buys to the channels where they work best by determining which sponsored social posts, sponsored job descriptions, and banner ads are delivering the best results.
Harness Your Data.

Value and leverage data to produce real-time and actionable insights that create a consistent, relevant experience.
Use data you already have to acknowledge who your candidates are, their interests, and their prior interactions. Your engagement should be similar to that of a retailer guiding a customer through a purchase. As Roopesh stated in the webinar, "Try to drive your talent acquisition process towards that seamless efficiency."
Personalize the Experience.

Engage with your candidates through personalized content, and keep the conversation going.
Even with a suite of digital tools at your disposal, this is still about people. "I don't think the process stops at whatever digital outreach you have," noted Sherry. "There are many components to omnichannel recruitment, but one-on-one time with the candidate makes a huge difference. You're not eliminating the "people" aspect of your talent acquisition process, you're simply trying to make it easier for your team. Freedom to focus on candidate interactions will get you the results you're looking for."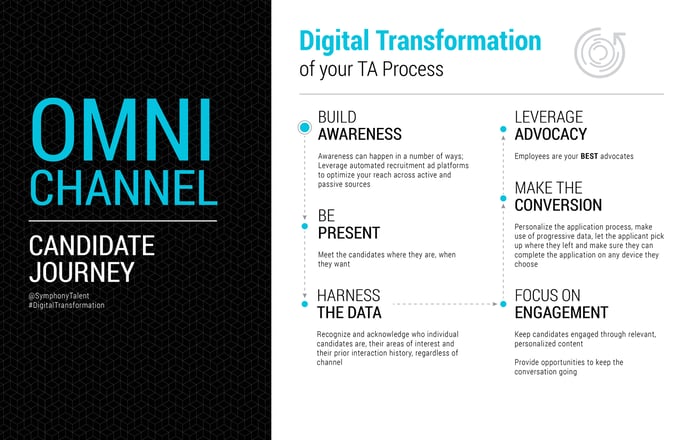 Keep it Simple.

Automate your toolset, integrate your systems, and make the application process efficient, accessible, and straightforward.
A major focus of automating your process is about integration. "The single greatest investment that we made," Sherry said, "was to create integration points." Without integration, you're dealing with independent systems that require a lot of time and effort to source information from. You'll find yourself and your team stuck in the "ATS black hole," putting timely resources into navigating through all that data. There are tools out there that do the job for you, and you should take advantage of them. Making your application accessible from multiple devices and easy to manage eases the stress on the candidate and this can all be managed with the same automated integration tools. Without integration, processing data for a candidate from each separate system kills efficiency. In fact, it could create enough extra work to require hiring additional people just to process candidates.
Once Sherry was able to integrate automation, "Our managers found it fast, fun, and they ultimately began to realize they themselves owned the process once we found the person. I'm a big automation fan." By using these automated processes (along with your automated advertising) you allow your team to flourish as contributing members of your business. Roopesh pointed out that "You can empower your teams to really be partners for both your employees and candidates and your business leaders."
Employee Advocacy.

Tell your story in an honest, radically transparent and engaging way to support your brand's promise. Your current employees are your best advocates, and they should be leveraged to target candidates.
The brand you're pitching to your consumers should be on par with the brand your pitching to your applicants. With your HR team focused on being the architects of employee experience - using personalization tactics similar to the candidate experience - you'll create brand ambassadors among your current employees. Sherry noted that "a lot of it comes right down to, once you've gotten that lead, what happens when you bring them on site." Employee advocates are critical. Your HR team becomes another component of your brand advocacy. And your candidates enjoy a positive employee experience, both in your recruitment marketing as well as during their one-on-one interaction with the talent acquisition team.
Driving digital transformation in talent acquisition is about simplifying the process for candidates, recruiters, and hiring managers. When you harness the power of an automated toolset, you free up your team to focus on personalized engagements with candidates, positioning them to have the best possible experience.Your team is also free to architect a positive work culture, so your employees can be your best brand advocates as well. The omnichannel cycle, from first engagement to brand advocate, will drive digital transformation for your talent acquisition process.
Whether you need an end-to-end solution or need to fill in your current toolset gaps, we'll partner with you to build an optimized, seamless talent acquisition experience and a thriving database of talent all in one place that you can access from any of your devices. Learn more about our solutions by speaking with our experts.