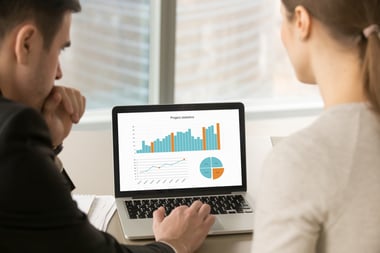 In Part One and Part Two of this three-part series, we talked about the importance of defining your EVP, using it to communicate your Employer Brand, and attracting candidates using an omnichannel approach through multiple touchpoints like digital media, job boards, and social channels. If these postings served to inspire you – and you're already laying the foundation for a first-rate candidate experience – congratulations, you're off to a great start!

By now you're probably aware that it takes a big investment in time and energy (not to mention plenty of like-minded people) to set yourself up for success in today's hyper-competitive talent market. But are these investments yielding measurable results? And are you capturing the right information to make key decisions going forward?

If you're not exactly sure, think for a moment about what your efforts should be doing for you and the rest of your talent acquisition team.

Do they maximize efficiency? Remember, "investment" goes beyond just financial considerations. You also need to look at how machine learning and automation can be used to enhance your talent acquisition team's effectiveness. In most HR environments, the CRM, ATS, and career website are supported by different vendors. To get an overview of how it's all working, you have to get "into the weeds," pulling silo-ed data from three or more disparate sources.

This would probably generate a lot of work for your team. But is it also generating insights you could use to find out more about your candidates, their online habits, their potential fit within your organization - and whether they're converting into applicants?

Today, fully-integrated platforms exist that allow you to view all this data in one place – and from a holistic, big picture perspective. This makes it much easier to see how the different pieces are working together – and where things are going right (or wrong). It also gives the talent acquisition team a chance to step back and really THINK - about next steps, tweaks to the existing recruiting strategy, and whether a campaign and messaging are on point. It might sound a little technical, even intimidating, at first. But in virtually every instance, leveraging analytics acquired through machine learning will free up your team to focus on what they're best at: building relationships.

Do they create value? You're spending a lot of media money to find (for example) ten good candidates. Of those ten, only one gets hired – and the other nine sink into the infamous ATS "black hole." These candidates may not have been right for the original position, but perfect for another role. Then a similar position opens again a few months later and you're back at square one – spending money and resources to repeat the process all over again. You're also sending a confusing message out to potential applicants who (depending on the candidate experience they've already had with your company) may or may not choose to engage with you again.

Sound familiar? Then it might be time to invest in a platform that allows you to combine your CRM and ATS, leveraging the data to maintain relationships with the other nine candidates, one or more of whom could be a perfect fit for a job in the future. The result? You've just saved time, energy, your media budget – and deepened the candidate relationship to boot!


A Final Word

As you review your recruitment marketing strategy, make sure you think about not only the type of talent you want, but the journey that you want to take them on. Maximize your investment by looking at AI tools in the marketplace that help you to get the most out of every recruitment dollar you spend, and once you have their interest, provide the candidates a "Wow" moment when they engage with your Career Site and as you communicate with them.

Recruitment marketing means many things to many people. But above all – like consumer marketing– it's about building relationships and establishing interest in your brand.

Previously published in HR.com's May Talent Acquisition Excellence. Click below to download the full report.