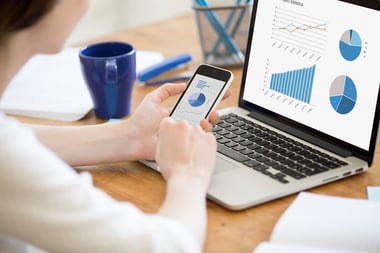 In my last blog, I covered the benefits of a strong EVP and employer brand, and how they provide the foundation for what you want to say to your target audience. Now, let's delve into leveraging these assets - and digital technology - to deliver a great candidate experience.
As I've mentioned before, research has shown that organizations that invest in a strong candidate experience improve their quality of hires by 70%. Still, many haven't completely thought through the employee experience and who owns it.
Digital transformation has forever changed the consumer landscape. The world of talent acquisition has changed, too. Your candidates (the potential "consumers" of your career opportunity) now expect an experience that's akin to ordering an Uber or shopping on Amazon. If your TA team isn't actively thinking about the candidate experience - and marketing it like a product or service - it's probably time to rethink your approach.

With this in mind, let's take a look at what the ideal experience should be from your candidate's POV:
Is it transparent and information-rich? Thanks to digital transformation, we're living in a candidate-centric universe, and top talent is strongly influenced by past interactions with a brand (according to a recent survey by the IBM Smarter Workforce Institute, 48 percent of recent job candidates have had a relationship or interaction with a company before they apply). Your marketing colleagues have been consumer-centric for years. They personalize the online shopping experience as much as they can, with recommendations, testimonials, offers and updates, and other information designed to "close the sale."
Best-in-class employers have taken this cue and use machine learning and AI to provide candidates with highly targeted messages and information that becomes more focused and relevant with each subsequent interaction. One example of this are email drip campaigns, which send candidates relevant content over a specific time period (often leading up to an event), speaking to their emotional triggers and nurturing their interest in your organization at every step in their journey.
Is it omnichannel? The ability to express your brand story in an honest and engaging way will put you miles ahead of the prevailing "post-and-pray" scenario. A personalized career site is a fantastic start; however, you should be considering ALL the elements that make up a great candidate journey. Relationships should be built at every possible touchpoint – whether a candidate comes through your homepage, clicks on a banner, lands on a job description or is simply "browsing" what's out there.
Remember, your candidates are omnichannel, too. Your career website might be winning accolades, but did you know that because of aggregators like Google Jobs and Indeed, about 40% of your potential candidates will probably bypass it and go straight to a job description? The solution? Enhanced job description pages that contain rich content such as videos and links to your talent communities. Now, no matter how they heard about a specific opportunity, candidates have all the information they need to proceed.
Is it data-driven and automated? There are tools available that utilize machine learning to identify the most effective channels for you to reach the right candidates. This way, you're never putting resources (both staffing and financial) toward media strategies that don't produce results. And you can adjust your approach in real time to make the most of prevailing market conditions.
Even if a candidate's "dream job" is a bit of a stretch for them right now, it's possible to leverage machine learning to suggest other roles that are a great fit. Not only does this build a positive image for your company, an applicant might even tell friends who may be perfect for it. No matter what the outcome, you've built a positive relationship (and keep in mind that applicants who don't get an offer are still 80 percent more likely to apply again if they had a positive impression of your organization).
Automation can also be used to manage candidate expectations. According to the IBM study, the majority of companies aren't particularly good at this (in fact, more than 70% don't even tell candidates how long it will take to complete an online application). And with an automated process in place, there's really no reason not to incorporate a mobile-friendly, check-out style application, follow up with additional relevant content, thank your candidates for applying – and let them know when you'll be making a decision.
I hope this gets you thinking about the experience you're currently providing for your candidates – and how you could be leveraging digital technology to make it more relevant, authentic and engaging at every touchpoint. In Part 3 of this series I'll be providing insights about how to leverage the investments you're already making in digital media, job boards, and social channels and maximize their returns.
Previously published in HR.com's May Talent Acquisition Excellence. Click below to download the full report.