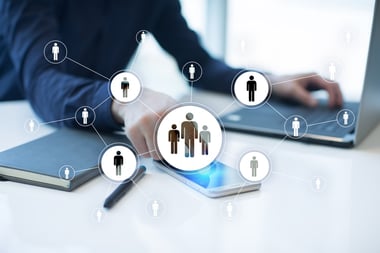 Disruptive technologies are impacting the world of recruitment marketing – turning recruiting from something that was one-way and transactional into a highly data-driven and candidate-centric experience. Early on, marketing departments were quick to see the value of data and quickly deployed technologies that could leverage the information. However, due to the systems they currently have in place, HR is just beginning to move beyond their traditional analytics of demographics, compliance and diversity statistics – and embracing data that tells the story of the candidate's journey.
As we're disrupting the talent acquisition space by applying consumer marketing principles and techniques through a talent acquisition lens (candidates are, after all, consumers), Symphony Talent is operationalizing the candidate journey in a way similar to companies like Salesforce that map the entire customer journey. We are going deeper than just providing another ATS or system integration and are redefining the way employer brands speak to and connect with talent – with easy-to-use solutions for every recruiter on the team.
Making Data Work More Effectively
Even today, HR Buyers still tend to purchase separate solutions for their recruitment needs, whether it's a CRM system, a dedicated career website, or an ATS. The result is HR technology platforms that are neither simple nor intuitive - they're siloed, hard to gain insights from and the HR team generally wastes a lot of time trying to extract relevant information from multiple systems.
But the good news is that tools and platforms are emerging that leverage machine learning and artificial intelligence to make everything work seamlessly together – from the candidate's first impression all the way through to point-of-hire. Not only does this enhance the power of the existing ATS and CRM, but it also frees up HR teams to spend more time with candidates and employees – and less time negotiating the "back end" of things.
Single Platform = Holistic Perspective
Symphony Talent's solutions are connected on a single analytics platform, which allows HR departments to collect and aggregate information in one place to make better informed decisions about their recruiting strategies. With a holistic, top-level perspective on what works (and doesn't) it's no longer about reacting to employee problems or job vacancies. Instead, it's about getting an organization's employer brand in front of people, assessing its relevance and letting the technology take it from there.
We have also identified the benefit of involving current employees in the recruiting process as advocates for an organization and what it stands for and showcasing how potential employees can fit into the job and the culture. This was the thinking behind our acquisition of QUEsocial, a social recruiting and advocacy platform that completes our comprehensive approach to all aspects of candidate engagement.
Getting Everyone on Board
Adopting any new technologies - especially disruptive ones - requires a strong change management strategy. After all, the go-live milestone is just the beginning of the project. Maximizing user adoption is key to the overall project success as the HR team needs to actually use the technology in order to realize its benefits. This is where a multidisciplinary change management approach is critical to driving adoption.
It's important for HR technology vendors to help lead the change management by keeping the communication channels open, being transparent and sharing data about change and adoption with critical stakeholders. HR technology vendors need to partner with the HR and IT teams and the end users to ensure that their tool is relevant, being used and meets the evolving needs of not only the Talent Acquisition team but the organization as a whole in order to move forward.

To learn more about how data is the new oil powering Talent Acquisition, read the full HR Technologist interview with our President and CEO, Roopesh Nair here.