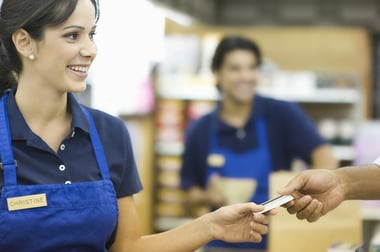 Peak, back-to-school hiring is upon us and the holiday season is around the bend. That means it's time to start thinking about your digital hiring strategy. A well-thought-out digital strategy that's focused around a candidate's needs can help you attract quality seasonal employees. Then, it can help keep them in the pipeline, so you have the resources you need — when you need them most. The thing is, you need to start now, with a targeted, multifaceted approach.

Take seasonal retail as a pointed example. Managers juggle a lot during the back-to-school season, from creating schedules to updating merchandising, completing operations, budgeting and selling. To get every single one of these tasks done, top talent is required.

If your approach is antiquated, it's easier said than done. To save hiring managers time, money and stress, you need to provide them tools for success. In other words they need to be equipped with recruitment solutions to achieve their hiring goals.
Build a Talent Pool for the Back-to-School Season — and Beyond
There's no better time to begin improving your candidate experience — it's necessary if you're going to build the talent pool you need to meet high-volume, seasonal hiring needs. Our advice? Leverage mobile-friendly microsites and lead capture for mass hiring events and SMS as a supporting tactic along with a quick, easy mobile optimized application process. If an interested candidate has a simple way to join the talent community — one that's linked directly to the mobile application process — the entire interaction is fast and efficient.

Once a candidate enters their email, recruiters can use that basic information and create a profile — even if candidates don't finish the application process. Then, recruiters can engage potential candidates through automated, personalized email campaigns that include relevant jobs. This saves recruiters time since they can reach out to candidates who previously went through the process, rather than rely on talent acquisition techniques to find new candidates.

When a transactional experience turns into a relationship, it saves time and effort on the part of recruiters. And they can put their energy toward personalizing their interactions with talent in the hopes they'll fill that job down the line.
Replicate the Consumer Experience
Given the National Retail Federation estimates a consumer spend of $75.8 billion on back-to-school shopping — and e-commerce purchasing on mobile devices, Amazon Prime Day and prepackaged school supply kits have made it a cinch to procure necessities, retailers need to step up their game in order to compete. That means pushing bigger promotions to bring in foot traffic. Cue the need for more seasonal employees to handle the tasks at hand.

Enlisting a simplified mobile application process that allows candidates to use their smartphone to quickly find and apply for open positions. By serving them relevant jobs based on location and skill set, you're aligning with customer expectations and presenting them with opportunities that are most likely to engage them.

Further, by mimicking an easy "checkout" process for the job application process, it reduces the applicant drop-off rate and significantly bolsters completed application counts for seasonal hiring.
Automate the Interview Process
Long, tedious applications often lose candidates at the "check-out." In order to keep applicants engaged during the application process — much less complete it — that process needs to be easy. In fact, it should be simple as it is to purchase from Amazon online. By enlisting text-to-apply and easy mobile apply processes — as well as an applicant tracking system that handles the rest — your talent acquisition team is left to what they do best: build relationships with candidates and foster ones with current employees.
So, take the burden of talent acquisition off their minds and adopt a programmatic media solution that meets candidates where they're at —online — much less one that does the grunt work on your behalf.
Programmatic media eliminates the inefficiencies and shot-in-the-dark nature of recruitment advertising. Automatically using your media spend on sites that provide the appropriate, high-quality candidates for open positions keeps that aforementioned talent pool in reach.
Host Hiring Events
There are times when meeting candidates face to face is your best bet. Hosting hiring events lets you interact and gauge talent while doing the meaningful work of building relationships. And when you engage with potential employees — as well as let them know the benefits of seasonal employment — they're far more likely to convert from candidate to employee when you need them most.

Furthermore, once you begin that relationship and place potential candidates in the pipeline, you can continue the process of actively engaging them now — rather than when the crush of work arrives.

Learn more about brands that have successfully brought digital to the heart of their talent acquisition process in different stages of candidate experience. And subscribe for our emails to stay on top of the latest trends.