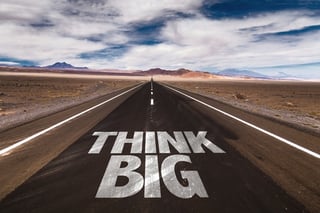 The theme was disruption and the concept is not new. We heard it from Rusty Rueff -- former CHRO at EA, former CEO, human capital tech investor and advisor, and Glassdoor board member -- small changes to big things do nothing. Big changes to small things? Who cares. Real impact is only seen when you make BIG changes to BIG things. This is the theme that seemed to permeate nearly all of the discussions at this week's Digital Disruption Conference put on by HireVue.
We can all think of a dozen examples of tools/workflows/experiences we'd love to see improved in our industry. Better job descriptions, eliminating the application black hole, an improved candidate experience, an ATS with all the bells & whistles but not too many, eliminating the lifeless resume, a Talent Community that's truly a community…I can go on. Recruiting talent to your organization is, arguably, a BIG thing. Requires staff, budget, process, technology, and ops to manage it all. Oh, and hopefully a strategy it all flows from.
So what's the BIG change that can truly disrupt the way employers and talent connect?
Children's Mercy Gets Digital to Get Personal
Molly Weaver from Children's Mercy Hospital uses their own beloved pediatric patients to pose interview questions to candidates over video. She launched "Introduce Yourself", a way for job seekers to throw their hats in the ring without applying for anything (Tim Sackett tells you why this is meaningful). She set up an application booth in their workplace cafeteria to encourage current employees to apply for other internal jobs. She's embarking on a project to help employees map out their career path with nothing but a stack of index cards. All of this to infuse their culture throughout the employee experience, from first touchpoint through application and hire and continuing through the employee journey. Because they work too hard to find extraordinary talent to see it walk out the door.
Dan Heath, co-author of Switch, would love this approach. "Knowledge is not enough. If you want change, feeling is the fuel. Find the feeling." I would say Molly's approach to talent attraction and engagement has a few feels. And people say healthcare isn't progressive.
When HireVue was conceptualized, its founders had a hunch video interviewing could drive recruiter efficiency, reduce time to fill, enhance candidate experience, and improve the quality of matches. It did all of that, but they're not done. Predictive analytics will help better talent rise to the top faster by evaluating facial expressions, word choice, and language and voice patterns. That's the opportunity Artificial Intelligence represents: using data-driven insights to drive better human decision-making.
The Future of Work
We hear a lot about the consumer candidate. That's because 1 of 5 candidates are your customers. Some organizations, in the retail vertical especially, think you can make that 5 of 5. Think about it – a recruiting function can become revenue-driving. Create candidate experiences that are reflections and extensions of your consumer brand, look for opportunities to insert consumer touchpoints (a coupon upon applying? yes, please), and achieve a more loyal consumer AND candidate.

Polly LaBarre, author of Mavericks at Work, played the acronym game. DYOJ = Design Your Own Job. PYOC = Pick Your Own Colleagues. AYOE = Approve Your Own Expenses. And my favorite…PYOS = Pay Your Own Salary. Now that's disruptive thinking. But Josh Bersin promotes design thinking and persona development to extend the candidate experience through the employee experience. In the future of work, the augmented workforce will require this kind of disruptive thinking as work becomes more automated and we rethink the roles PEOPLE play.
Polly LaBarre has us draw the analogy of change and adaptation to the most innovative and resilient thing on Earth. Life. As in, natural life. Everything that survives today is the result of rampant experimentation and mutation. No CEOs, no Six Sigma, just an ongoing process of failing, adapting, and reinventing.
Symphony Talent Changes the Game
Florida Hospital is a long-time Symphony Talent customer who put their faith in disruption. That's right - a conservative, faith-based healthcare system pushed in all the chips with Symphony Talent and a programmatic approach to media and job advertising. Steven Walesch, Assistant Director Talent Acquisition Florida Hospital joined Roopesh Nair, President & CEO of Symphony Talent on stage last week to share this story. Steven began by explaining the main obstacle healthcare organizations are facing today. Hospitals are hyper-competitive for top talent; a nurse can literally walk off a shift, walk into the hospital across the street, and collect a job offer if he wanted to. And Florida Hospital had another challenge; they weren't being honest. Honest and transparent about a key piece of their culture; they're faith-based. When they embraced their mission and told their culture story through targeted, personalized ads aimed at passive talent in their markets, guess what happened? A 14% decrease in application:hire ratio, a 29% uptick in hires from targeted, personalized email campaigns, 13% more hires from tracked media, and 37% lower cost per hire. I'd say that disrupted a few of the dusty hiring reports they had laying around.
Symphony Talent is making big changes to big things. We're tired, too. Tired of clunky recruiter tools that don't talk to each other and make your jobs harder, not easier. Tired of the same candidate experience from 1995 when the world around us experiences Amazon Prime Now and Netflix recommendations and Spotify personalization. We're tired of post & pray when there's programmatic...not just programmatic media buying and optimization, but automated programmatic where technology auto-adjusts bids based on real-time performance of your ads. (Yes, we built it.) We made BIG changes to BIG things, and we called them Experience Cloud (X-Cloud) and Media Cloud (M-Cloud), wrapped with Hodes creative and branding services under the new umbrella that is Symphony Talent.