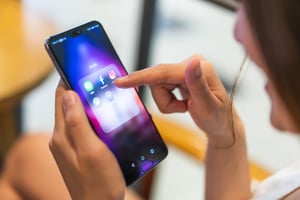 When you're in a highly competitive market — especially one with hard-to-fill roles —understanding your EVP and leading with what's different and special about your organization as an employer is essential. Honestly, your employer brand and the employee experience you offer is what attracts right-fit talent. And it's what sets your organization apart from your competitors.
Where do you find and source talent for hard-to-fill roles?
On a high level, organizations today need to be present on all social channels. As the old marketing adage goes, people have to see, hear or interact with a message seven times before they take action. That's especially true in this day and age. With so many channels out there and such an inundation of information, one single touchpoint will never successfully attract every single candidate.
Gone are the days of putting a "we're hiring" sign in the window — there are more jobs than people to fill roles. As such, people have the luxury of being picky. What's more, they want to work for a "good" employer. You have to put your message out there in multiple places, and you have to do it right.
Let's drill a little deeper.
We know that different channels work better for different roles. Nurses, for example, can be better engaged with on LinkedIn — not Facebook. But are medical assistants on Facebook? Well, 70% of adults are. So, yes. However, odds are they're not actively searching for jobs there. Still, you need to look at Facebook as an opportunity be seen, by them, where they are. Anyway, one post is never going to solve all your hiring problems.
Logically, you need to be everywhere and to be all things to all people. To do so, you have to take an omnichannel approach to recruitment marketing, one that leads with your all-important, well-fleshed-out, ultra-compelling EVP.
Create a compelling message
From your social marketing to your content marketing, media optimization and career website, your message has to grip candidates and stick with them. And it needs to give them a reason to apply and "buy" what you're "selling" — a job.
A leading healthcare organization saw success hiring for specialty nursing — including for critical care and blood and marrow transplant-certified positions — when combining social efforts via Facebook, LinkedIn, Glassdoor, Twitter and Instagram. Its pros considered more than just its career website. Beyond social media, there's email marketing and drip campaigns. Microsites and blogs certainly play a role. And don't forget programmatic and traditional advertising. Even events. Desktop computers. Mobile devices. It's a big and varied lineup, and it's important that your message, at every turn, is on point.
Is your employer brand working hard enough to engage with today's most sought-after talent? Does your content support your organization's brand message and nurture candidates at every stage of their journey?
Get ideas and experience-driven insights from Alex Horner (Mars) and Tom Brickley (Hodes) as they discuss the must-haves, and must-avoids, for getting candidates aligned with your organization's mission and goals – as well as how to reach them across all social channels.