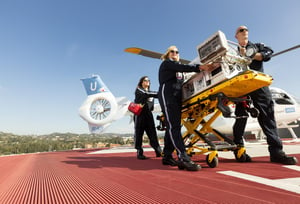 You're rethinking your career website and feel like everything is all mapped out — that is, until the topic of photos comes into play. You may find yourself thinking, "stock photos should work just fine, right?" Tempting as it may be to use them, this just isn't the case.
Photography can make or break your message
Consider this: with all the methodical planning you did to express your employer brand, enlist enhanced job descriptions, and personalize the candidate experience with tailored content that speaks to their career aspirations, photography can make or break your message.
Study after study shows authenticity is top of mind among today's candidates. Plug and play photography simply won't lend that vibe. Given the same stock photos are being used across media and industries, passive and savvy job-seekers alike can spot stock images. Using them undermines an otherwise perfectly executed career website and makes relevant, compelling content cold and impersonal.
Leverage employees to amplify your message
UCLA Health is a great example of why employee photoshoots matter — and what they'll do for your employer brand. Amassing a substantial photo library dedicated exclusively to employee photos took time, but it's an effort that has paid off. Used in digital efforts, ads, UCLA Health's career site and even internal communications, the images offer "day in the life" depictions of employees on the job. All sorts of jobs, across the organization, in fact. That's a need generic stock photos simply cannot fill since these images tell impactful, visual stories that reinforce UCLA Health's employer brand.
What's more, they're a team effort, and employees look forward to participating. Before that happens, we talk to the individuals so we understand their work and daily experiences and select a photo shoot location based on that. When the day arrives, we talk to them about what they do and how they do it so the images don't just seem real — they are real. Sometimes that means an intimate, one-on-one shoot. Other times, it involves following them around documentary-style.
The bottom line
Employee photo shoots yield convincing, encapsulating results — because they're real. It's like offering a window into the employee experience, the work culture and the pace. It's inspiring because it showcases the emotional appeal of the employer and the physical place where potential candidates will work. And it visually aligns with written messaging. This way, everything works in tandem to help you attract, engage and hire quality talent.
One of the reasons this worked so well for UCLA is its employees were active, enthusiastic participants, who were excited to be part of the experience. We always put their jobs — caring for patients — first. Then, when photo shoot days arrived, UCLA Health went big. In one case, the organization brought a helicopter to its helipad for a shoot. In another case, an employee chose to come in from her maternity leave. Other photos capture nurses in the ER, employees engaging with each other and employees participating in activities when they're off the clock. In short, they wanted to participate and love their work. That shines through in the end result.
Seeing employees who are passionate about their work spreads enthusiasm and helps convince candidates of their next professional decision. When creative and account teams work together, simply put the whole is greater than the sum of its parts.
Looking for more ways to engage quality job seekers and create a top level candidate experience? View our free webinar on demand about the top 5 HR technology trends on the horizon for the year ahead featuring Madeline Laurano, Founder of Aptitude Research, Susan Russell, Senior Manager, Talent Acquisition at Nestlé Waters North America, and Symphony Talent's Shannon Seery - Download now.