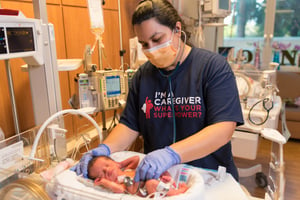 I can't stress enough the importance of solidifying and conveying your employer value proposition in a compelling way. It's the foundation for your candidate experience, and it's how you bring your unique work culture to light. It's also what ensures you're living out your mission as an organization since quality talent has to not only get on board, but also remain there.
Know your selling points
Every organization has its own set of selling points. Your goal should be to provide that information — the content that conveys it — so you can attract and retain customers; attract and engage candidates for talent recruitment purposes; and ultimately hire quality talent that drives customer satisfaction.
Take a healthcare system — such as our client, Florida-based Memorial Healthcare System — as an excellent example. Whether small or large, no matter the location, and whatever your specific hard-to-fill roles may be, you need to know your specific employer value proposition. Then, you have to clearly and articulately communicate it in order to fill the roles that drive patient satisfaction.
Memorial Healthcare System offers a vibrant, integrative and supportive culture; upwardly mobile career paths; high patient, employee and physician satisfaction scores; and patient safety and care standards few can match. This makes it an ideal culture fit for a wide range of great candidates. On the flipside, not everyone finds the hot climate, weather events and the state's large senior population as appeals.
An actionable, empowering service vision statement
To make sure their employer brand caught the eye — and ultimately hired — talent that aligned with its goals, Memorial Healthcare System needed a service vision statement that was actionable and empowering as a foundation for their recruiting efforts. This internal-facing declaration needed to galvanize employees toward achieving a shared, service-focused goal: patient satisfaction. It's something that begins with the valet attendant and patient registration process and carries through to the medical care patients have come to expect .
Here's the thing: you need to know what is unique to your organization, whoever you are and whatever you do. Uncovering those unique selling points is essential to attracting right-fit candidates that will thrive in your work culture and further your goals. In the case of a healthcare organization like Memorial Healthcare System, employees' dedication to patient care was a differentiator in relation to competitors. Leveraging its patient care/service vision as a differentiator helped attract top talent that's committed to delivering at the desired level. Are you in the retail or hospitality industry? The same theory applies — only it's your customer service vision that's key.

Creating your service vision
I'd encourage you to consider what binds your employees — what makes them advocates for your brand. What do they care about, and how do their passions align with your organization's raison d'etre? For Memorial Healthcare System, its service vision is that deeper caring creates smarter healthcare. That is a reflection of its culture — a culture where the people it hires are confident, passionate, clear and concise, accessible to all people, and understandable and precise.
By having your service vision at the forefront, you can ascertain how a candidate might contribute to it, as well as how they'll provide the best care to patients, regardless of their role within the organization.
How a candidate lives out your service vision, in the end, directly correlates with the kind of service they provide, be it to patients or customers. Really, whomever you're trying to please.
Want to learn more ways to engage quality job seekers and create a top level candidate experience? View our free webinar on demand featuring Madeline Laurano, Founder of Aptitude Research, Susan Russell, Senior Manager, Talent Acquisition at Nestlé Waters North America, and Symphony Talent's Shannon Seery - Download now.