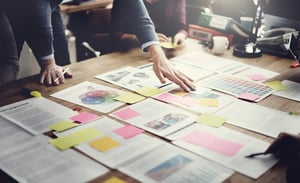 In today's consumer-centric universe, a product or service without brand and marketing support behind it would be almost unthinkable. Yet many otherwise well-branded organizations severely underestimate the importance of their Employer Brand – the very catalyst that could bring the talent they want into the fold.
Don't be tempted to dismiss an Employer Brand as just a catchy slogan or a tagline that looks nice under the company logo. To a potential candidate, it's one of the first ways to connect with your mission, your values, your culture, and even your current employees. A great Employer Brand can give you market visibility, overcome preconceived notions about what it's like to work for you – and even play an important role in enhancing your organization's reputation, and in turn, your bottom line.
Don't Underestimate Its Power
No matter how you look at it, a well-managed Employer Brand is good for business. By helping crystallize the "give and get" between employer and employee, it's one of the two components (the other being technology) essential to all successful Talent Marketing efforts. Leveraged strategically, a strong Employer Brand helps drive every touchpoint in the candidate journey – and is an excellent retention tool for those already on board.
How Do You Ensure Success?
Great Employer Brands don't just happen; they're carefully built and strategically activated. Here are some things to think about when looking into harness the potential of yours.
Be goal-driven – Every Talent Acquisition team has a unique view of what success looks like. You may want to shorten time-to-hire, make an impact in a new market, improve your employee retention rate, bolster diversity initiatives, or reach an audience outside of your traditional hiring needs. The important thing here is to understand what you want to achieve and use your Employer Brand strategically to get the results you're after.
Be relevant and accessible – "One-size-fits-all" is not a good way to attract best-fit talent! You want to speak to your various audiences in a meaningful, authentic and informative fashion – when and where they want to hear your message. Today's AI and machine learning technologies are reinventing the ways candidates connect with Employer Brands from initial interest to onboarding and beyond. They should be part of every comprehensive Talent Market strategy.
Be credible – Most candidates will quickly spot a generic or inauthentic Employer Brand message. Make sure what you say is differentiating and aspirational – without over-promising or being misleading. You want an insightful articulation of your business and the people who work in it – a snapshot of what you ARE vs. what you wish you were!
Be ready to pivot – An Employer Brand that's carved in stone won't get you very far if it's creating an emotional or rational disconnect. Of course, consistent design and messaging are critical; however, you also need to keep pace with the realities of what's impacting your different audiences, what the competition is doing, and even how recent changes in your own organization are being communicated to the "outside" world. This is where the goal-setting and technology aspects of Employer Branding come into play. Compare what you want to achieve against performance data you've captured and be ready to adjust your message and candidate touchpoints accordingly.
Be comfortable with technology - Keep in mind that new, AI-enabled technologies impact both recruiter AND candidate – for the better. Candidates will enjoy an informative, nurturing and "on-brand" journey. Recruiters can focus less on backend administrative tasks and more on building strong candidate and employee relationships. And the entire TA function becomes more strategic and proactive by being able to use data in a way that fosters better decision-making.
Want to know the top 5 HR technology trends on the horizon for 2020? View our free webinar on demand featuring Madeline Laurano, Founder of Aptitude Research, Susan Russell, Senior Manager, Talent Acquisition at Nestlé Waters North America, and Symphony Talent's Shannon Seery - Download now.