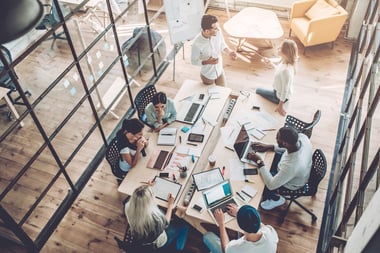 Your employer brand exists whether you like it or not - it's simply the reputation you have as an employer. And, it directly impacts your corporate reputation too. It's everything to do with the employees you have — and hope to retain — as well as those you seek to attract. Left unmanaged, your employer brand is left in the hands (voices) of your candidates, employees and is everything that is said about you as an employer in the outside world.
The Pillars of an EVP
First, we need to understand what an employer brand is and how it differs from your employer value proposition (EVP). Employer brand is inherent — it's not something you "invest" in per se, but it is something you have the ability to manage and shape. Your EVP, by contrast, are the essential ingredients that let you manage your employer brand and the experiences you deliver for your candidates and employees. It shows what you have to offer as an employer in terms of credibility, relevance and differentiation from the competition, as well as your ambition - both as an employer and as a business. It also needs to clearly state what, as an employer, you expect in return from your employees.
An EVP at Work
There can't be any disconnect between what you say you offer as an employer and what you actually do offer — or else your credibility is on the line. When it comes to relevance, you need to know all your different audiences and have the ability to connect with them in truly compelling ways. You need to resonate with each given audience both inside and outside your organization.
While you only have one brand as an organization, you do have multiple audiences, all of which impact your reputation. You need to speak to each of those audiences and create experiences that "stick," and ensure each of their interactions are positive ones that help enhance and amplify your employer brand.
Naturally, you also need to know what sets you apart from your competitors — after all, the majority are competing for the very same talent. Then, in terms of aspiration, you need a firm grasp on your future state. That includes what you aim to be as an employer and business goals - there's a direct relationship between your EVP and your business performance . Ask yourself, "why do, and would, someone love to work here?"
Every Touchpoint Matters — and Has Consequence
Remember that every single touchpoint has an impact on your employer brand — whether it's good, bad or indifferent. Defining your EVP is the framework that's then used to create and manage experiences from the very first interaction a candidate has to when that person converts to a valued employee, and then throughout their whole time working for you through to when they're alumni. The candidate and employee experience matters — and it matters a lot. Social media has a major impact on how your brand is perceived. Any applicant, candidate, employee, or past employee can lift up or damage your corporate reputation through a single post on social media!
Emotion Drives Your Brand
Never underestimate the importance of having an emotional connection with a brand. In the consumer world, people fall in love with brands, buy products and become loyal advocates of that brand. An employer brand needs to be similar in that people fall in love with brands and "buy" jobs. That's a huge commitment since joining an organization is a major life change that impacts not just the workday but interactions with friends and family as well. Being emotionally connected to an employer and a career drives commitment, discretionary effort and ultimately, business performance. In short, brand connection — all around — is driven by emotion, so you need to make it count. It's critical that every organization defines how they identify as an employer verses what how they identify in terms of B2B or consumer sentiment. Each one plays a role in shaping your reputation as an organization in meaningful or potentially detrimental ways.
Do you need an outside organization to help manage your employer brand and/or define your EVP? It certainly helps. Most organizations that develop their own EVP fail to have the bird's-eye view that an outside agency would. They lack the perspective, the neutrality, and are often very introspective completely missing the external perspective. You need to do more than believe you're something — you need to live it, breathe it and be it every day.
Listen in as candidate engagement experts from Mars and Hodes (a part of Symphony Talent) share their insights into what kinds of content (and which channels) resonate with today's highly selective candidates. View the free webinar on demand: