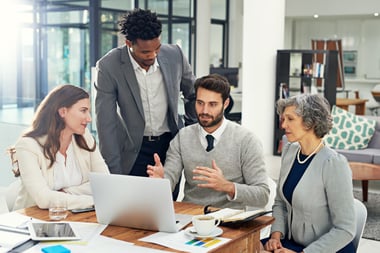 We've all had times in our lives when we really, REALLY wanted something. Way back when it might have been our first car, an expensive pair of Nikes, or even just convincing our parents to let us stay out later on weekends. Whatever it was, chances are we had to build a case to the decision makers for getting what we wanted. And back it with some strong supporting evidence.
If you're a regular reader of our postings, you know how passionate we are about the importance of a strong Employer Brand. But if decision-makers in your organization are telling you "that's too much work," or "why not just put up a job posting?" – take heart. Here's information you can use to build a strong business case for leveraging the power of your employer brand.
It Affects Your Organization's Reputation
Your Employer Brand already exists. That's because – whether you actively manage it or not - there's already a reputation out there about your organization as a place to work on Yelp, Glassdoor, Twitter, through word-of-mouth, in fact, anywhere people are talking about you.
It's not so much about creating your brand; it's about influencing the conversation about you as an employer. Left untouched and unmanaged, a "rogue" employer brand's impact on your organization's reputation can cross over into areas besides recruiting – to retention, your consumer base and even your bottom line.
It Defines Your Strategy
Recently, I worked on a branding campaign for a small non-profit that not only had a visibility problem, but a conservative slant that doesn't align with preconceived notions about who would thrive there, the budgets and salaries offered, or the type of work they do.
We took this into account when defining our target audience. Instead of talent from the traditional non-profit sector, we designed a strategy that would attract candidates from large government think tanks and private consulting firms. The employer brand and communication strategies we developed express a unique culture (consulting vs. grassroots) that appeals to professionals looking for a chance to do good, but still make money and achieve a better work/life balance.
It Gets You Stronger Candidates
A well-managed and distinctive employer brand works wonders for attracting best-fit talent. It pre-sells prospective candidates on your organization, while at the same time lets others opt-out before proceeding further. In the end, stronger candidates are stronger performers – and chances are they'll be great advocates you can work with to attract more like-minded talent.
It Saves Time and Money
A strong EVP encapsulates the give and the get: what your organization offers, as well as what a candidate can expect in return. Candidates who identify with your Employer Brand's key messages are automatically more engaged and move through your hiring funnel more quickly. That's because you'll spend less effort "selling" them on why your organization's a great fit – and more time helping them see themselves as contributors to your business, mission and culture.
It Makes HR a True Partner
A compelling, distinctive and powerful Employer Brand gives you distinct advantages at your organization's decision-making table, too. Developments in AI and machine learning have made it simple to activate your message seamlessly across the most effective channels, monitor and optimize its impact, and predict future hiring needs more accurately than ever. Armed with this information, you're able to become a strategic partner to your business, with a solid understanding of how to move forward.
Looking for ways to leverage branding and content to shape a best-in-class candidate journey? Listen in as two candidate engagement experts from Mars and Hodes (Part of Symphony Talent) share their insights into what kinds of content (and which channels) resonate with today's highly selective candidates and how a strong employer brand helps bring it all to life. View the free webinar on demand: