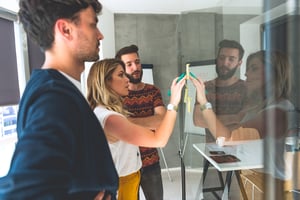 Whether it's due to a merger or acquisition, the impact of digital transformation, or even a re-direction of the core business (like DSW's recent pivot from discount shoes to nail salons), many organizations are seeing a need to evolve their Employer Brands to better reflect the realities – and potential – of a candidate's "give and get."
Organizational change can have a strong impact on the ability to attract best-fit talent. And with so many organizations in the midst of rethinking key elements of their business, the value of having a relevant, compelling and visible Employer Brand is becoming increasingly top-of-mind.
If you're looking to develop and activate an Employer Brand that's in step with the needs of your organization today – and tomorrow – I'd like to offer a few guidelines to make the most of your time and resources.
Do the Research
Just about every consumer brand does extensive research before it brings forth a new product or service offering. Yet research is still widely underused as a tool for effective Talent Marketing.
Don't underestimate the value of research! To resonate with the right audiences, a strong Employer Brand must be realistic, aspirational, and to a large degree, emotional. It should speak to what you are as an organization right now, your hopes for the future, and how the candidate fits into the big picture.
Building an Employer Brand is a process grounded in a strong Employee Value Proposition. That's what will give it credibility and authenticity - and it requires research, both qualitative and quantitative. Take our client Thermo Fisher Scientific for example. They conducted a series of persona workshops in their locations around the world and the answers became central to a brand-new communication strategy. Without that research, the brand activation would have been off-target, making little impact on the target candidates they need to reach.
Know What You Want to Achieve
Many clients tell me, "We need an EVP. We need an Employer Brand." However, when I ask about their specific goals, they can't articulate them. Having an idea of what your Employer Brand must achieve is critical. Some organizations need a boost in visibility, others need to shorten time-to-fill. Still others are dealing with issues of quality vs. quantity, or a need for talent who may not be aware of the opportunities their business now has available.
For example, Thermo Fisher Scientific, a leader in biotechnology product development, recently acquired a new company, Patheon, that complemented their existing business. As a leading global provider of high-quality drug development and delivery solutions to the pharmaceutical and biopharma sectors, the acquisition of Patheon required talent with skill sets outside of Thermo Fisher Scientific's traditional recruitment audience and in markets where they aren't well known. To reach their goals Thermo Fisher Scientific leveraged their new Employer Brand to create awareness in key growth markets, and activated a candidate-centric strategy that clearly differentiates them in the very competitive Technology/R&D sector.
There is no cookie-cutter solution for developing an EVP and Employer Brand as every organization will have different goals and will measure success in different ways. Think about the criteria and metrics you'll be using to judge whether your efforts are strategically sound – and how you'll determine what is and isn't working.
Be Real – and Realistic
Candidates can usually tell if your Employer Brand is generic or misleading (after all, they've probably already seen online reviews about your organization). And if they do come onboard and find a disconnect between what you're promising and the realities of the workplace, they probably won't stay very long (They're also likely to share their feelings on Glassdoor or Indeed shortly after they exit.).
In addition to internal research for credibility and emotional connection, you also need to look at what makes you stand out from the competition, especially if you're in a crowded talent market. This is where your own people can own part of the conversation – as advocates of your Employer Brand and your organization's unique selling points.
Monitor Your Brand's Core Message
In times of transition, it's always smart to ensure your Employer Brand is still saying all the right things. If it's set in stone, it could end up sinking your recruiting and retention efforts!
A well-crafted and articulated Employer Brand not only helps you attract best-fit talent, it's also an important tool for getting current employees (particularly if they're part of a merger) aligned under the same goals, values and mission you aspire to.
Remember, your Employer Brand is a guidepost for everyone who is considering – or already part of – your organization. If you're in the middle of a merger or reorganization, when employees can be anxious or confused, it can be tremendously valuable to moving forward as a unified team.
Leverage Technology
If you're a regular reader, you're also well aware of the value we place on technology as one of the core components of a successful Talent Marketing strategy. One of its core advantages is that it can free the TA team to do its job more effectively (building relationships) while the marketing and analytical aspects of employee engagement and recruitment are handled automatically.
Thermo Fisher Scientific uses machine learning to ensure their Employer Brand's impact is maximized at every internal and external touchpoint. They've achieved a consistent, seamless candidate experience, through AI-enabled channels that include,
A Career Website featuring open keyword search
Enhanced Job Descriptions
Talent Communities
Programmatic media banners
A mobile, check-out style application process
Another great advantage of AI and machine learning is that they provide results in real time, allowing you to be more strategic, less reactive and make the most of your Talent Marketing budget. So, if you already have an idea of your organization's goals (see above), you'll know what to look for and be able to adjust your course with a minimum of fuss and confusion.
If you'd like additional information about how you can leverage the power of your Employer Brand during times of organizational change, I encourage you to watch the webinar I co-hosted with Adrienne Sullivan, Thermo Fisher Scientific's Director, Employer Brand. It's a lively discussion full of useful tips for getting the most out of all your Talent Marketing efforts!